Blackmagic Pocket Cinema Camera 4K Review (Update 2022)
Rent camera gear from local creators.
Many video creators and filmmakers were somewhat surprised when Blackmagic released their innovative Blackmagic Pocket Cinema Camera 4K. The camera combines the latest advancements in the digital film technology arena with a design that allows you to have it all just in the palm of your hand.
Let's take a closer look at the BMPCC 4K including;
Features & Description
Reviews
Update: Is Blackmagic Pocket Cinema Camera 4K still relevant in 2022?
Specs
FAQs
Features & Description of the Blackmagic Pocket Cinema Camera 4K
It wouldn't be fair for me to start comparing the BPCC 4K camera to those of a similar price – especially as you'll struggle to find any camera with similar features in the same range. That would be like comparing the excitement of Christmas to a regular Wednesday. Some things are just incomparable – so, I won't even attempt to do that. Instead, we'll go through individual features that makes this camera so special.
Image quality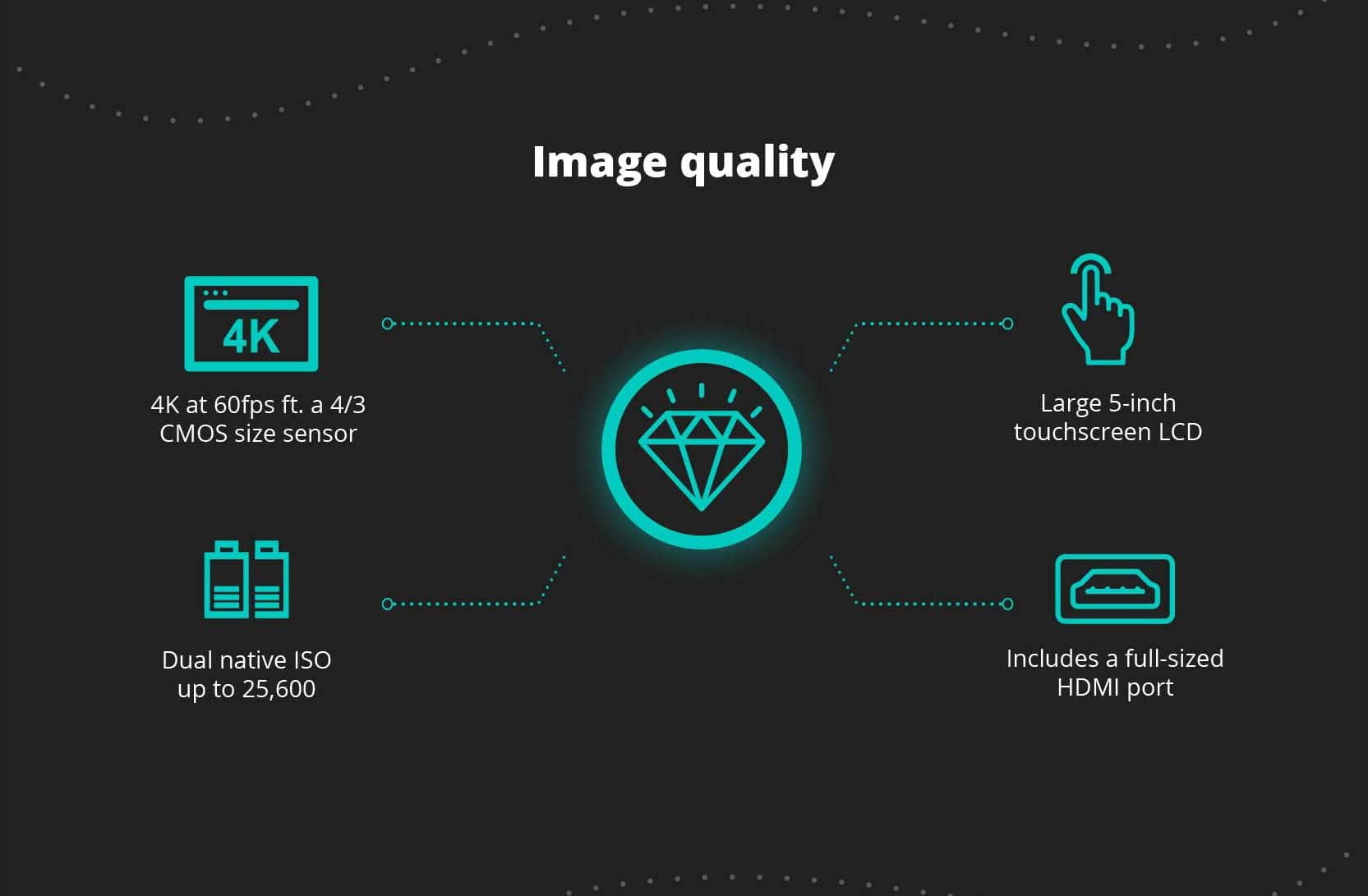 The Blackmagic Pocket Cinema Camera 4K at 60fps, features a 4/3 CMOS size sensor, and a dual native ISO up to 25,600, meaning that you will get amazing HDR images and excellent low light performance. External controls give you quick access to the main functions, while the large 5-inch touchscreen makes it simple to frame shots, focus accurately, and change camera settings.

The Pocket Cinema Camera 4K has a 5″ touchscreen LCD, which reduces the need for an external monitor. At the same time, it includes a full-sized HDMI port, allowing you to easily connect to a larger display.
Connectivity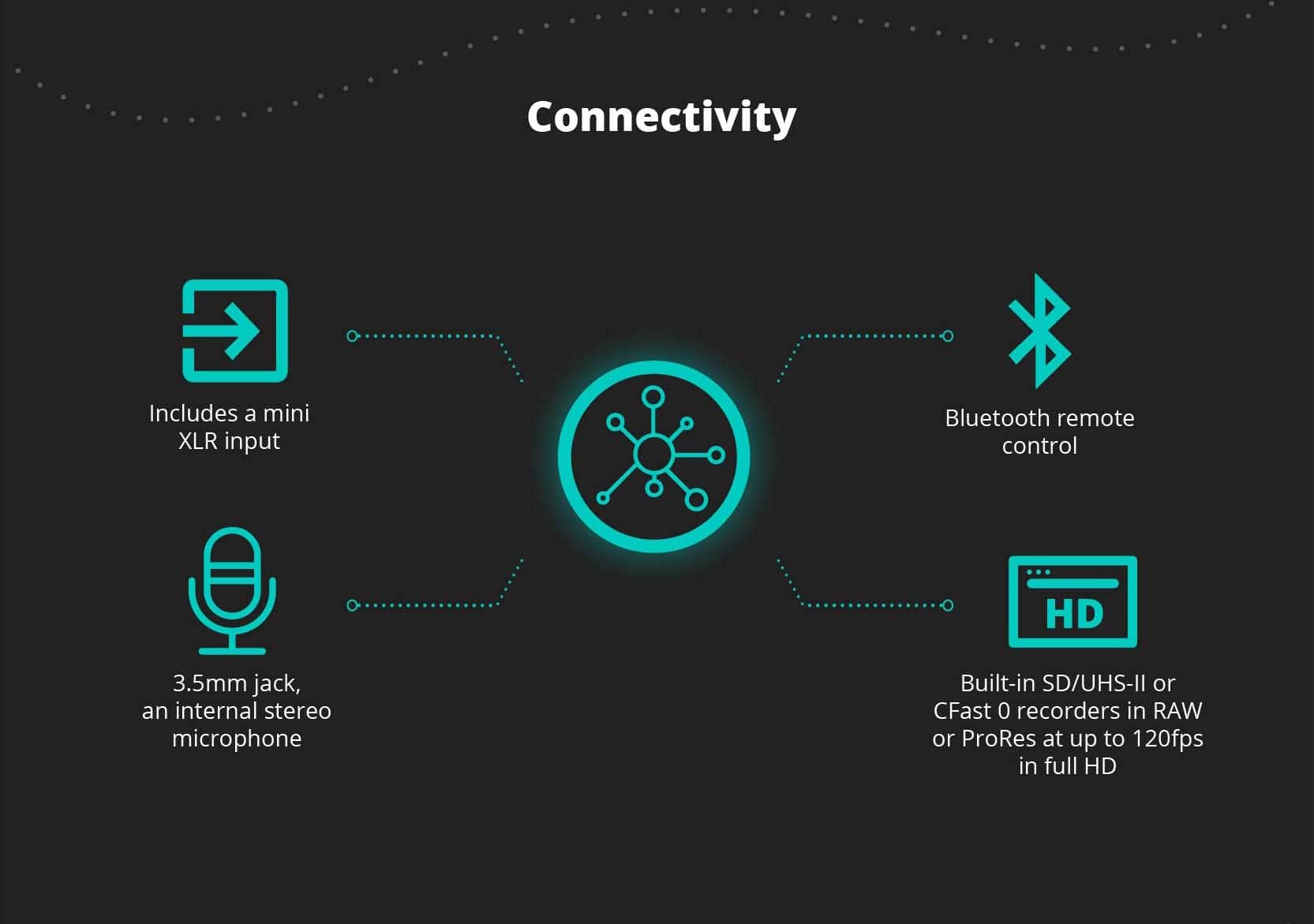 The Blackmagic Pocket Cinema Camera 4K includes a mini XLR input with phantom power, a 3.5mm jack, an internal stereo microphone and includes a Bluetooth remote control. A license key for post-production DaVinci Resolve Studio is also included. Am I the only one who thinks, that's a genius name for a software?
The Blackmagic Pocket Cinema Camera 4K includes features such as built-in SD/UHS-II or CFast 0 recorders in RAW or ProRes at up to 120 fps in full HD. The camera has an MFT lens mount, XLR input, 3D LUT support and more.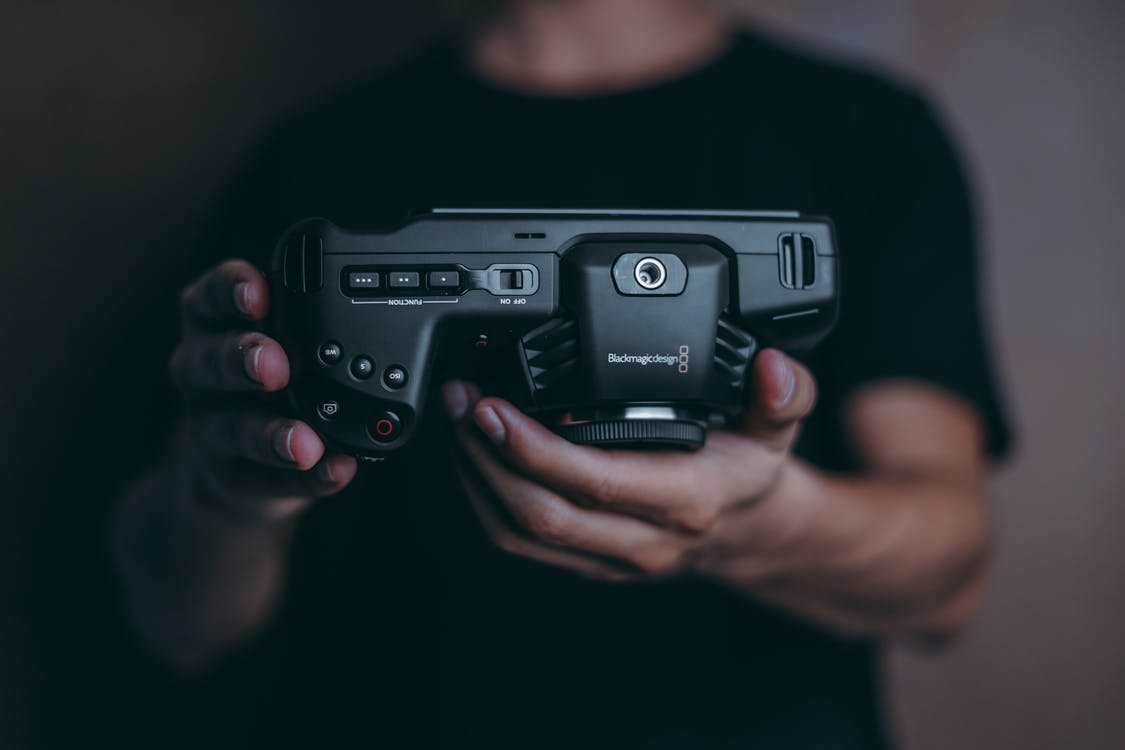 Benefits and downsides of the BMPCC 4K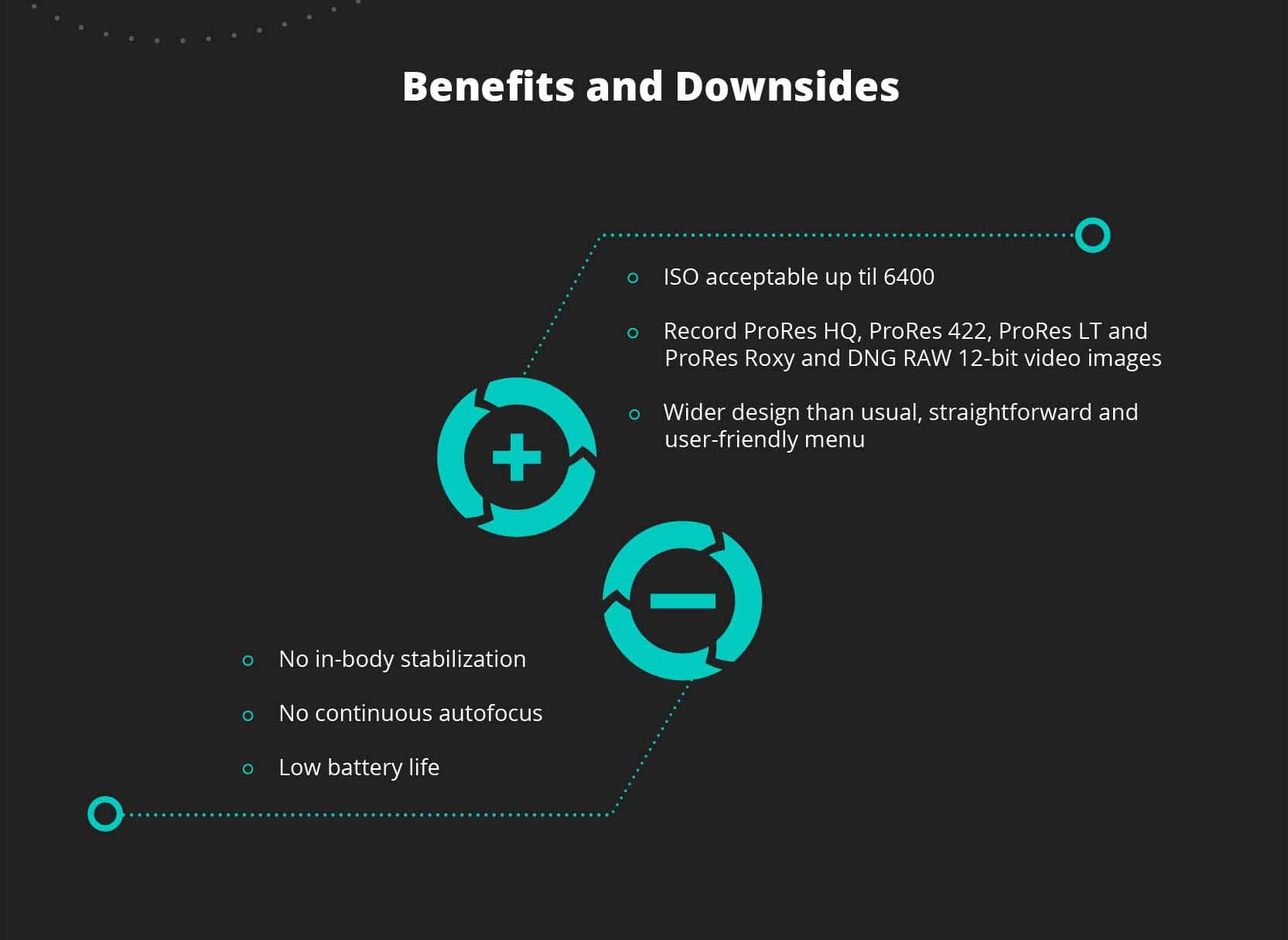 Benefits of BMPCC
Blackmagic boasts 13 stops of dynamic range, which is very high and impressive at this price range – (psst… that's even higher than the Sony A7 III).
ISO
This camera retains colour information almost perfectly. With increasing ISO, many cameras (especially the ones under $5000), tend to shift in the direction of too much noise, too much brightness or they become very desaturated. I told you this camera was special.
The ISO is acceptable up till 6400, but if you feel like doing a documentary on "How to Segway", because I mean – walking around? Nobody got time for that! In that case, you could go even higher with the ISO. The best setting is at the native ISO 400 and 3200, which also means 2500 is not as clean as 3200.
Resolution
What really sets this camera apart from the others is its shooting options, the resolutions, and that the camera can record internally in such a small and inexpensive package. It can record ProRes HQ, ProRes 422, ProRes LT and ProRes Proxy as well as DNG RAW inside the camera. That means 12-bit video images inside such a small body – pretty impressive.
Design
Stereo microphones are placed on both sides with the option of plugging in an external microphone too. I have to say the position of these microphones could have been better. The grip is far too close to the microphone, which can cause some unwanted rustling.
The menu is straightforward, user-friendly, and so much better when comparing it to other cameras. Ooops, was that a comparison? Let's move on! The menu on this BPCC 4K camera allows you to operate it even without reading the manual, and you will find everything within a couple of minutes. No need the read the manual!? I'm sold on it with that fact alone – where's the check-out?
Design-wise, the camera is a bit wider than usual, which can create problems with fitting it into gimbals or with the comfort of the grip. It is also much bigger than the original pocket camera. Even so, the camera is super light.
Usability
BPCC is a mighty camera for beginners and aspiring filmmakers. It even has a stills function - but is definitely a video camera and not a machine designed for photography.
This is not a camera for all you vloggers and YouTubers out there, since there is no continuous autofocus and no flippy screen. But great for shooting while travelling, indie filmmakers, small production companies and for documentaries.
What about the downsides?
There is no in-body stabilisation, meaning you will need a tripod or gimbal. There is also no continuous autofocus with any lens. You can, however, use a speed booster without limits.
BPCC doesn't include a flip-out screen and cannot be tilted in any way either. So, using HDMI output is pretty much a must, as well as a need to purchase an external monitor.
The touchscreen is clear and easy to use; however, there is a lack of buttons. The screen is bright enough for most circumstances, but you will still probably need some kind of shading on a sunny day. The viewfinder is not included, which would be a problem if you are farsighted and you can't see the screen up close.
Battery life is super low so that you will need an external power source. It lasts approximately 60 minutes (recording at 24 fps without any external USB-C device connected). The battery is placed on the bottom which is really inconvenient if you are also charging externally or connected to external monitors or other add-ons.
Reviews of the Blackmagic Pocket Cinema Camera 4K
Update: Is Blackmagic Pocket Cinema Camera 4K still relevant in 2022?
The BPCC 4K camera was released back in September 2018, and since its release, it has shown itself to be an incredible filmmaking tool. The release price was $1,295 - nearly half the price of Panasonic's video-oriented GH5S. This made it the cheapest 4K RAW camera available by a long shot. But for the camera to be effective for filmmaking, you'll need to spend double what it cost you on top. But hey, it's 2022, and the price still hasn't changed.
The most significant advantage for most customers is that BPCC 4k shoots 12-bit raw, which is perfect for commercial use, corporate video, TV, films or music videos.
As mentioned before, the battery life is not the longest. Depending on resolution, it could last from 30 to 60 minutes. The advantage is that LPE6 batteries are very cheap and easy to carry with you anywhere.
Firmware updates make this camera improve with each update. They've included additional resolutions, frame rates, faster start-up times and most importantly punch-into focus that works during recording, and now does up to 8 times magnification up from its original 2.
This camera is still a winner with its 4k at 60fps, dual native ISO, wide ISO range and other lovable features like false colour, shutter angle, histogram, and recording to an external SSD. Did I mention all this will set you back a mere $1,295?
At this low price, you really won't find anything better! What can I say - it's a Christmas miracle, or you know, something like that.
Specifications of the Blackmagic Pocket Cinema Camera 4K
Effective Megapixels: 8
ISO: 100 to 25,600 (Expanded)
Weight: 1.5 lb / 680.38 g
Size: 7 x 3.8 x 3.4" / 177.8 x 96.52 x 86.36 mm
Waterproof: No
Sensor size: 18.96 x 10 mm (4/3")
Shutter Type: Rolling Shutter
Lens Mount: Micro Four Thirds
Lens Communication: Yes
Built-In ND Filter: None
Built-In Microphone Type: Stereo
Wireless Interfaces: Bluetooth Control
Display Type: LCD
Screen Resolution: 1920 x 1080
Recording Formats: Blackmagic RAW Q0, Q5, 3:1, 5:1, 8:1 and 12:1 at 4096 x 2160, 3R0 and 1920 x 1080 with film, extended video or video dynamic range. ProRes at 4096 x 2160, 3840 x 2160 and 1920 x 1080 with film, extended video or video dynamic range or custom 3D LUT
Bluetooth: Yes
Built-In GPS: No
Total Video Inputs: None
Total Video Outputs: 1 x HDMI Type A
Battery Type: Canon LP-E6
Battery Life: 60 minutes
Power: 12V-20V
FAQs
How does the Autofocus work on the Blackmagic Pocket Cinema Camera 4K?
The autofocus on the Blackmagic Pocket Cinema Camera 4K is not continuous. It uses touch autofocus through the screen - this works very well, especially when moving.
What kind of battery life does the Blackmagic Pocket Cinema Camera 4K?
It can work up to 55-60 minutes when continuous recording.
How sharp is the BMPCC 4K at 120fps?
120 fps doesn't produce the sharpest footage but still manages to produce a great quality image. It is sharp enough to shoot extreme slow-motion shots - depending on the settings.
Places for you to purchase and rent the BMPCC 4K
Are you thinking of shooting with the BMPCC 4K? You can rent it daily, weekly or monthly through Wedio (Available in Denmark, Berlin, Amsterdam, and London), the camera-sharing community. You can also buy it from your local camera retailer.
Why should you rent the BMPCC 4K?
Rent Camera Gear: Access Pro Equipment
qqHXJy6AWlc
Camera Hire: Take Your Production to The Next Level
71PttfqWPXk
Camera Rental: Save Money with Wedio
5sHshmF1n_Y
Summary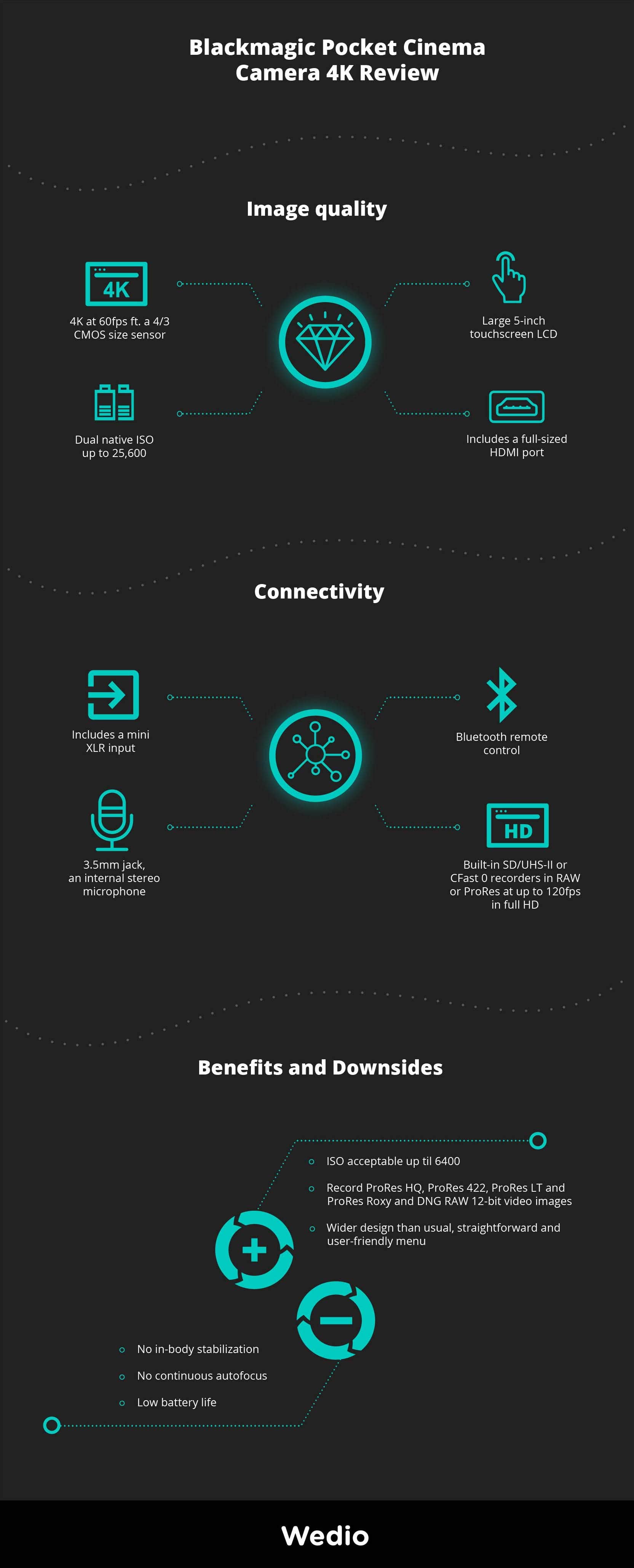 Rent BMPCC 4K from local creators.
Save up to 40%.
Global Coverage included.
https://images.wedio.com/images/listing_images/images/1947713/300x215/rent-blackmagic-pocket-cinema-camera-4k-on-wedio.jpg
https://www.wedio.com/en/blackmagic-pocket-cinema-camera-4k
https://images.wedio.com/images/listing_images/images/1946816/300x215/CHL00732.jpg
https://www.wedio.com/en/blackmagic-pocket-cinema-camera-4k
https://images.wedio.com/images/listing_images/images/1934812/300x215/tempImageqdBbqB.jpg
https://www.wedio.com/en/blackmagic-pocket-cinema-camera-4k
https://images.wedio.com/images/listing_images/images/1919673/300x215/rent_blackmagic_design_4k_pocket_cinema_camera_bmpcc_4k_cine___1tb_t5_ssd___metabones_speed_booster_ef___canon_70-200mm_l_f2_8___24-70mm___16-35mm___6_x_batteries_-_1.jpg
https://www.wedio.com/en/blackmagic-pocket-cinema-camera-4k