The 9 Best Vintage Cameras: For the Retro-Lover in You
Hire film gear from local filmmakers.
Hire film gear from local filmmakers.
If you are like me, a person who loves to create memories and wants to capture them in the best possible way, you should consider getting a vintage camera.
In this article, I've taken the liberty to write down the nine best vintage cameras, their key features, style, and pros and cons for each. If you think you don't know enough about the cameras and which one to choose, this article will come in handy.
Remember that these cameras are not meant to give you the highest quality but a certain aesthetic.
Want more gear recommendations? Read our comprehensive article on fundamental camera equipment.
wedio top picks
Best Vintage Cameras
The 9 best vintage cameras
1. Nikon F2/F3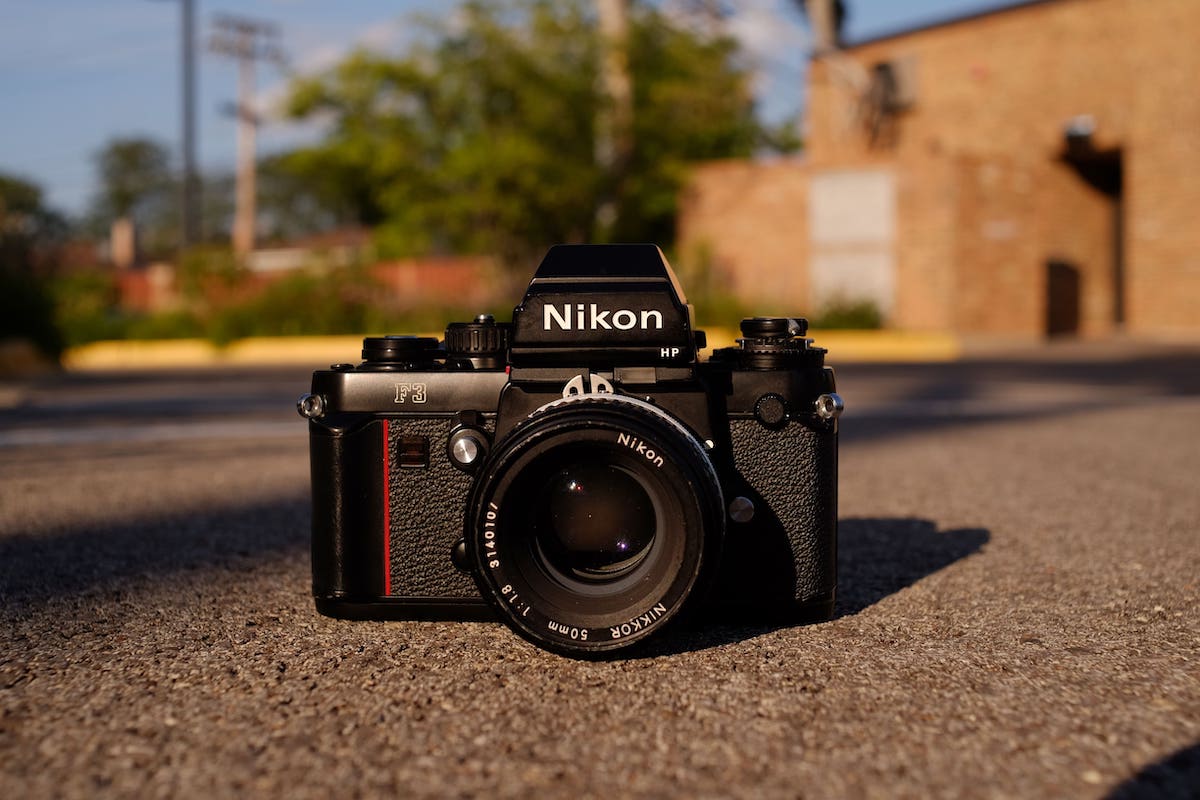 Camera style:
The Nikon F2 and F3 are very similar. They both have an interchangeable finder, focus screens, 250-exposure back, and motor drives. The F2 is so well made that everyone I have seen working with it still captures excellent photos.
The F2 and F3 capture and expose the colors, the fine lines, and the details in a picture. The only difference between these two cameras is, the F3 feels more modern. The electronic shutter is more accurate, more ergonomic, and auto exposure, in addition to the F2 that is full manual.
Key features:
Nikon F mount
35 mm single-lens reflex (SLR)
Mount shutter speed increased to 1/2000
Interchangeable finder
Focus screens
250-exposure back
Prism
250-frame cassettes
F3: Auto exposure
Pros:
Decent image quality
Well built construction
The viewfinders are interchangeable
Cons:
Difficult if you attach large-aperture lenses.
No auto mode is available in F2 but is in F3.
2. Pentax K1000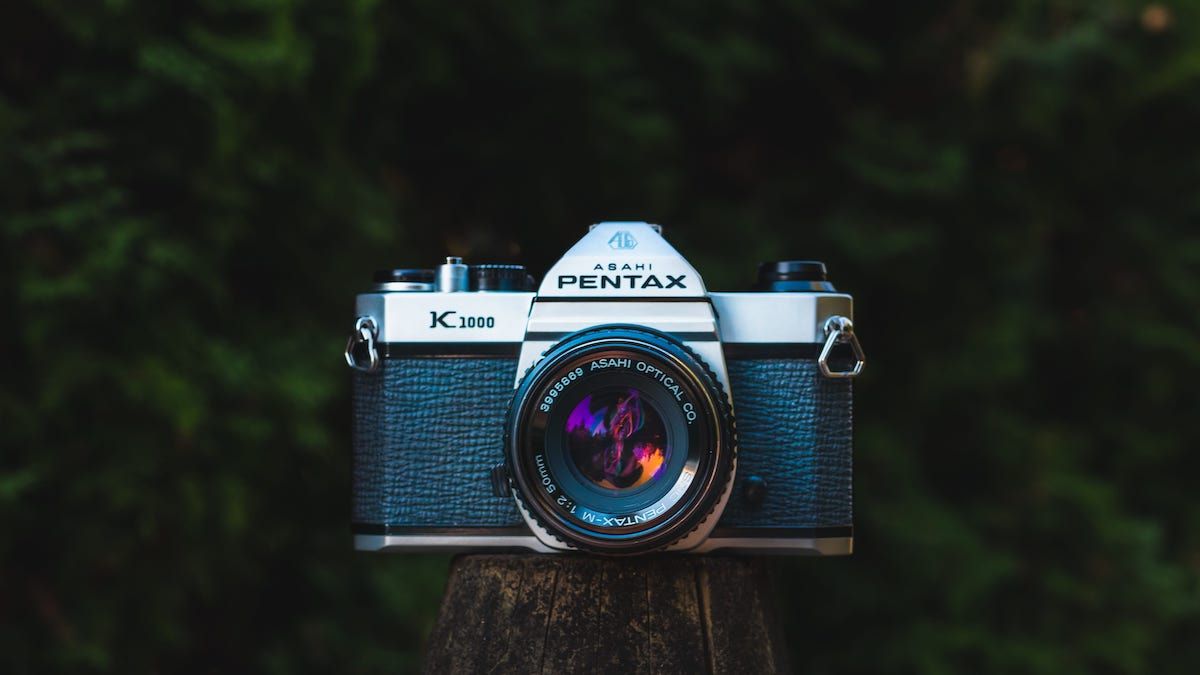 Camera style:
The Pentax K1000 is used by professionals, hobbyists, and photography students. The camera is one of the best and cheapest film cameras you can find. It was produced in 1976-78, Japan. It consists of a durable design, a high-quality light meter, and a compact design.
The Pentax K1000 has a chrome - and leather decorated design, making the camera visually appealing. If you are new to photography, this might be the right camera for you. It has minimal features, making it simple to use, and a good film camera for beginners. This camera is perfect for capturing an aesthetic look in your images.
Key features:
35mm film SLR camera
Shooting controls: aperture, shutter speed, and focus
Manual photography - the all-manual operation and minimalist features include controlling shutter speed and aperture.
Full frame averaging TTL metering with built-in coupled match-needle meter ASA range: 20-3200
Wide-ranging shutter speed from 1/1000 to 1 sec.
No self-timer
Leave the lens cap on when you are not using the camera, there is no on-off switch for the exposure meter, so it works continuously.
Pros:
Cheap
Vintage construction that offers robustness and durability
Easy to understand mechanics and manual setup
Easy to repair and purchase spare components - the manufacturer still produces several viable lenses, 31-, 43-, and 71mm models.
Cons:
Risk of insufficient light meter calibration
No on-off switch - remember to put the lens cap on when not using the camera
3. Canon AE-1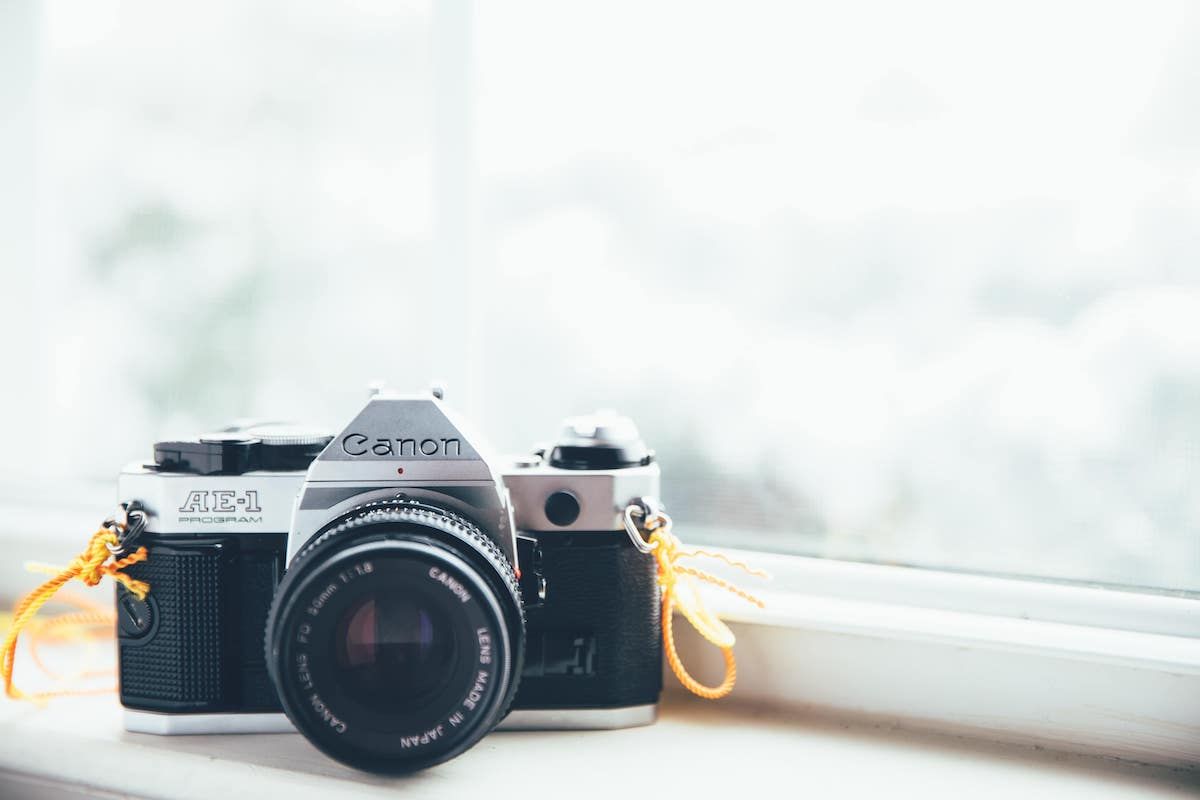 Camera style:
Hobbyists and professionals use the Canon AE-1 due to the availability of FD mount lenses and how user-friendly the camera is. The lenses have a reputation for sturdy design, which makes the lenses reliable due time.
The Canon AE-1 is one of the best vintage cameras you can find. The camera's release revolutionized the photography world and is easy to understand and use for ordinary users – point, focus, and press the camera button when your shooting.
The simplified Canon AE-1 has an ample variety of additional accessories, which is also easy to get the hang of. The AE-1 Program is highly recommended because it represents a high point of camera development and has every feature needed for great photos.
Key features:
Waterproof - It operates as deep as 16.4 feet and takes underwater shots with a focus range of 1.5 to 9.8 feet.
Electronic camera
Fully automatic program mode
Semi-automatic shutter-priority mode (Set the lens to A and choose your shutter speed - the camera will select the correct aperture)
Pros:
Not that expensive
Lightweight
A variety of controls for manual settings
Extra unique controls will inform you if the shot is out of focus and a tripod is required.
Soft color tones (LOVE)
Full-program auto mode
Cons:
It can be confusing for those who are used to digital cameras
4. Leica M6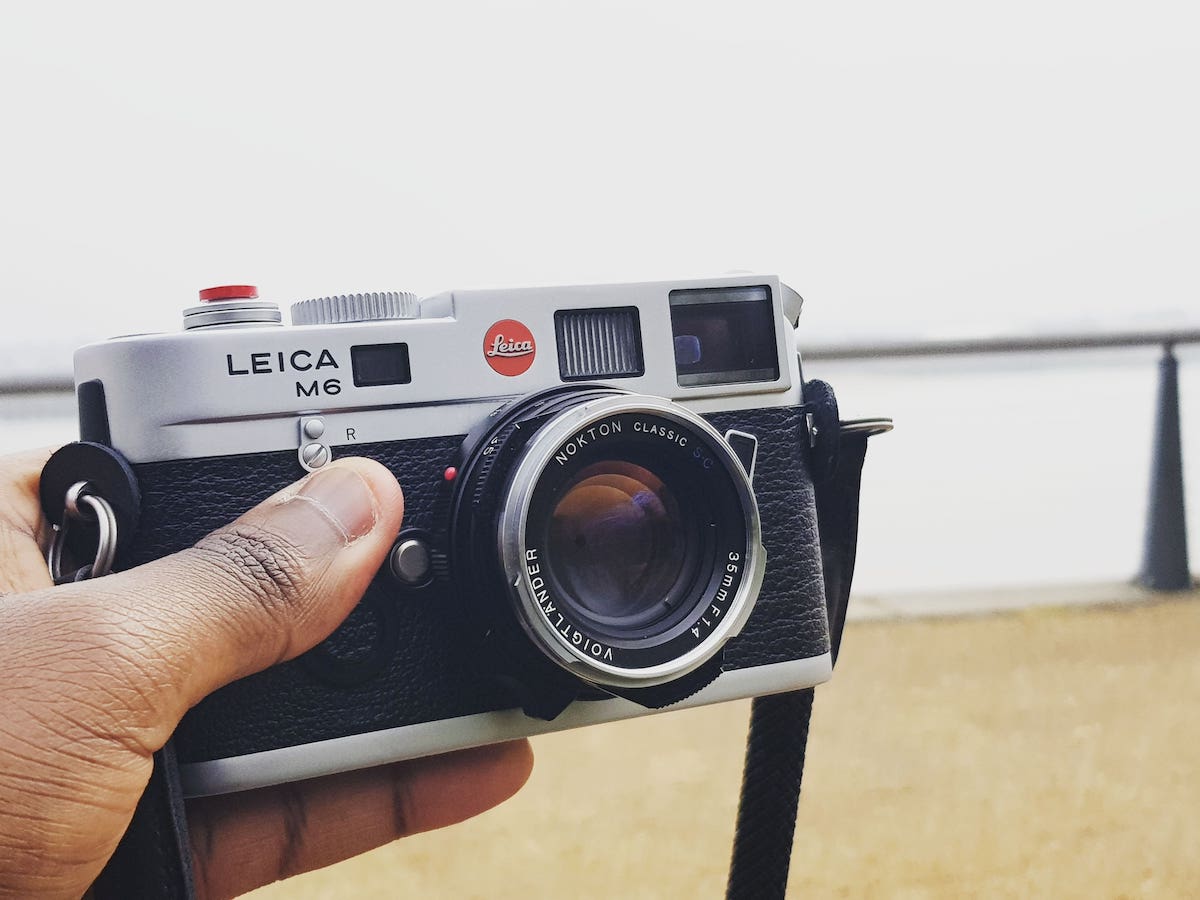 Camera style:
Leica M6 is one of the most advanced film cameras ever produced by Leica. The body is made of Zinc and brass, making it durable and visually appealing.
Leica M6 is compatible with almost all Leica M-Mount lenses - this makes the camera more attractive to users that want to photograph in different settings. Additionally, the embedded rangefinder makes it possible for you to measure the subject's distance and take photographs in sharp focus. The camera is a fully mechanical masterpiece that allows the user to shoot at any shutter speed from 1/1000 of a second to 1 second, or bulb mode, all without batteries.
Last but not least, Leica M6 has a TTL (through the lens) system, which is used for light measurement that provides accurate exposure settings. I must say, this camera truly takes incredible pictures, with fantastic quality.
Key features:
0,72 x viewfinder (includes frame lines compatible with six other lenses in the 28-135 mm focal range.)
Shutter speed from 1/1000 of a sec. to 1 sec.
A straightforward and hassle-free shooting process
Embedded rangefinder
TTL system
Two LRR44 batteries to power the internal light meter.
Mechanical
Pros:
Small size
User friendly
Easy to learn
Takes photos silently
Completely mechanical
It takes the most beautiful pictures
Strongly build
Cons:
Expensive
bulky and a bit heavy
The available controls are a bit too basic for the price
5. Rollei 35 S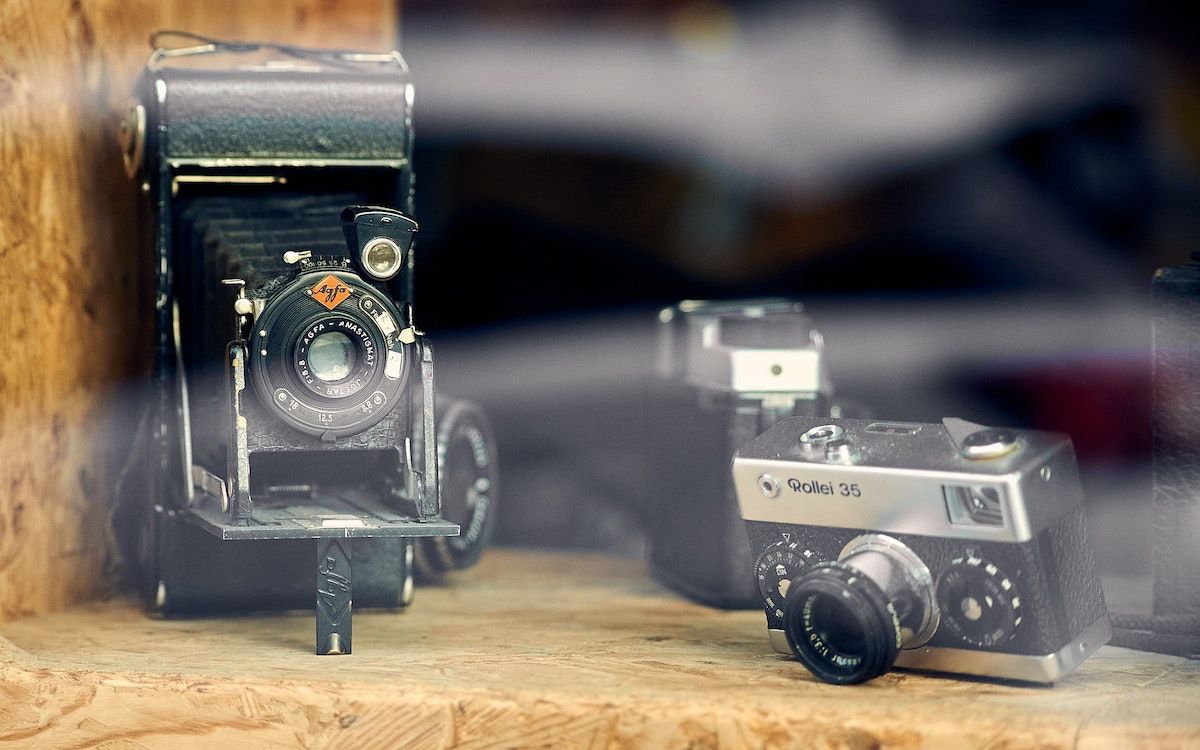 Camera style:
The Rollei 35 S has existed since 1966 and is known for being the smallest existing 35 mm film camera on the market. It was designed by Heinz Waaske and made by the German camera maker Rollei in their Singapore factory.
You can find the Rollei 35 in many forms, but the Rollei 35 S has a Sonnar lens, which is what the S stands for. The lens is not coupled to the viewfinder, which means that you have to get good at estimating distances, know how far your subject is from you, and then use the lens's focusing ring to select the correct position. It takes a little practice, mainly when used to automatic focusing as the Canon AE-1 possesses. It's a special camera and known for being quite quirky, which makes a lot of sense.
The way you shoot with this camera is different from any other 35mm camera. First of all, the film wind-on knob is on the wrong side of the camera, and the flash hot-shoe is underneath the camera. This means that if you want to take a photo with flash, you have to turn the camera upside down, so your picture isn't upside down.
The designers wanted the camera to be as small as possible so you could have it with you all the time, but that concluded in putting the different functions in new places. The camera takes black and white pictures, which gives a beautiful vintage vibe.
Key features:
Format: 35 mm.
Lens: Roelli HFT sonnar 40/2, 8.
Shutter speeds: ½ - 1/500 + B
Match needle metering system
Metric/feet scale focus
A built-in light meter
Pros:
Small - fits in your pocket
Light
The viewfinder is bright with clear frame lines, easy to compose with
Great for street photography due to the small size and quiet shutter
The lens will surprise you (in a good way)
Hyperfocal distance focusing helps for undercover type shots
Cons:
A bit difficult to use
The light meter may not work due to the age
The position of the flash
6. Olympus Pen E-P7
Camera style:
With the Olympus Pen E-P7 being lightweight and small-sized, it does not stand out from other vintage cameras, but that doesn't make it less beautiful.
The E-P7 has the same lines as a proper classic camera and is elegant and compact. There are two distinct colors to choose from, so you set the tone. The E-P7 is a true treasure trove when creating creative expressions. If you dig a little deeper into the features, you will find several tools for creative inspiration.
Key features:
Sensor: 20.3 MP 4/3 Live MOS.
Lens type: Micro Four Thirds
AF points: 121-point contrast-detect
Stabilization: 5-axis in-body image stabilization, 4.5 stops.
Max image size: 5184 x 3888
Pros:
Ability to capture high-speed VGA footage at 120fps.
Robust and solid in-hand
31 art filters in total
Images at excellent quality
Cons:
Expensive
A bit outdated, but then again, it's a vintage camera.
7. Yashica Mat 124G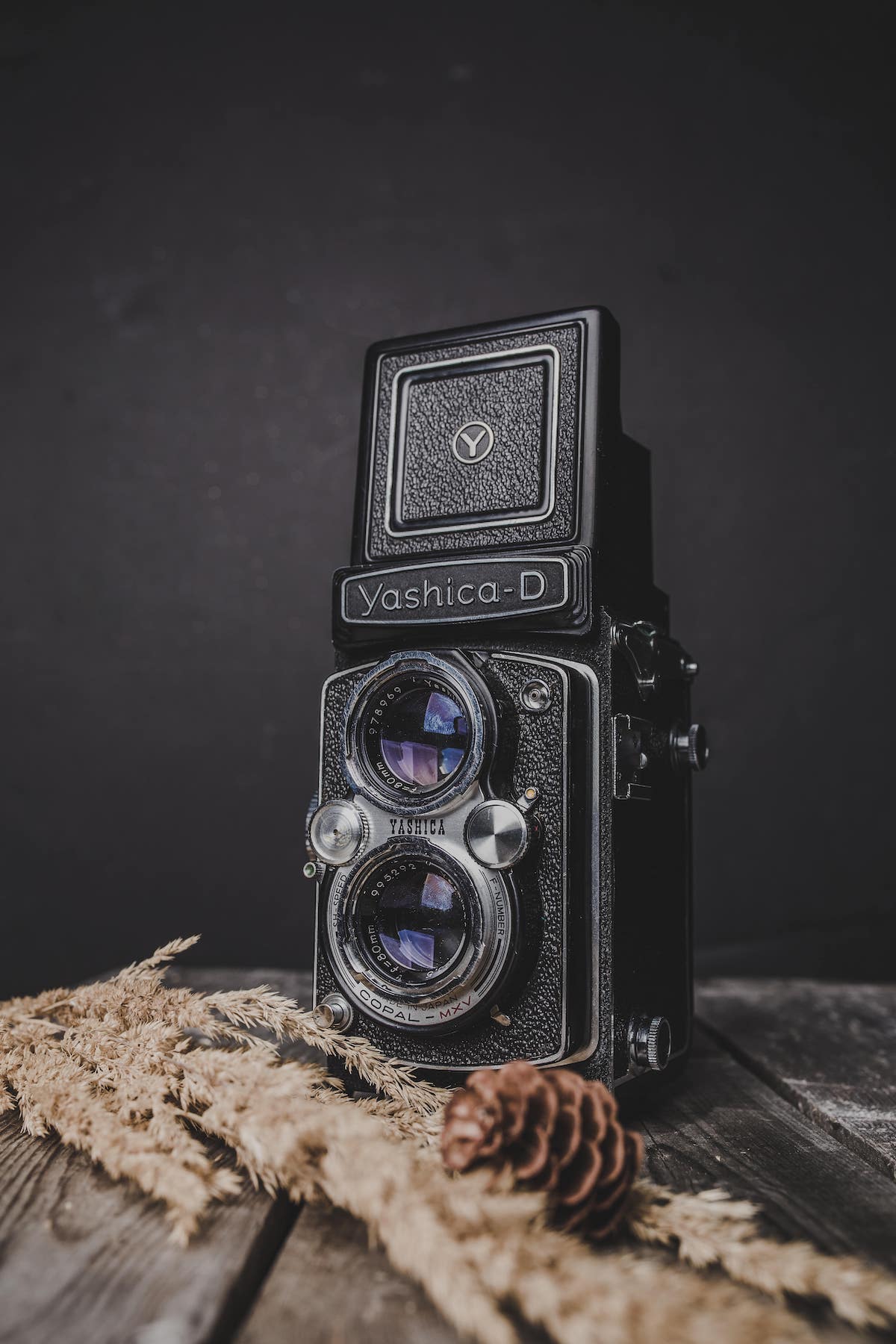 Camera style:
The Yashica Mat 124G is one of my favorite medium format cameras. The camera has a well-deserved reputation for producing high-quality images on 120 films. It has a heavy feel, but that makes it sturdy in your hands.
For the price point, this camera creates beautiful and sharp images. The coolest part of the Yashica Mat 124G is that you can see the image you are about to take from the camera's top. That means, instead of using a standard viewfinder, you have the chance of using the flip-top, waist-level viewfinder to see what you are capturing, which makes the experience of shooting so much better.
This camera is also perfect for shooting some great Instagram photos.
Key features:
Four-element: 80 mm f/3.5 lens set
Shutter speed: 1 sec. To 1/500.
Aperture range of f/3.5-f/32
A bright ground-glass viewing screen
Crank arm film advance
Ergonomic aperture/shutter controls.
Pros:
High-quality images
Waist level viewfinder
Cons:
A bit expensive to shoot images - you get 12 out of one film roll.
8. Kiev 88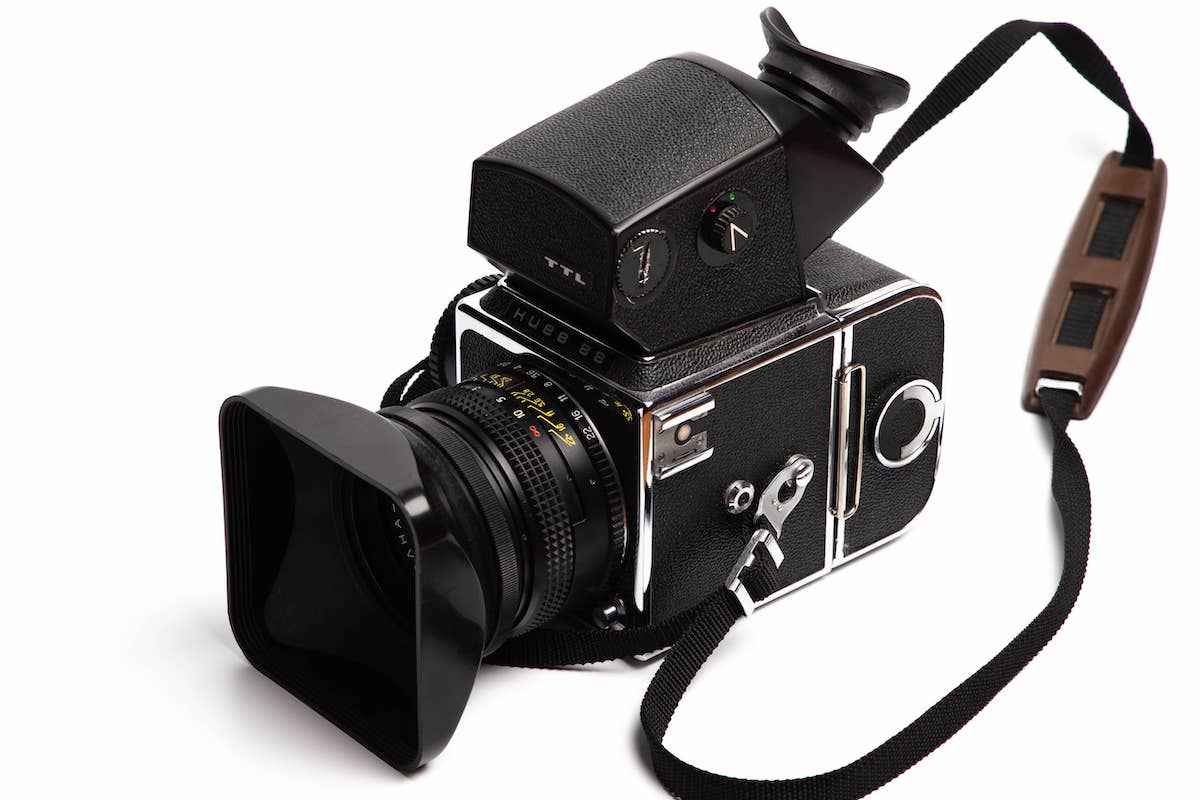 Camera style:
The Kiev 88 lets you take sharp images because of the roll film of 61.5 mm width. You can switch between colored photos to black and white without any difficulties.
The camera's manual control makes it easy for a photographer to customize the setting and take incredible pictures.
The Kiev 88 also possesses a hooded design which eliminates excessive light and makes it easier to focus.
Key features:
TTL meter
Lens mount: Type B
Lenses, film backs, and viewfinder are interchangeable
645 format camera
Pros:
Affordable camera
Sharp images
Easy to focus
Cons:
9. Hasselblad 500C/M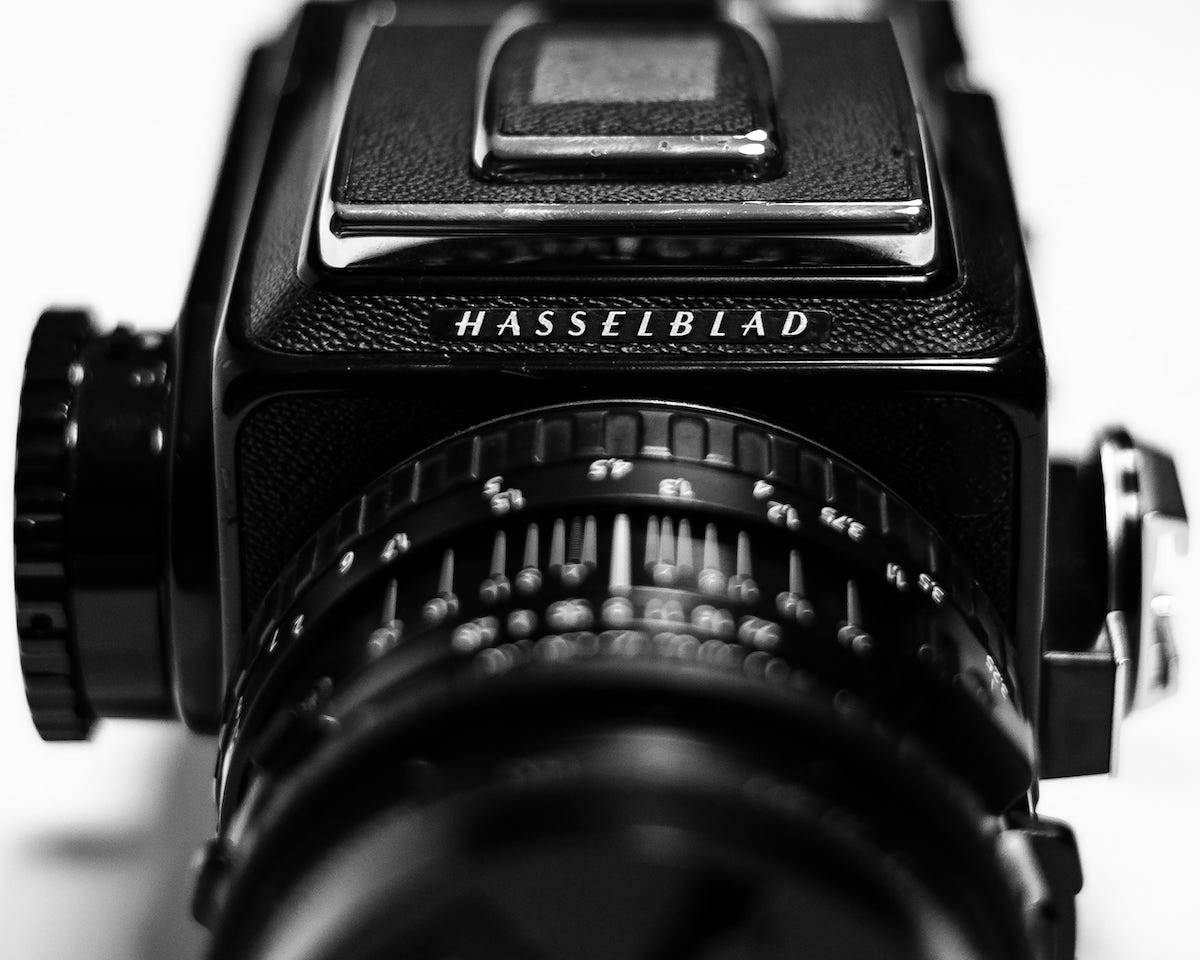 Camera style:
The Hasselblad 500C/M is more than 60 years old and is still one of the best vintage cameras in high demand. It is the best-known manufacturer of medium format cameras and has been around since World War II.
The traditional V-System is still available and used by professionals and serious amateur photographers.
Hasselblad became the first camera on the Moon when it participated in the Apollo 11 spaceflight in 1969. Neil Armstrong used the camera to take the first image on the Moon; that's pretty awesome. This camera is probably the best vintage camera, which is why it's in high demand, and therefore also a bit expensive.
Key features:
Opening speed: 1/500 s.
Using 120 or 220 film
Focus screen (possible to take of)
Waist level viewfinder
Prism viewfinder
Built-in self-timer
Manual and mechanical
Pros:
Cool color rendering
Sturdy case
Offers manual control support
Viewfinder and lenses are easily accessible
Incredible images
Cons:
Bulky
Expensive
Not good at capturing fleeting moments.

Rent or subscribe to a vintage camera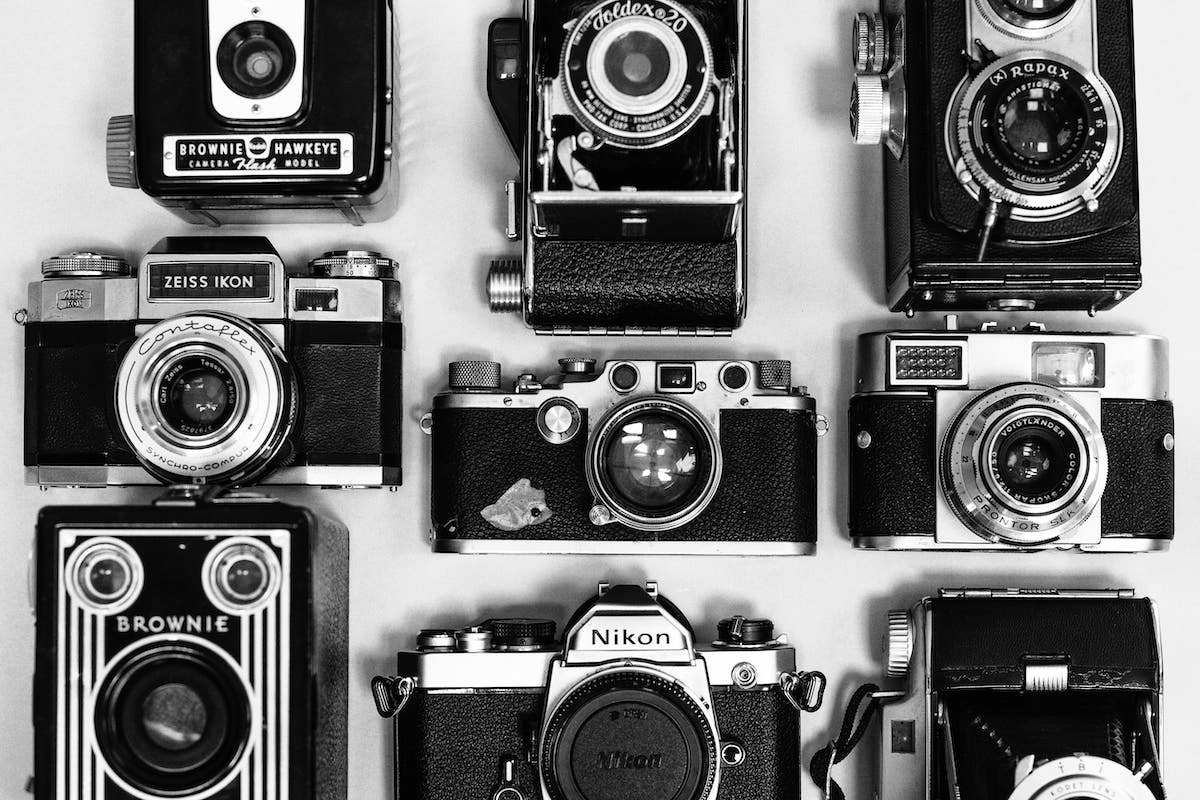 Maybe you've guessed it by now... there are loads of retro cameras to choose from.
Don't know which to pick?
Try renting a camera and try out various.
Which camera is best for taking vintage shots?
It depends on what you want to capture and how you want the expression on the image to be.
What is the best vintage polaroid camera?
The Polaroid SX-70.
Can you still use vintage cameras?
Of Course, you can. They are actually pretty incredible.
What is the most expensive vintage camera?
Due to the functions on the camera, the great quality of images, and its high demand, Hasselblad 500C/M would probably be the most expensive one.
Rent cameras from local creators.
Save up to 40%.
Global Coverage included.
https://images.wedio.com/images/listing_images/images/1949503/thumb/Screenshot-2023-03-03-at-00-01-19-Rent-SONY-A7RII-BODY-ONLY-in-London-rent-for-_25c2_25a335-00-day-_25c2_25a322-86-week.png
https://www.wedio.com/en/cameras
https://images.wedio.com/images/listing_images/images/1949430/big/rent-canon-eos-5d-mk-iv-on-wedio.jpg
https://www.wedio.com/en/cameras
https://images.wedio.com/images/listing_images/images/1949156/thumb/EP3A7342.jpg
https://www.wedio.com/en/cameras
https://images.wedio.com/images/listing_images/images/1949075/big/FRT-VARI-ANGLE-MON-w-EF-S-18-135mm-IS-STM-packtcm81-1064827.jpg
https://www.wedio.com/en/cameras
Popular listings for rentals