The 9 Best Cameras for Wedding Photography
Rent camera gear from local creators.
Getting into wedding photography requires a perfect mixture of skill, talent and patience. However, no matter how good of a photographer you are, you won't be able to capture every emotion, happy moment, and detail of that special day without the right camera in your hands.
Here's a guide to choosing the right camera for you to shoot for the next wedding, along with 9 of our top picks.
If you want to learn wedding photography, check out our article on wedding photography.
9 of the best cameras for wedding photography
1. Nikon D850
Key features:
45.7-Megapixel CMOS Sensor
Nikon F Lens Mount
ISO 64-25600 Sensitivity (Expandable to ISO 32-102400)
Up to 9 fps of Continuous Shooting Using Nikon's MB-D18 Battery Grip
UHD 4K Video at up to 30p

Pros:
Epic battery life
Stunning image quality
Cons:
Sluggish Live View focusing speed
Heavy compared to mirrorless rivals

Why it's good for wedding photography
One of the best wedding cameras, thanks to its excellent 45MP full-frame with a broad dynamic so you can get every bit of detail from the bride's dress and its durable weather-sealed build means it's ready to get drenched in champagne and carry on shooting

2. Canon EOS 5D Mark IV
Key features:
30.4-Megapixel CMOS Sensor
Canon EF Lens Mount
ISO 100-32000 Sensitivity (Expandable to ISO 50-102400)
Up to 7 fps of Continuous Shooting
Pros:
Full-frame sensor
Dual Pixel AF is a game-changer for video
Superior high ISO capability
Wi-Fi
Cons:
TR subject tracking lacks precision and reliability compared to some peers
Optimization of AF settings takes practice
HDMI-out limited to 1080p

Why it's good for wedding photography
An improved 61-point AF system and a Dual Pixel AF function offer fast and smooth AF when you capture video and use the camera's Live View mode. Both features help achieve more precise focus, ideal for wedding photos.

3. Sony A7 III
Key features:
Advanced 24.2MP BSI Full-frame Image Sensor w/ 1.8X readout speed Advanced 24.2MP Back-Illuminated 35mm Full-frame Image Sensor
15-stop dynamic range, 14-bit uncompressed RAW, ISO 50 to 204,800
Up to 10fps Silent or Mechanical Shutter with AE/AF tracking
Pros:
693-point AF system
Uncropped 4K video
Double the battery life of the last model
Cons:
Limited touchscreen control
Not as weather-resistant as the Fujifilm's X-H1
No 10-bit video output like Panasonic's GH5s

Why it's good for wedding photography
The dynamic range is impressive. You can easily push and pull a file to your heart's content at low ISO. This sensor is like most, though, where it's much easier to recover shadow details than to recover highlight detail.
4. Canon EOS 6D Mark II
Key features:
Capture and create images with incredible low light detail thanks to the new 26.2 Megapixel Full Frame Canon CMOS sensor delivering up to 40,000 ISO
45 point all cross-type autofocus system with wide coverage helps you pinpoint the exact part of the frame you wish to focus on
Dual Pixel CMOS AF and a DIG C 7 processer deliver Canon's fastest and most advanced focus and subject tracking system for live view and movie shooting
Pros:
Full-frame 26MP image sensor
45-point autofocus system
Integrated Wi-Fi and GPS
Refined touchscreen control
Cons:
Small AF coverage area
Video limited to 1080p
Omits built-in flash
No USB 3.0

Why it's good for wedding photography
The Canon 6D Mk II is tested to resist a rainstorm – including a rainy wedding day. It survived with no problems at all. With that said, you can count on the camera's reliability for sure.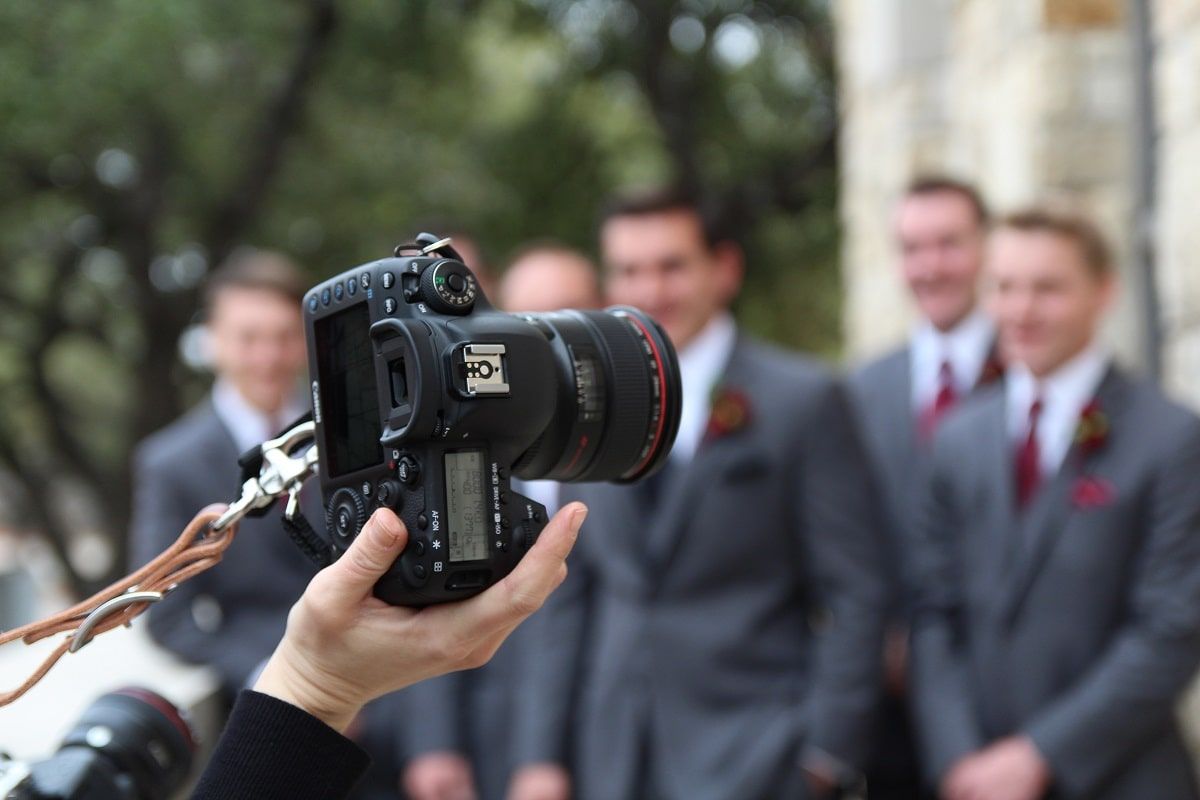 5. Fujifilm X-T30
Key features:
26.1MP APS-C X-Trans BSI-CMOS 4 sensor.
X-Processor 4.
Hybrid AF system has 425 phase-detect points spread across the entire frame.
2.36M-dot OLED viewfinder w/0.62x Equiv.
Pros:
Excellent image quality
Powerful and effective autofocus
Traditional exposure controls
100% phase detect AF coverage
Nice 4K video
Great build quality
Superb value for money
Cons:
No in-body stabilization
Placement of Q button
No articulating screen
Standard carry-a-spare mirrorless battery life
0.62x EVF magnification
Grip not ideal for larger lenses
Why it's good for wedding photography
Fujifilm has got plenty right here: a rigid body, sound AF performance, excellent image quality straight out of the camera and lovely 4K videos, and all for a very reasonable price, ideal for a wedding photographer on a budget.
6. Canon EOS R6
Key features:
Type: Mirrorless
Sensor: Full frame
Megapixels: 20.1MP
Screen: 3-inch fully articulating touchscreen, 1,620,000 dots
Viewfinder: Electronic
Max burst speed: 20fps
Pros:
Highly advanced AF
Excellent IBIS
Cons:
Is 20.1MP enough?
4K recording limits
Why it's good for wedding photography
The EOS R6 gets a mightily impressive in-body image stabilisation (IBIS) system that can deliver up to 8 stops of compensation when paired with an RF lens that features Canon's In-Lens (IS) image stabilization system.
7. Fujifilm X-T4
Key features:
Sensor: APS-C
Megapixels: 26.1MP
Screen: 3-inch vari-angle touchscreen, 1,620,000 dots
Max burst speed: 20fps
Max video resolution: 4K
Pros:
6.5-stop in-body stabilisation
Classic controls and layout
Cons:
Complex burst & video fps options
No sensor advances over the X-T3
Why it's good for wedding photography
It might not feature a full-frame like some rivals, but the 26-megapixel APS-C sized sensor doesn't disappoint, delivering rich colours and good detail images. Fujifilm's also established an excellent range of lenses for its X-Series and has some very compelling options for wedding photographers.

8. Sony A7R IV
Key features:
Megapixels: 61MP
Lens mount: Sony FE
Screen: 3-inch tilting touchscreen, 1,440,000 dots
Max burst speed: 10fps
Pros:
World record resolution!
10fps shooting
Cons:
Small body/big lens imbalance
Ageing design and handling
Why it's good for wedding photography
If you want huge files that offer plenty of flexibility for cropping and post-production, then look no further than the Alpha A7R IV from Sony.With a whopping 61-megapixels on tap, this easily beats other mirrorless and DSLR cameras in the resolution stakes.
9. Canon EOS R5
Key features:
Megapixels: 45MP
Lens mount: Canon RF
Screen: 3.15-inch fully articulating touchscreen, 2,100,000 dots
Max burst speed: 20fps
Max video resolution: 8K
Pros:
Pristine image quality
Best AF on the market
Cons:
Recording limitations
Standard 4K is just okay
Why it's good for wedding photography
While the 8K video might grab the headlines (and not all for the best reasons), there's plenty to get excited about elsewhere. Clever enough to track faces even if they are obscured, this will pay huge dividends when shooting weddings, while the 12fps (20fps with electronic shutter) burst shooting speed will mean you never miss a shot.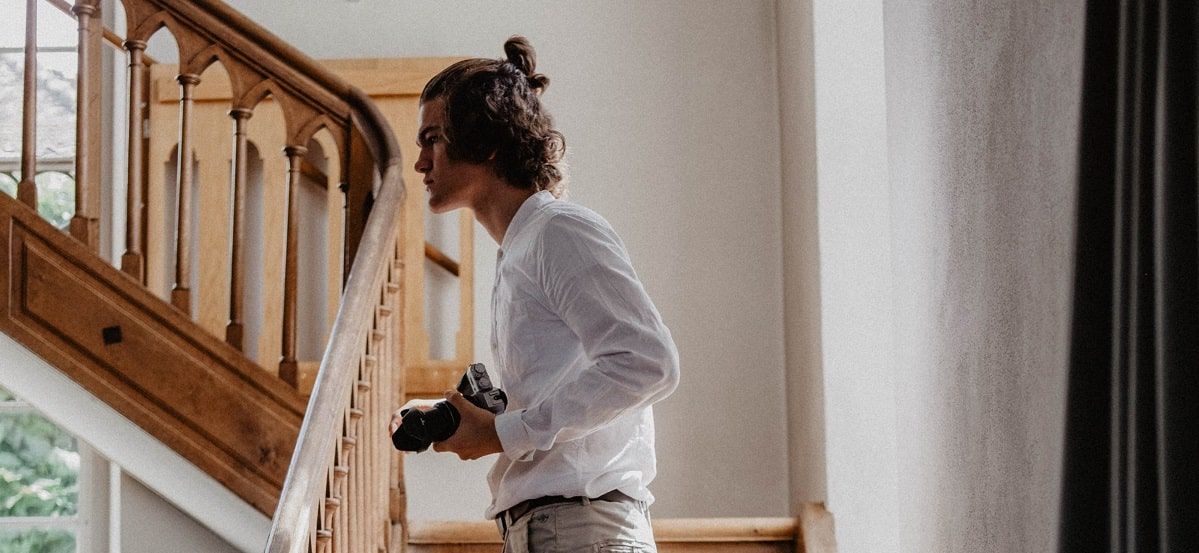 5 things to consider in a camera for wedding photography
1. Sensor size
Sensor size determines the image quality making it of utmost importance. This is why full-frame sensors are typically preferred instead of crop sensor cameras. You will want to look at the camera's design, megapixels, and sensor size to know if it's one of the best.
2. DSLR vs mirrorless
DSLR
Pros:
Longer battery life
Easy to use the viewfinder in dark situations
Many lense options
Cons:
Heavy, large, and sometimes a bit of a workout to carry around all-day
The mirror makes a lot of noise while flipping down (not ideal for quiet ceremonies)
Expensive to repair because of the technical mirror inside.
Mirrorless:
Pros:
Silent
Less expensive to fix when something breaks
Great for wedding videography with phase detection
Smaller, lighting, and easier to carry around on a 12-hour wedding day
Cons:
Fewer lens options (improving but still slow to happen)
Lower battery life due to the LCD screen continuously being illuminated
Not the best when it comes to continuous autofocus
3. ISO range
A professional wedding camera will usually have a high ISO range. Imagine dark reception halls and dimly lit wedding chapels. Wedding photographers need to be able to pump up their ISO into the thousands and still have noise reduction.
4. High resolution
Many amateur wedding photographers get wrapped up in the idea of megapixels. They are essential but not as important as your camera's sensor size. If you like to crop your images often in post-production, the resolution will be more critical. The higher the megapixels, the more flexibility you have to crop later.
5. Accurate autofocus
In recent years wedding photography cameras have upped their autofocus game. This is so important because a wedding photographer captures bouquets flying through the air, first dances, and rapidly moving glasses of champagne. Nothing is worse than missing the final kiss at the wedding ceremony due to a blurry photo.
Rent or subscribe to your wedding camera
Now that you are well informed and introduced into the wedding photography camera industry, why not rent one to try it out?
Although research is crucial, trying out a camera and seeing how it fits with your style cannot be replaced by anything. Rent or subscribe to your favorite camera on Wedio.
If you want to improve your photography, check out our article on Photography 101.
Best Wedding Camera FAQ
What is the best canon camera for wedding photography?
Canon EOS 5D Mark IV
Which camera is best for wedding photography?
Nikon D850
Do wedding photographers use mirrorless cameras?
Yes, they do.
What camera do most wedding photographers use?
Depends on personal preference, but the most common would be a DSLR.
Rent cameras from local creators.
Save up to 40%.
Global Coverage included.
https://images.wedio.com/images/listing_images/images/1949568/thumb/rent-sony-alpha-a7-iii-on-wedio.jpg
https://www.wedio.com/en/sony-alpha-a7-iii
https://images.wedio.com/images/listing_images/images/1949150/thumb/P1211173.jpg
https://www.wedio.com/en/canon-eos-r6
https://images.wedio.com/images/listing_images/images/1916346/thumb/1563273968_1494679.jpg
https://www.wedio.com/en/sony-alpha-a7r-iv
https://images.wedio.com/images/listing_images/images/1937861/thumb/Canon-EOS-R5-lead-03b.jpeg
https://www.wedio.com/en/canon-eos-r5