The Best Camera for Beginners: Start Your Photography Journey
Hire film gear from local filmmakers.
Hire film gear from local filmmakers.
Are you ready to embark on your photography journey? Maybe you've experimented with taking photos on your smartphone, borrowed a friend's camera few times, or got infatuated watching your aunt's wedding photographer working the room – yet you feel it, the burning need to create. How can you get started?
The world of cameras can seem overwhelming and overly complicated at times. If you're searching for the best camera for beginners, look no further. We compiled a list of the best options on the market in 2023 and will give you an introduction to each. In this article we will discuss what to look for in the best camera for beginners, and explore:
- Nikon D3500
- Pentax K-70
- Canon EOS Rebel SL3/250D
- Fujifilm X-T200
- Olympus OM-D E-M10 Mark IV
- Panasonic Lumix G100
- Nikon Z50
- Canon PowerShot G7X Mark III
- Sony A6000
- Closing thoughts
What to look for in the best camera for beginners
If you're looking for your very first camera for photography, there's a couple of things to keep in mind. Ease of use is obviously key here – simple controls and settings can make the difference between igniting your passion or frustrating you until you feel like giving up. You also need a model with manual mode, so can experiment and grow your skills when you're ready to take the training wheels of auto mode off.
You should look for a versatile camera with interchangeable lenses, allowing you to figure out your style, and expand your gear as you grow as a photographer. Your first camera also shouldn't cost a fortune – it should be affordable, but still useful for the years to come.
A large sensor is a requirement for clear images and low-light performance. The cameras below fulfill these requirements and could be your perfect first camera.
Are you looking to become the next David Dobrik or Michelle Phan? To stay ahead in the YouTube game, read our equipment guide on the best cameras for YouTube.
Nikon D3500
The Nikon D3500 is widely regarded as one of the best entry-level DSLRs. Launched at the end of 2018, it provides excellent value at its price point, which is still dropping!
It's inbuilt "Guide" shooting mode is perfect for those handling a DSLR for the first time. It comes with simplified controls and a 24MP APS-C CMOS sensor, making it easier than ever to create professional-looking images for beginners.
Its upgraded battery allows 1550 shots on a single charge, where it clearly has most mirrorless cameras beat. You can easily transfer your images via Bluetooth to any smart device. With a Nikon F lens mount, it's compatible with a huge variety of lenses.
On the flip side, it doesn't have Wi-Fi, and can only shoot video in full HD, with no 4K options.
Available for under 400£, the Nikon D3500 is a great contender to be the all-around best camera for beginners.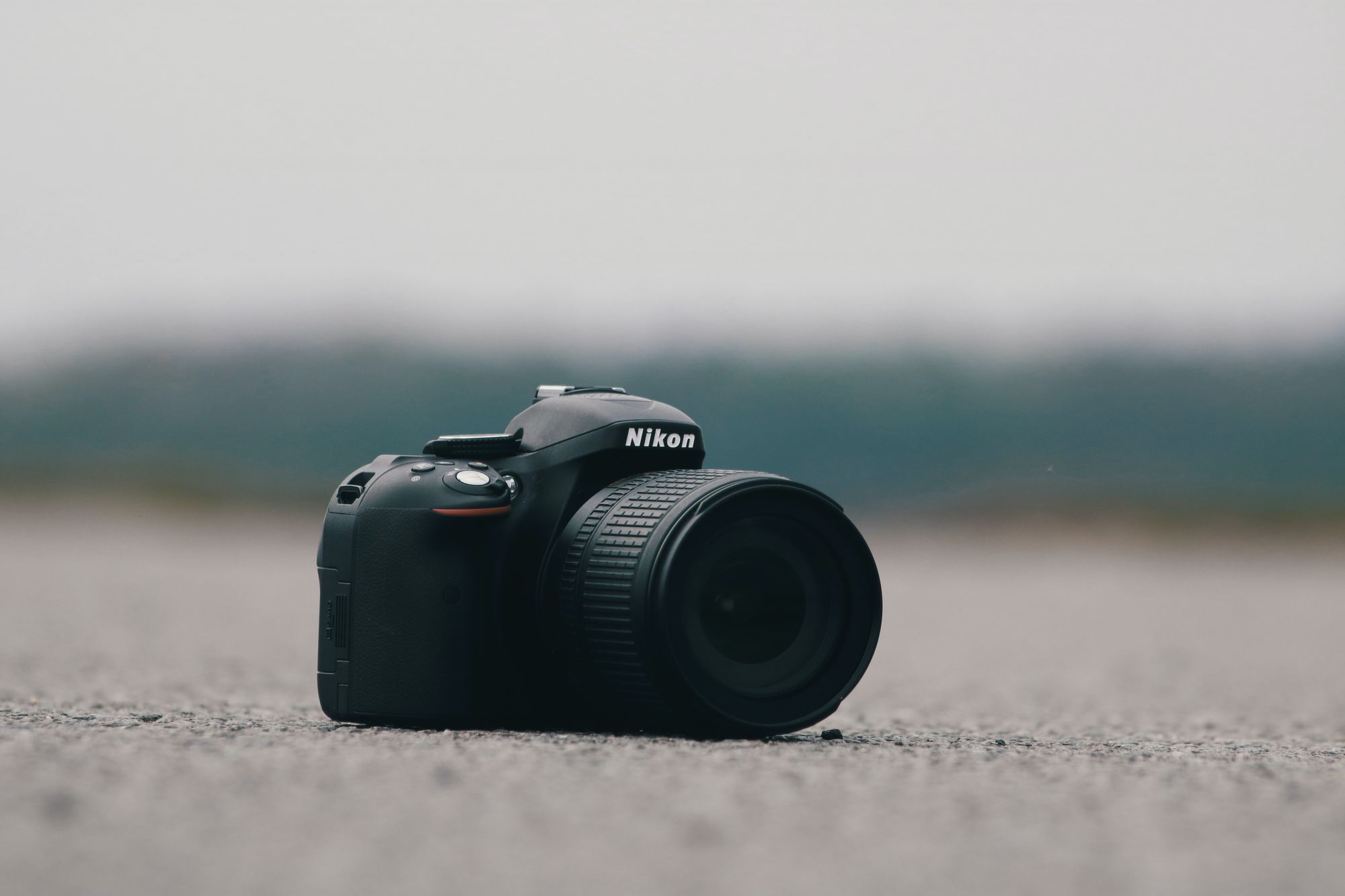 Pentax K-70
The Pentax K-70 might be an often-overlooked contender, but it's an excellent choice for beginners! It offers a great built, fitted with advanced controls, with a second control dial.
It sports a 24MP sensor and an exceptionally bright and accurate pentaprism viewfinder. It shoots great images up to ISO 12,800 and provides beautiful colors and details.
At £599 it's great value at the price, but it has a great weakness when it comes to compatible accessories. Its current lens lineup is satisfactory, but far from those of the camera giant companies, like Nikon and Canon. It's up to you to decide whether the excellent quality of build is worth it for you.
Canon EOS Rebel SL3/250D
The Canon EOS Rebel SL3 or EOS 250D is a lightweight and compact DSLR camera with great battery life. Providing simple but effective controls perfect for those getting started and great Live View AF response, this camera is amazing for every step of your learning curve. It also offers a Guided user interface and Creative Assist mode for your journey.
It sports a 24MP APS-C sensor, Dual Pixel AF, and a fully articulating touchscreen display. It's able to shoot in 4K if you're into video.
Its autofocus system is perhaps somewhat lacking if you plan on taking sport or wildlife shots, but for day-to-day use, it gets the job done. Overall a strong contender, the Rebel SL3 is on the market for £530.
Fujifilm X-T200
The Fujifilm X-T200 is a perfect camera for beginners switching over from smartphone photography for the first time. With its 24MP APS-C sensor and 425-point autofocus system, it takes beautiful, crystal-clear images.
It offers full manual controls through its large 3.5-inch touchscreen. Its physical controls are also easy to use, and the camera displays helpful instructions about settings and menu items – awesome for beginners!
When it comes to video, this camera can do 4K up to 30fps, and Full HD up to 120fps. These video capabilities make the Fujifilm X-T200 a fine choice if you want to dabble in cinematography, as well as still photography.
Is it your dream to become a director of photography? Read our guide, tips, and tricks here.
As its weak point, the Fujifilm X-T200 lacks in-body image stabilization, meaning that steady hands are a must, especially in challenging conditions. There, a tripod or gimbal can provide the needed support as well.
This mirrorless is compatible with a broad range of great Fujifilm X lenses, allowing you to grow your system as you explore different types of photography. It can be yours for £699.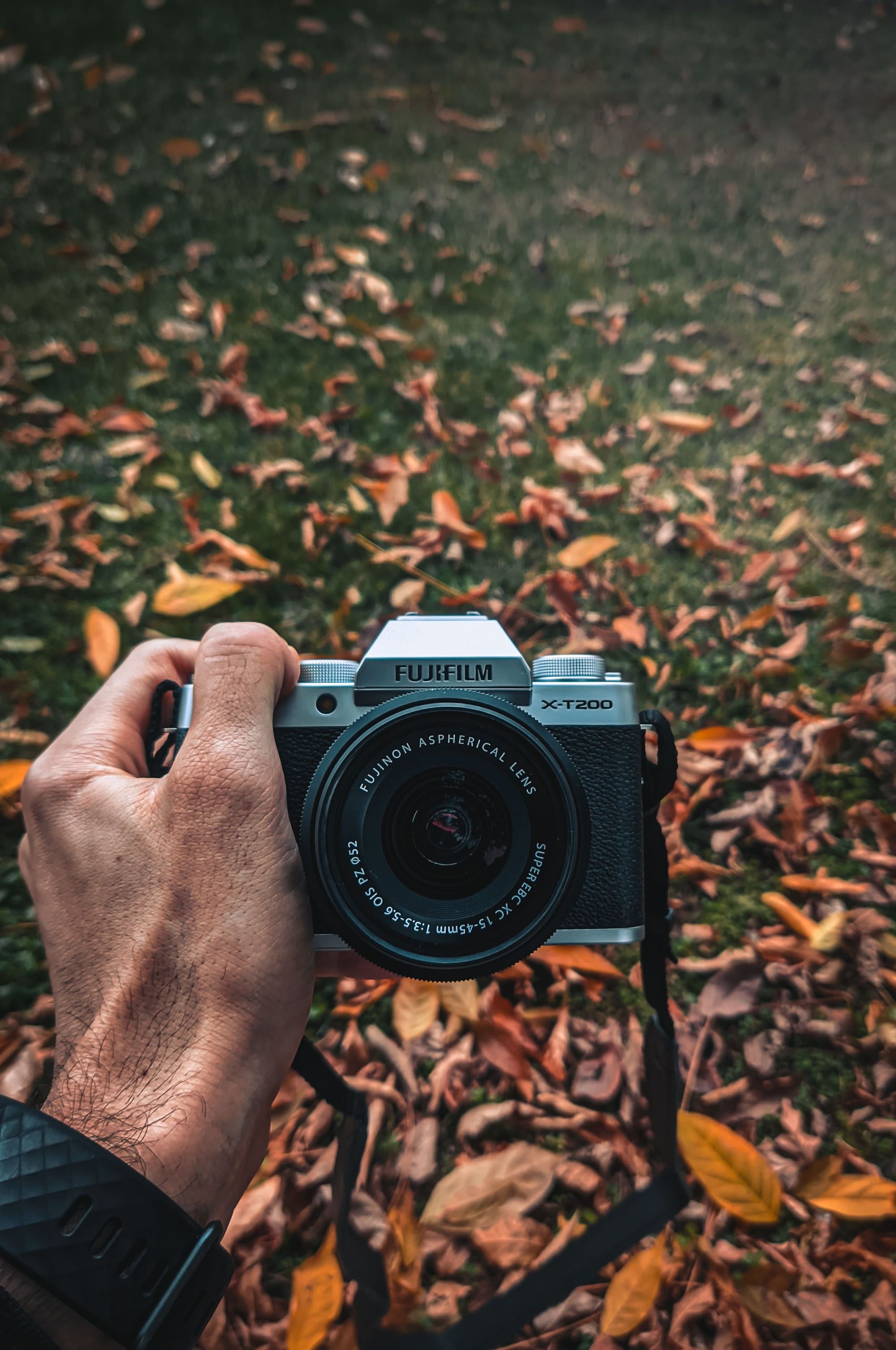 Olympus OM-D E-M10 Mark IV
The Olympus OM-D E-M10 Mark IV has a stylish and incredibly small camera body that packs a punch. The 20MP sensor and in-body image stabilization make it also an excellent travel companion.
It has an ergonomic grip, simple controls, and a flip-down touchscreen that make it easy to handle. The autofocus system is fast and reliable. With built-in Wi-Fi and Bluetooth, this camera has no issues connecting to smart devices.
The battery life is estimated at a modest 360 shots, but the in-camera battery charging through MicroUSB, it's easy to power up on the go.
It doesn't have a microphone input, but if you're looking to take stills, it might be your perfect camera for £699.
Panasonic Lumix G100
The Panasonic G100 is a dedicated vlogging camera, that also offers decent still image quality. It's very light, even for a mirrorless – perfect for photographers on the go!
If you're want to take video as well as pictures, you'll be excited to hear that this camera offers one of the best audio capabilities on this list. Are getting into vlogging? Then check out our guide on the best vlogging camera and equipment.
By turning the 1.84M dots fully-articulating screen forward, the camera switches to "Self Shot" mode, automatically adjusting most settings, like face detection autofocus for a smooth transition.
This camera offers a very established lens range too, allowing you to explore different styles, and it can be yours for £662.
If you're looking for something similar that also offers excellent video capabilities, check out the Panasonic DC-GH5.
Nikon Z50
The Nikon Z50 is one of the newest models on this list, equipped with the most up-to-date technology. This mirrorless comes with an excellent screen and viewfinder.
It comes with a 20.9MP sensor with on-sensor phase detection and can capture video in up to 4K resolution. For the aspiring Instagram influencers, it comes with Creative Picture Control, which is a great extension to the more conventional processing effects, like standard or landscape.
It's built with great ergonomics, excellent weather-sealing, and twin control dials. It also offers helpful explanations for most functions for beginners.
While the camera doesn't have many compatible lenses as of now, this very well might change in the future. It can be yours today for £659.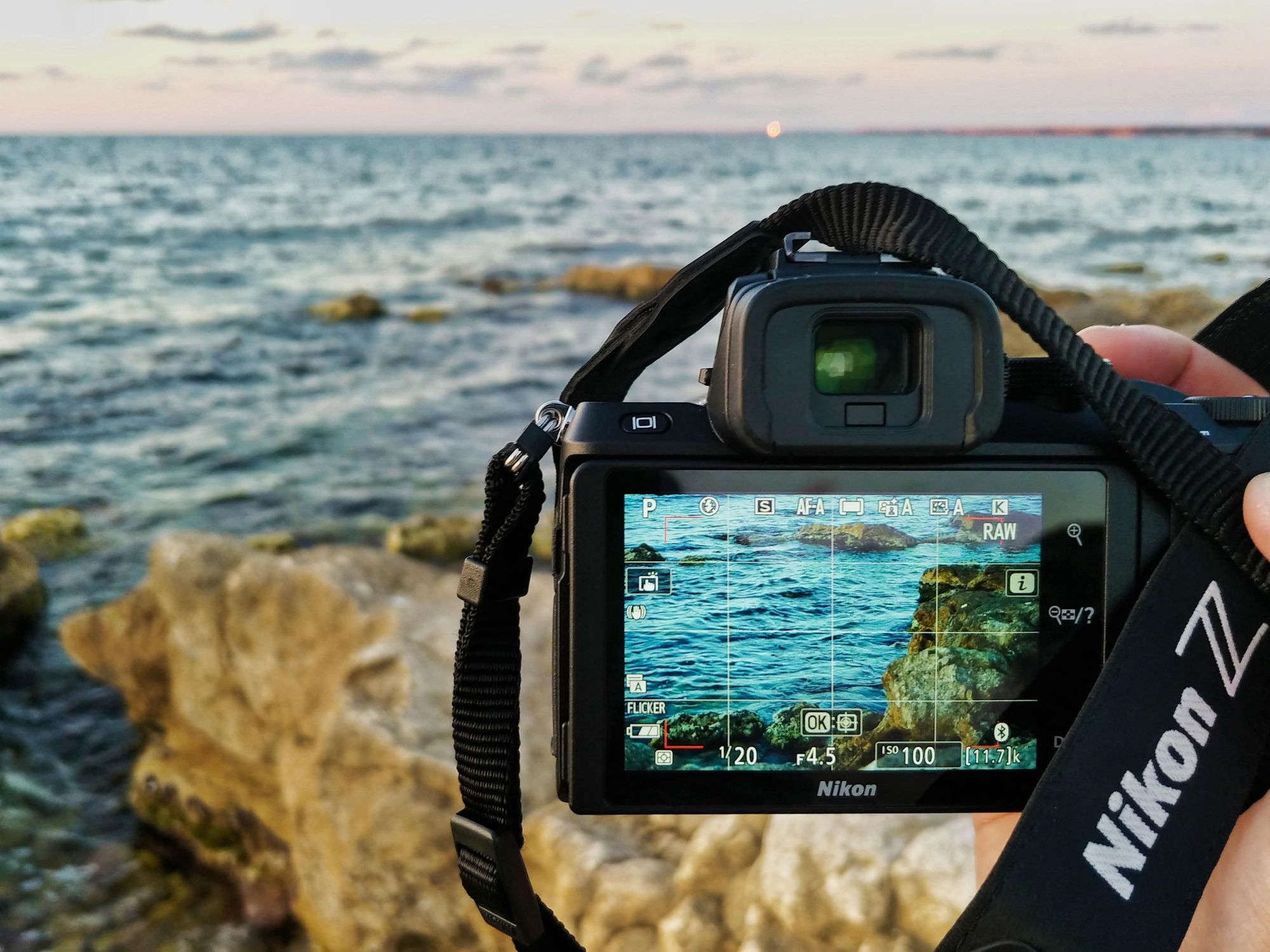 Canon PowerShot G7X Mark III
As a compact camera, the Canon PowerShot G7X Mark III offers awesome video – without the potential complications of having to pack extra lenses in your bag. Compacts or digital cameras are very convenient and simple to use, but with that comes the compromise on image quality due to smaller sensors, and less manual control over your shoots.
This camera blows our minds with the best of what compact cameras can offer today. The 24-100mm equivalent zoom lens provides range, and this underdog shoots 4K video as well.
It even comes equipped with live-streaming capabilities, perfect for aspiring Youtubers or influencers. If this is your passion, consider checking out our Equipment Guide for the Best Camera for YouTube.
With the good video capabilities comes the downside: this compact drains the battery like crazy when shooting in 4K. Bring your charger if you buy this camera for £450.
Sony Alpha A6000
Another compact, the Sony A6000 model is one of the oldest tech on this list, but it offers value for its price that is difficult to overlook. This mirrorless has a huge range of compatible E-mount lenses and accessories, and super-fast autofocus, great for taking pictures of sports or wildlife.
The tilting LCD screen offers versatility and comfort in unusual shooting scenarios, and inbuilt Wi-Fi allows you to connect to almost any device.
In terms of video, this oldie doesn't shoot in 4K but provides a decent full HD. If this is something you're willing to compromise on, this might be the perfect camera for you at an appealing price point of £360.
However, if you're looking for something more up-to-date, you might want to look into an upgraded model of this family, like the Sony Alpha A6300 or the even more advanced A6600. These are both suitable for beginners and offer more in terms of specs and features, although they do come at a higher cost.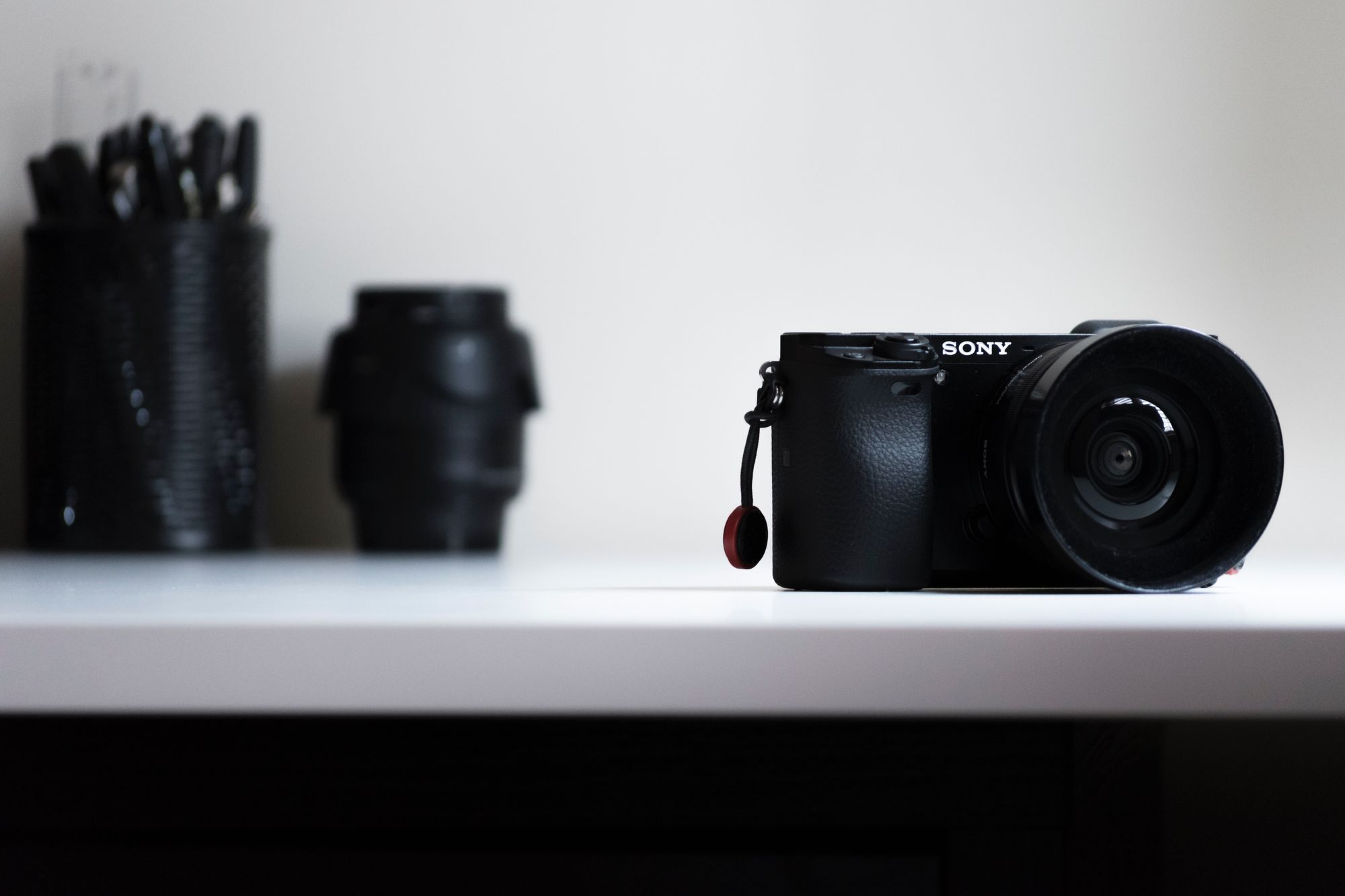 Closing thoughts
If you can hear the call to create, you better answer it! Pick up your gear and start your photography journey today.
You have many great options when you're looking for your future companion in 2023, as seen in our top picks for the best camera for beginners. Make a choice and take the first steps to get started, and who knows, you could be the next big thing in 2023.
Looking for alternatives to owning a camera? Consider renting or subscribing to a camera at Wedio.
Rent Camera Gear: Access Pro Equipment
qqHXJy6AWlc
Camera Hire: Take Your Production to The Next Level
71PttfqWPXk
Camera Rental: Save Money with Wedio
5sHshmF1n_Y
Popular listings for rentals