Short Documentary 101: Making Short Documentary by Eypee Kaamiño
Short Documentary 101:
Making a Short Documentary by Eypee Kaamiño
A collaboration with
Are you interested in shooting a short documentary?
Dabbling in this genre is a great way to gain valuable experience while shining light on a topic or issue that you care about.
Short Documentary 101: How to make a short documentary by Eypee Kaamiño
Documentary films show real events and non-fiction. Are you interested in making a short documentary? Then this masterclass was made for you!
Making a short documentary
181
Meet Your Instructor
X9TlFcraesg
What you'll learn
A short documentary is 1-10 minutes but the duration is not the most important element.
Even if you don't have a script, listen to your talent and create a list of b-roll for your a-roll.
Story is key – if you found a person with an interesting story, build the film around them.
Why making as much B-roll as possible is going to help you during post-production.
Your main interview is the most important piece of your footage and your main audio source.
In the pre-production phase, prepare your gear, organize the transportation, and scout the location.
Masterclass chapters
Duration
There are different lengths when it comes to short documentaries. It can be anything between 1-10 minutes. However, as Eypee says: "A good documentary is not set by the duration." The duration should be based on the story.
Story is key
Finding a story is the key when making short documentaries. You can make a short documentary as a beginner with a low budget. The only thing you need is a good story to tell.
Writing a Script
Script writing is a very personal choice. Eypee never really works with a written script. However, as he says, staying focused is crucial. You have to listen to what your talent has to say.
Pre-production
The preparation is about many things, from setting up your team and preparing the film gear, to organizing transportation and accommodation. Another important aspect is to scout the location of the shooting, and communicate with your talent.
Production
Again, scouting your location is a must when starting production. Find a good place for the interview, which is the single most important piece of content for your documentary.
A-roll and B-roll
The interview part is referred to as the A-roll. It is the primary footage of a project's main subject. Focus on what the talent says and cut your story together to define your main storyline. B-roll is supplement footage. These shots are edited on top of the A-roll to support what was said. Eypee's advice on shooting B-roll footage: "You can never, ever get enough B-roll."
Post-production
Editing depends on personal style. There are different techniques for telling a story. It always depends on what the story is all about. In this chapter, Eypee tells you more about being creative with the choice of music, the pacing of the edits and the sound effects.
Distribution
Firstly, after post-production is finished, show the final video to your talent. Make sure they are happy with the distribution of the footage. A short documentary can be a marketing tool for the talent and a creative piece of artwork for you, as a filmmaker.
Best gear
Eypee's go-to advice is to use the gear that you are the most comfortable with. The best gear is the camera you have the most control over, so you can tell the story you want to.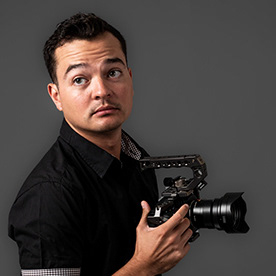 Eypee Kaamiño
Filmmaker
Berlin, Germany
"Some people plan out their every move, but I just go with the flow to improve."
Eypee Kaamiño is a filmmaker who founded his own video company in 2013 and has been working in the video business full-time since.
In 2017 he became a freelancer and focused his work more on documentary and tourism projects, doing brand collaborations and giving masterclass courses all around videography.
If you enjoyed this masterclass, make sure to check out our article about the 9 essential tips to get started with short documentary making.
Popular listings for rentals