Sony FE 85mm F/1.8 Review | Hands-On by 18k+ Creators
Rent film gear from local filmmakers.
Rent film gear from local filmmakers.
Product Review: Sony FE 85mm F/1.8
1 other
Overview
Specs
Reviews
FAQ
Alternatives
Research
FE 85mm F/1.8
Sony
An affordable portrait lens with an absolutely amazing set of features? Yes, this gear exists - it's the 85mm lens by Sony.
Explore our complete review of this lens and find out its key strengths, pros and cons, comparison to its competitor Zeiss Batis 85mm, and our verdict!
Update your knowledge on the lenses for every photography niche - check out our ultimate guide to camera equipment.
4.5
Based upon3 reviews from Wedio members
Effectiveness
3
Usability
5
Value for money
5
Overall rating
4.5
Is it worth it?
Yes
If you're a portrait or a street photographer, this lens is a killer in many respects: sharpness, bokeh, AF speed, and affordable price.
No
If you're looking for a lens with in-built image stabilization, this lens might not be what you're expecting, despite its amazing features. You can find three alternatives to the Sony FE 85mm f/1.8 at the end of this article.
For Sony mirrorless bodies, the Sony FE 85mm f1.8 is the smallest, lightest, and least expensive big aperture 85mm prime lens. It performs admirably and provides a field of view and distinctive bokeh, making it the perfect lens for portrait and street photographers.
At a wonderful price, the Sony FE 85mm f/1.8 offers fantastic image quality and sharpness, as well as outstanding AF speed and accuracy.
Pros
Weather-sealed construction
Cons
No optical image stabilization
Looser depth of field than an f/1.4 lens
Sony FE 85mm F/1.8 vs. Zeiss Batis 85mm F1.8
Sony FE 85mm F/1.8
Zeiss Batis 85mm F1.8
Focus type
Autofocus
Autofocus
Min focus distance
80cm
80cm
Image stabilization
No
Yes
Show more
Sony FE 85mm F/1.8 Review
Build and ergonomics
While the mount and filter thread is entirely made of metal, the barrel is mostly constructed from tough, durable black plastic.
The lens hood is made of a significantly flimsier form of plastic, likely to reduce weight, but it is sturdy enough to be used frequently. Overall, the lens is comfortable in the hand and is light enough to balance nicely on the compact but powerful A7 series cameras.
This Sony lens has a simple design with neither an aperture ring nor a focus distance scale, but it does contain an AF/MF switch and a focus hold button that may be customized.
Dual linear stepping motors that are rapid and nearly silent enable autofocus, and they are connected electrically to a smooth-operating manual focus ring.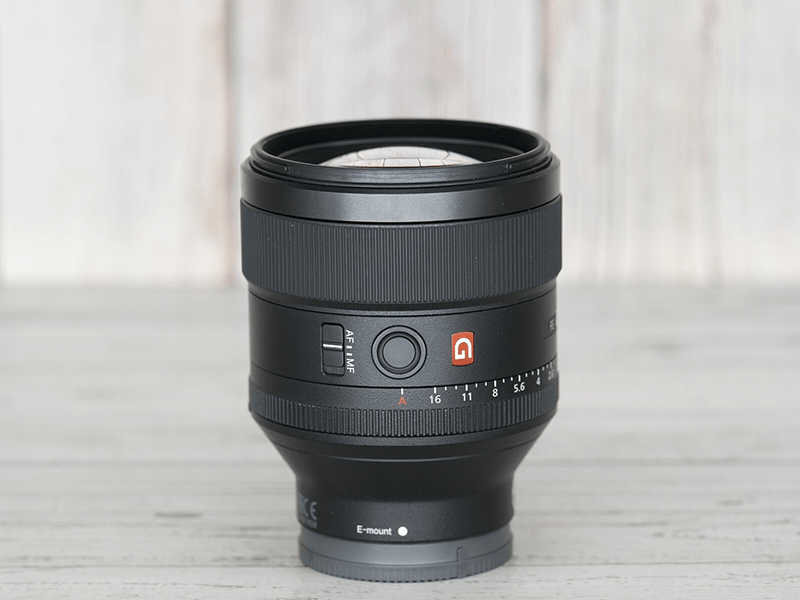 The optical design includes an ED (Extra-low Dispersion) element and a well-rounded 9-blade diaphragm, and the weather-resistant build quality is excellent. It is smaller and lighter than Sony's 85mm G Master lens, measuring 78x82mm and weighing 371g.
Although the f/1.8 lens lacks optical image stabilization, which can be problematic with older Sony cameras that don't have in-body stabilizers, it is more comfortable for lengthy durations of handheld shooting.
Image quality
Even when shooting wide-open, the center sharpness is exceptional and continues to be very stunning all the way to the corners of the frame. Indeed, going down to f/2.8 doesn't really improve sharpness at all.
Although the bokeh doesn't quite measure up to that of the f/1.4 G Master lens, it is still incredibly dreamy and remains smooth when the aperture is slightly opened.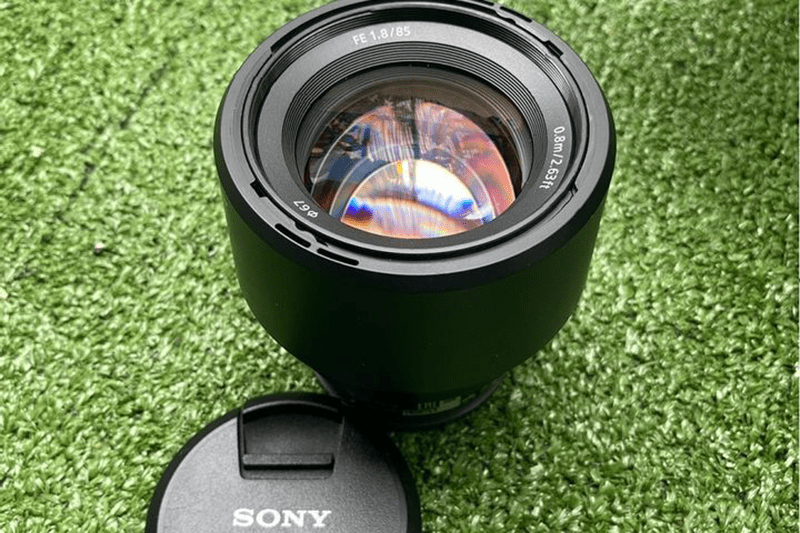 Focus and image stabilization
Thanks to the double linear autofocus motor, the Sony FE 85mm f/1.8 zoom performs fairly quickly when it comes to auto-focusing, requiring roughly 0.25 seconds to lock onto the subject.
Only in extremely low light or setups with strong backlighting did the AF occasionally suffer, although this is not unusual. Any AF system would have a terrible time shooting in these conditions.
Although this lens lacks optical stabilization, Sony typically makes up for it with Steady Shot or in-body image stabilization.
IBIS produces an unstabilized view on a conventional DSLR with an optical viewfinder, indicating that stabilization was not useful for composition or for giving the camera's AF system a still subject.
Sony's lineup features many EVFs, which read the viewfinder image from the imaging sensor and stabilize it. Consequently, the image in the viewfinder is very effectively stabilized, and sensor-based AF makes use of the stabilized vision for better accuracy.
Final Verdict: Who should get the Sony FE 85mm f/1.8?
For Sony full-frame mirrorless cameras, the 85mm f/1.8 portrait prime lens performs admirably, is portable, and is reasonably priced. Although you'll need to stop down quite a little to attain equivalent quality at the borders of the frame, this tiny optic provides outstanding sharpness in the center of the frame practically across its aperture range, even performing well wide-open.
The Sony 85mm f/1.8 has a reasonable level of build quality given the low price, as well as quite quick, dependable, and nearly silent auto-focusing. It is also helpfully weather-tight. The Sony FE 85mm f/1.4 GM lens' handy Focus Hold Button is also present in this lens, although it is much more expensive.
This lens is a must-have for anyone using the E-mount system, but especially for portrait photographers.

What creators like
Got the shallow depth of field I was looking for and working flawless with my Sony FX9 integrated features.
Great picture quality as expected.
Show more
What creators don't like
Show more
Frequently Asked Questions
Is the Sony 85mm 1.8 worth it?
The Sony 85mm 1.8 performs admirably and provides the field of view and distinctive bokeh, making it the perfect lens for portrait and street photographers. At a wonderful price, the Sony FE 85mm f/1.8 offers fantastic image quality and sharpness, as well as outstanding AF speed and accuracy.
Does Sony 85mm 1.8 have image stabilization?
No, the Sony 85mm 1.8 doesn't have image stabilization.
Is the Sony 85mm 1. 8 full frame?
Yes, the Sony 85mm 1.8 is designed for full-frame mirrorless cameras.
Show more
Review by 2 other community members
and
Sony FE 85mm F/1.8 Alternatives
Zeiss Batis 85mm F1.8
As a direct competitor to the Sony FE 85mm, the Zeiss 85mm f1.8 Batis is a short-telephoto lens for Sony's e-mount mirrorless cameras. It is sharper in the crucial areas, has fewer longitudinal CAs, less haloing around bright light sources, and has improved resistance to flare and glare in strong ambient light. Read more
Buy at Wedio
Rent from $20/day
Sigma AF 85mm f/1.4
TThis Sigma is a heavyweight challenger full-frame compatible portrait lens for Canon and Nikon DSLRs. Although it has a large, heavy body for an 85mm f/1.4 prime lens, the image quality is positively supersized. Even when shooting wide-open, the lens provides great sharpness and gorgeous bokeh. Read more
Buy at Wedio
Rent from $21/day
Samyang Rokinon 85mm f/1.4
The Samyang AF 85mm f1.4 lens delivers a soft, creamy bokeh and a seamless transition between focused and unfocused areas, making it exactly sharp enough to capture the finer details of portraiture. The Samyang Rokinon 85mm in contrast to its rivals is pleasantly small, light, and inexpensive. Read more
Buy at Wedio
Rent from $11/day
Show more
The research
Why you should trust us
At Wedio, we are on a mission to keep great stories alive. We achieve this by facilitating the sharing of knowledge, tools, and services that help you as a creator craft better stories. Today we help 100,000+ monthly creators become better — together. We believe in the power of the community. Instead of gathering product reviews from one creator, we involve hundreds of creators, and create both video- and written reviews. In that way, we present the essence of the collective rather than one opinion.
How we tested this product
We used a mixed-method design. Our qualitative video reviews, were created by hand-picked Wedio members. We shipped the product to them, they tried it for at least 30 days in real-life projects, and then they did an honest video review. Our quantitative written reviews, were collected from Wedio Renters and Lenders. When renters have rented the product, they have the option to leave a product review. When lenders create a product listing, they have the option to share their thoughts on the product itself.
How we fund this review
In order to keep delivering the best possible reviews for creatives, we have four different revenue streams. This includes (1) commissions from our short-term rentals (10 % from renters 20% from lenders whenever a rental is happening through Wedio), (2) commissions from our subscriptions (we get paid by our retail partners to deliver an order), (3) commissions from brands delivering products, and (4) commissions from affiliate links to other partners (such as retail partners, software, and other creative tools).
Limitations
Even though we try to be as unbiased as possible, we still want to address two limitations of this review. First, our lenders can be affected by the "Endowment effect" when reviewing their gear. They would potentially rate their product higher than they would have done if they rented the product — just because they own the product themself. Second, there is the potential of instructors experiencing "Confirmation bias" when reviewing a product. If they received the product from us, they might have a tendency to look for all the advantages and good things about the product because they want to please Wedio and the product brand. To overcome this limitation, we strictly guide our instructors to be as objective as possible — a low rating is as valuable to us as a high rating. The review aims to guide other creators in the choice of gear.
Get a Sony FE 85mm F/1.8
https://images.wedio.com/images/listing_images/images/1961995/original/DSC00029-crop.JPG
USD
Buy new
https://amzn.to/3FSftOf
598
Rent from
https://www.wedio.com/en/rent/sony-fe-85mm-f-1-8
11
Popular listings for rentals