5 Places to Hire Photo Studios in London (Including 8 Studios) – Wedio
Have you ever had a shooting day washed away by the rain? Got frustrated by the ongoing distractions when you're trying to focus? A professional photo studio might be the thing for you.
A photography studio provides complete control over your environment. Whether you're planning a polished fashion editorial or shooting some takes for your passion project, this could be the perfect, interruption-free way of achieving stunning results.
Not sure where to start your search? We're here to help. Find the best 5 places to hire a photography studio in London below.
Want to know a little more about photography before you hire the next photography studio? Find all the photography fundamentals.
1. Peerspace
Ever see your favorite creator post a killer Instagram pic, but you can't quite figure out where they found that really cool-looking space? Chances are, they booked it on Peerspace.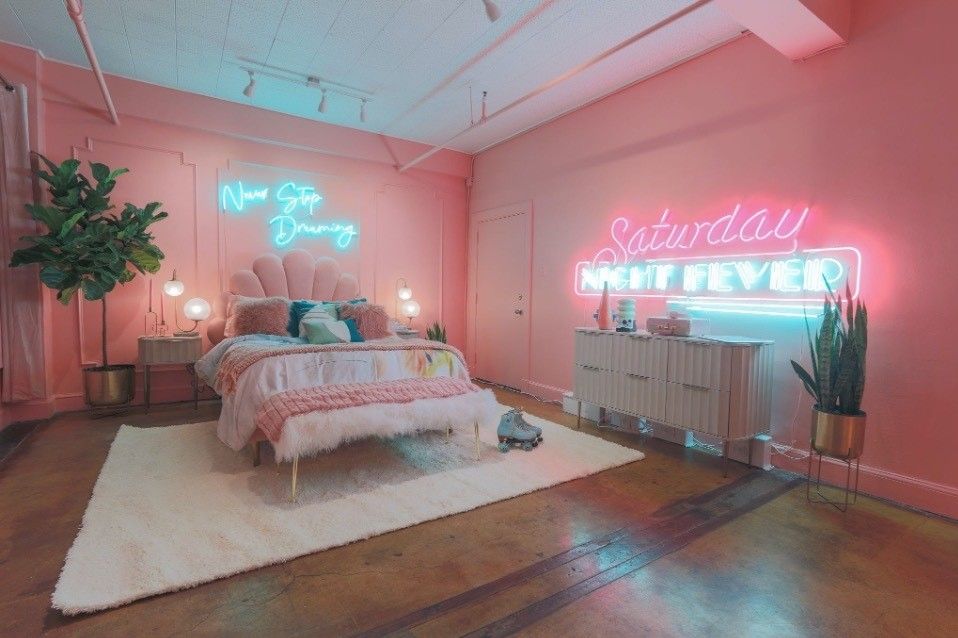 Peerspace, a platform that helps creatives find locations for their next projects and events, uncovers unique spaces in metros all over North America and they're recently launched in London!
Whether you're looking for an industrial warehouse, a sun-drenched loft or a studio decked out with vintage props, Peerspace probably has it available to rent by the hour. Check out their spaces here and get some inspo for your next shoot.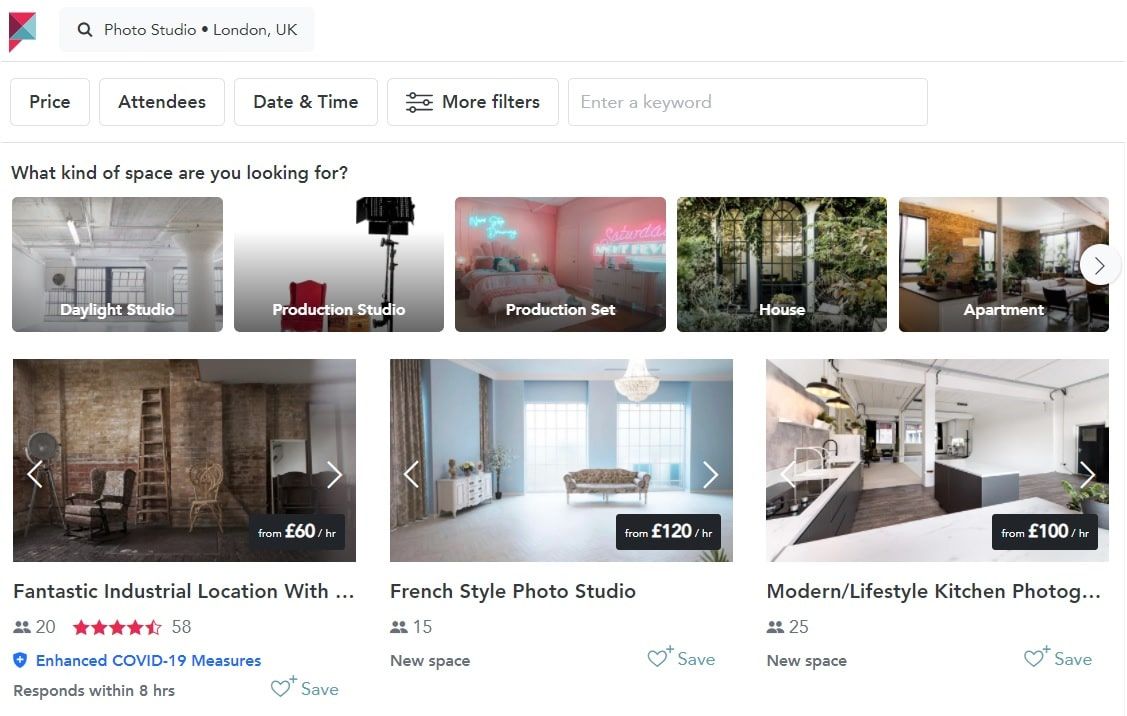 Why choose Peerspace?
When it comes to connecting people with unique spaces, Peerspace's experience is unmatched.
Besides the great selection of distinctive and iconic photo studios, Peerspace works with an honest pricing policy that's fit for the up-and-coming photographer or filmmaker. Their spaces are paid for by the hour, with no hidden fees to make your life miserable.
They work hard to make your bookings easy – with a smooth process that lets you focus on the creative aspects of planning your shoot.
Top 5 photo studios from Peerspace
For a taste of what's waiting for you at Peerspace, check out these undiscovered gems or tried and true photography studios in London.
Our top picks for
Best Photo Studios to Hire at Peerspace
2. SHOOTFACTORY
SHOOTFACTORY is a UK location hire agency that represents over 400 locations in the country, mainly focused on photo studios in London and the surrounding areas. They offer spaces for film, photography and even corporate events.
SHOOTFACTORY focuses on outstanding and personable customer service. Their location agency managers will be able to suggest properties that fit your exact criteria, may it be about size, lighting, backdrops, or more.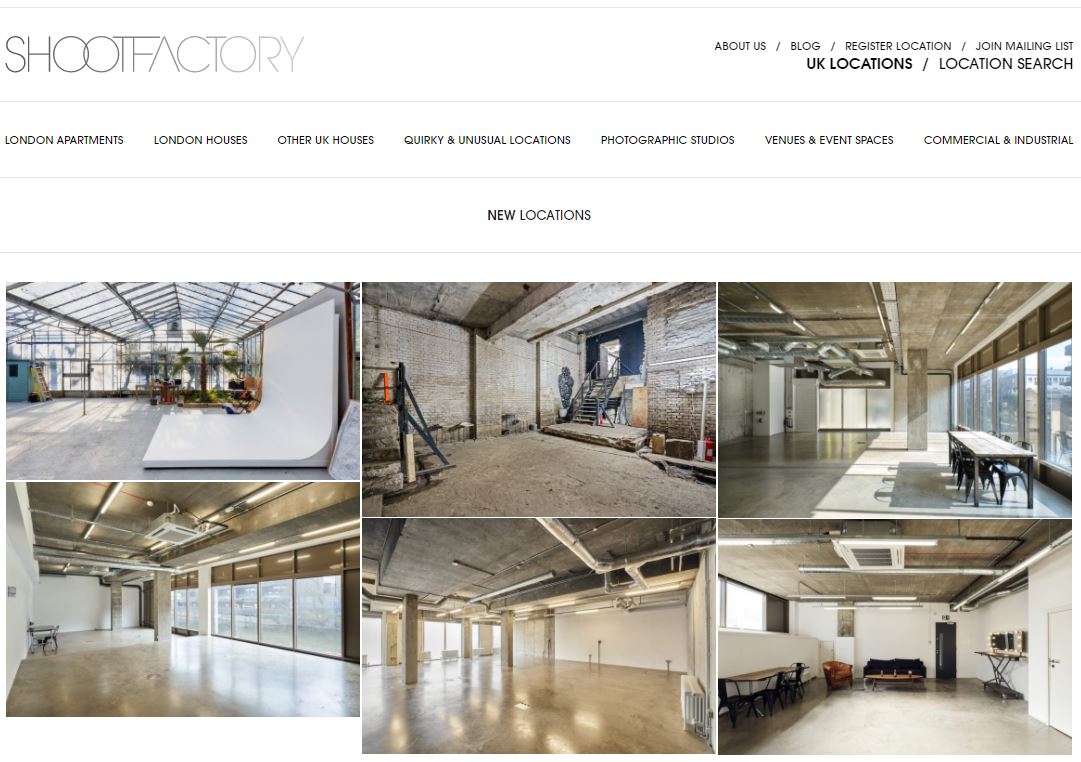 Why choose SHOOTFACTORY?
The huge selection is certainly a bit plus, especially if you have a specific vision you're to fulfill. With glowing recommendations, SHOOTFACTORY's website and locations are worth checking out.
3. Hire Space
Hire Space helps event organisers find their dream photo studio through their comprehensive venue marketplace. They also specialize in virtual events but don't shy away from supporting any creative or social activity.
Hire Space boasts more than 230 venues on their site, only in London!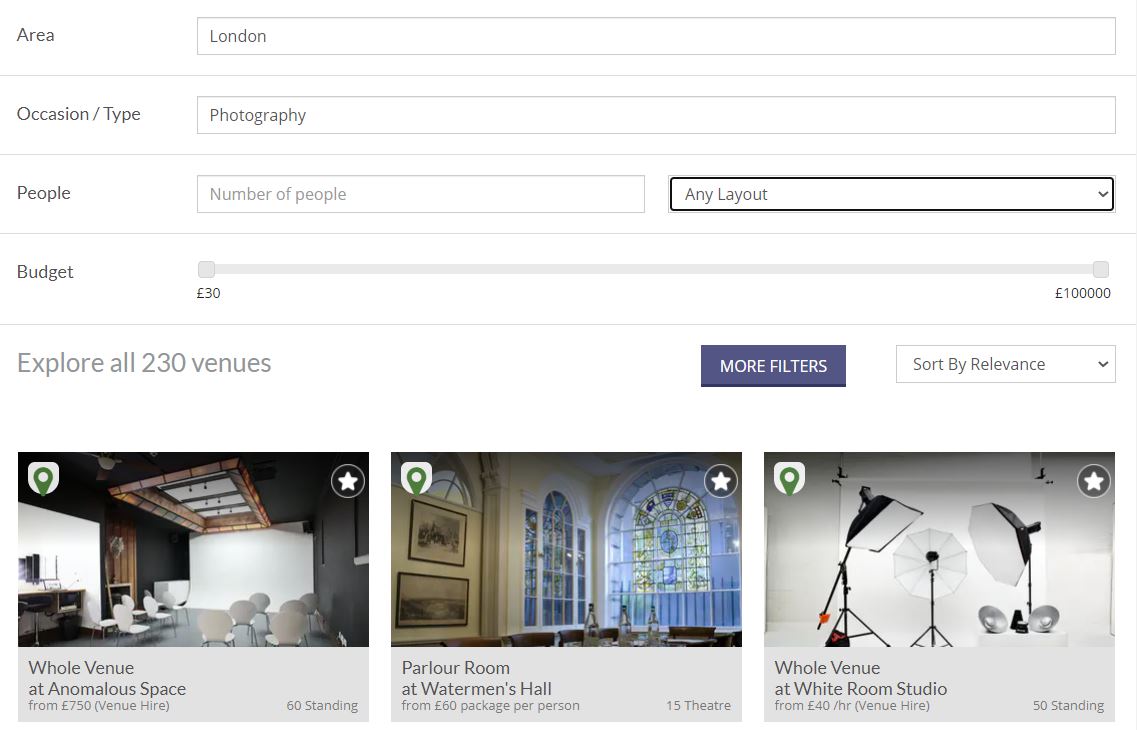 Why choose Hire Space?
Hire Space focuses on making your photoshoot as hassle-free as possible. Whether you're preparing for a corporate photoshoot or grinding for your passion project, Hire Space got you covered.
If you're ever in a pinch, Hire Space's venue experts are happy to assist you with providing more information on the locations.
4. Workspace
Established over 30 years ago, Workspace is London's leading provider of flexible space for London's brightest businesses.
Their mission is to inspire businesses and give them the freedom to grow.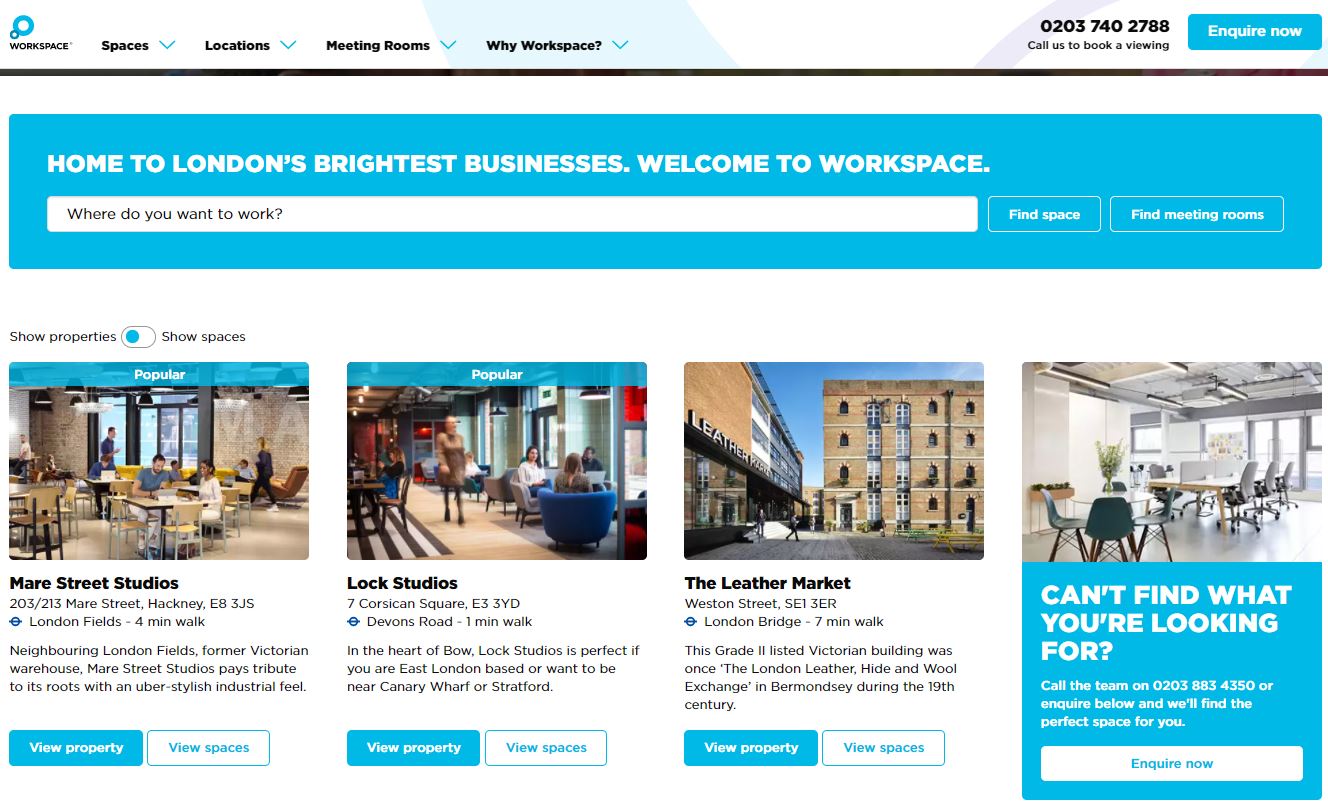 Why choose Workspace?
Workspace offers a range of photo studios to enthusiasts and professionals with excellent connectivity and added-value facilities.
By hiring a photo studio through Workspace, you'll join the 3000 businesses that already rented with them. You also gain access to many perks and services, like SME funding advice, regular networking events and storage solutions.
5. Wedio
Wedio is the fastest-growing European equipment rental community for filmmakers and photographers — the Airbnb of professional film gear.
Committed to keeping great stories alive, Wedio offers the tools you need as a creator to focus on your craft. As a member, you get to rent camera gear and photo studios from your local community.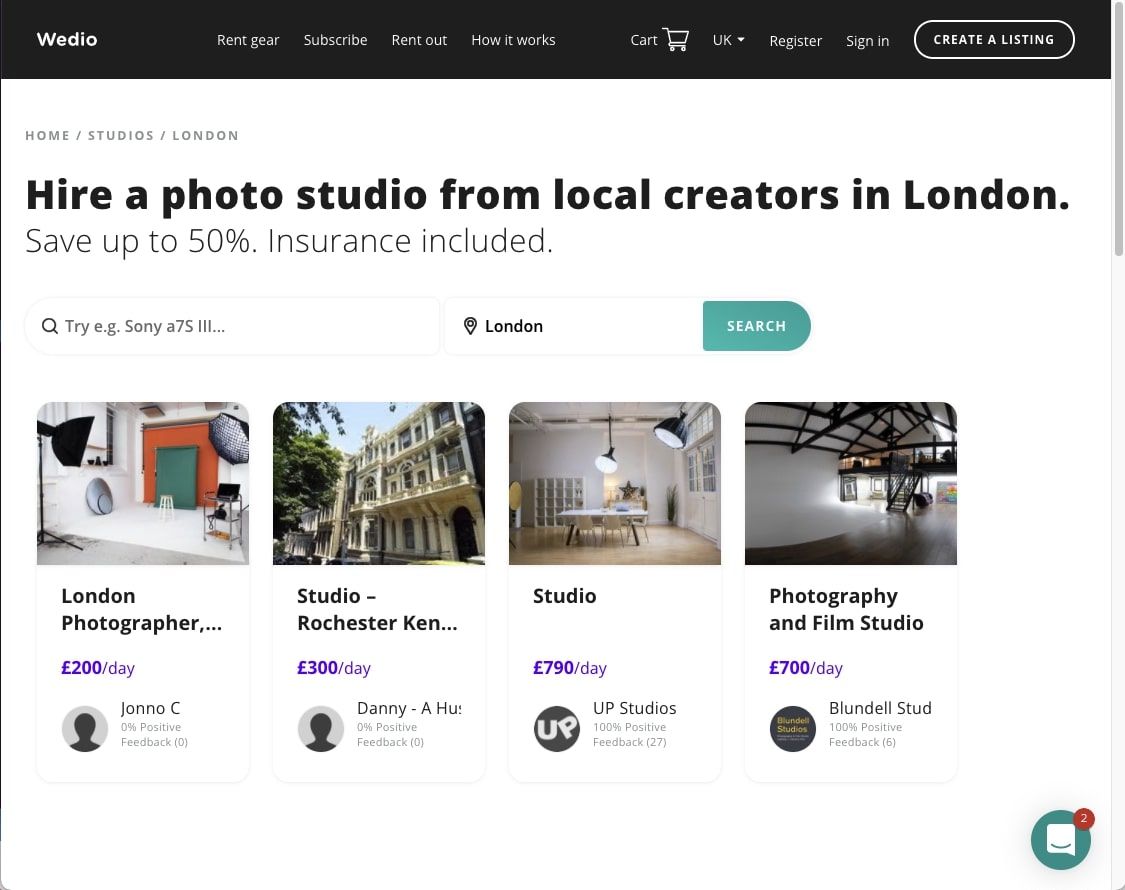 Why choose Wedio?
If you're looking to hire a photography studio in London, Wedio is dedicated to serving your needs. As the community rapidly grows, it provides a great opportunity to not only gain access to a studio when you want but also network with like-minded creators or make some extra money renting out your excess camera gear.
Photography studios in London at Wedio
Our top picks for
Best Photo Studios to Hire at Wedio
Stylish Open Plan Studio
1,000 sqft of open plan space

– easily fits up to 10 people

Well connected

– 10 min from Angel and Old Street tubes

Ideal for lifestyle shoots

– and much more
Innovative Multimedia Space
Located in London Kings Cross

– with street parking

Industrial backdrop

– with various shooting locations

Private compound

– giving our clients added privacy
Central London Studio
Experienced photographic assistant

– Ready to lend a hand

Located in Central London

– Near Chancery Lane tube

Flexible arrangement

– Reach out for a discussion
Closing thoughts
Whether you were looking for a blank canvas venue or a studio with unique charm, the amazing places listed should help you find the perfect photography studio in London.
Want to sharpen up your skills? Check out our guide on where to study photography in London. Or find more exciting locations beyond the studio, with these photoshoot locations creators recommend.
Happy filming!