Panasonic Lumix GH5 Mirrorless Camera Review (2023 Update)
Rent film gear from local filmmakers.
Rent film gear from local filmmakers.
Panasonic Lumix GH5 - one of the most advanced Micro Four Thirds mirrorless cameras. As you take this camera for a spin (trust me, you want to take this one for a spin) you'll experience its stand-out features. Allow me to introduce you to your next camera rental!
Panasonic Lumix GH5
20.3MP Digital Live MOS Sensor

– Venus Engine Image Processor

4K Video with No Crop

– Internal 4:2:2 10-Bit 4K Video at 24/30p

5-Axis Sensor Stabilization

– Dual I.S. 2
Below you'll find:
Outstanding GH5 Features (and the not so great)
GH5 vs. GH5s
Reviews
Update: PanasonicGH5 - Still worth buying in 2023?
Spec Overview
FAQs
Outstanding GH5 features (and the not so great)
Panasonic Lumix GH5 is a high-sensitivity 20.3-megapixel Live MOS Micro Four Thirds sensor without a low-pass filter. GH5 is combined with the new Venus Engine that allows you to achieve the highest picture quality in colour, reproduction, and resolution. Really, you did good Panasonic!
Thanks to the improved JPEG processing engine, GH5 does a great job with saturation, contrast, hue accuracy, and high ISO noise reduction.
Performance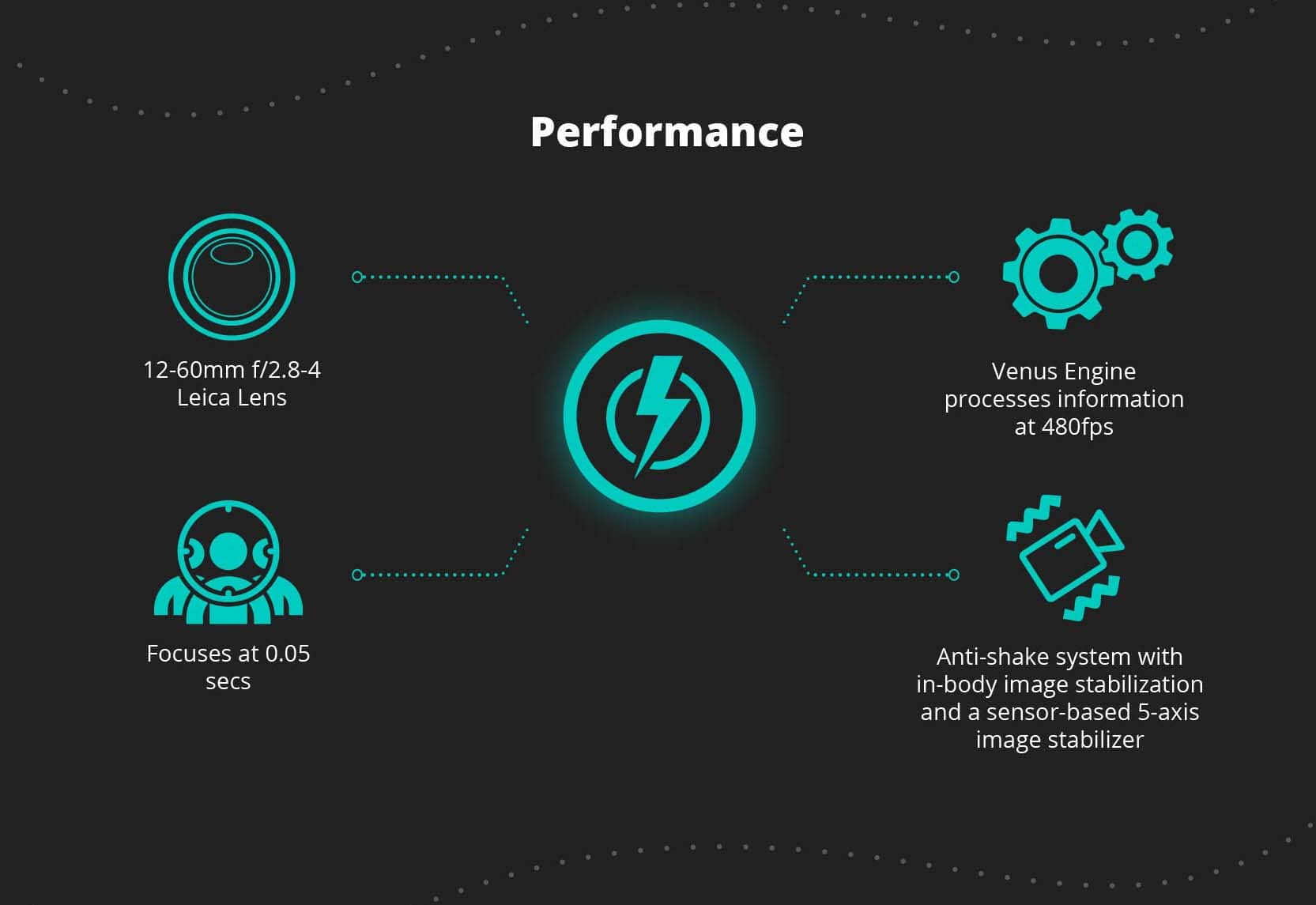 AF performance is brisk and agile, when paired with the 12-60mm f/2.8-4 Leica lens, the GH5 quickly and silently locks onto subjects under a range of lighting conditions. Even very dim light, you could even go imitate Crocodile Dundee looking for rattlesnakes and capture it all with this bad boy! (I suggest leaving the rattlesnake taming to the professionals).  

The Lumix GH5 focuses at 0.05 secs, an improvement from the GH4, which focused at 0.07 seconds. The new with the Venus Engine now processes information at 480fps.
The GH5 includes an anti-shake system with in-body image stabilisation and a sensor-based 5-axis image stabiliser. When combined with lens' optical image stabilisation, benefiting both stills photography and video recording.
It uses a 5-axis Dual IS II and a broad ISO sensitivity which boasts an ISO range of 100-25600. This is a slight improvement on the previous model – the increase was from 200 to 100, helping avoid overexposure in bright conditions. I guess it's a little more than a 'slight improvement', especially as it has halved the lower level ISO by 50% - not so 'slight' after all. The GH5 is a great camera to shoot within all lighting situations. This is further supported by stabilisation when shooting with zoom lenses.
Image quality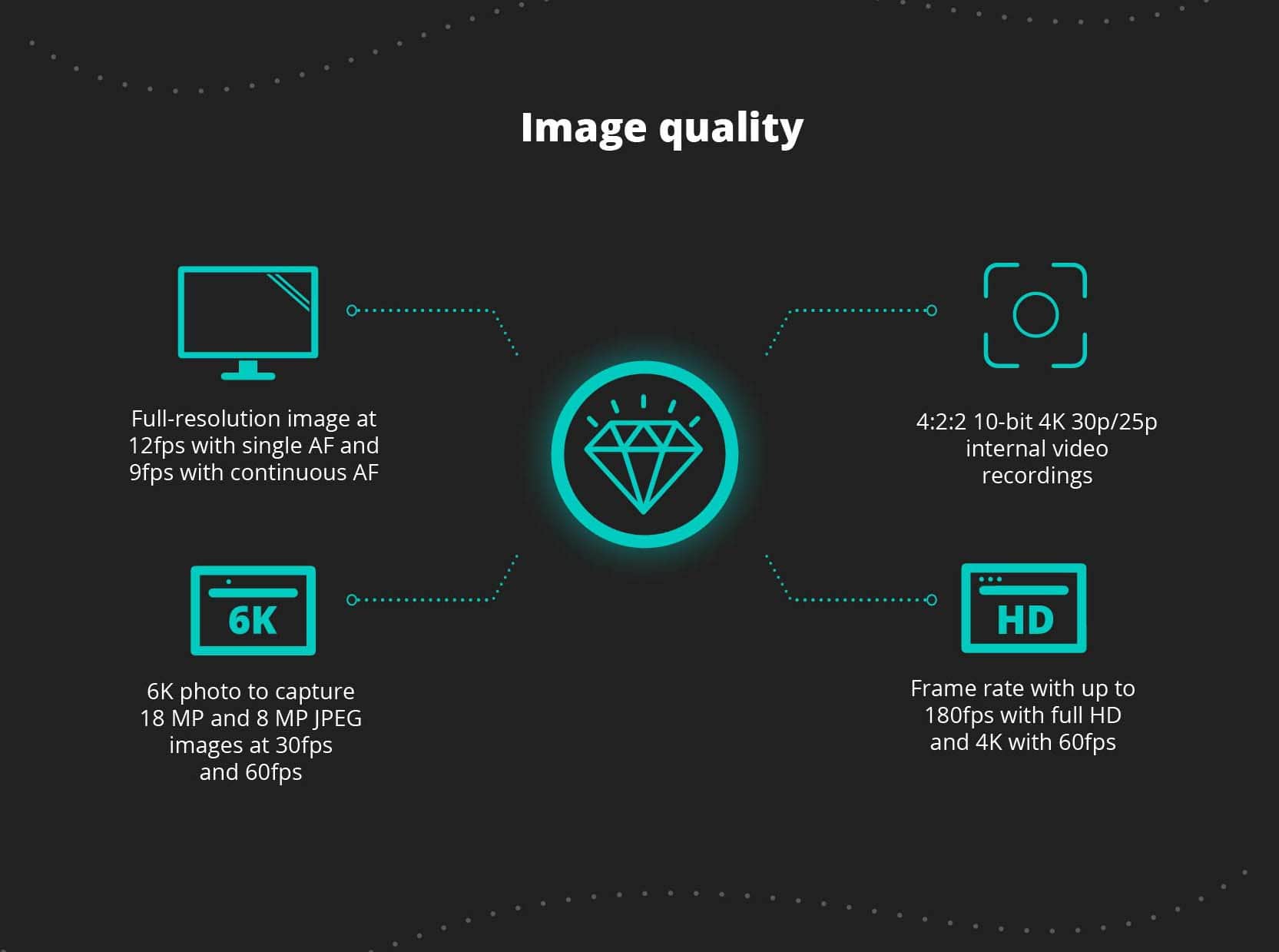 The GH5 features the 10th generation Venus Engine, designed to produce high-quality images with natural colours and finer detail. The camera is capable of tracking fast-moving subjects (sure, rattlesnakes too), buffering full-resolution images at a striking 12fps with single AF and 9fps with continuous AF.
The addition of 6K Photo allows you to capture 18-megapixel and 8-megapixel JPEG images at 30fps and 60fps respectively, so you won't miss a moment.
The Panasonic GH5 will deliver professional-quality, ultra-high-definition, smooth videos up to 4K 60p/50p internally. Additionally, the GH5 is capable of 4:2:2 10-bit 4K 30p/25p internal video recordings, as well as producing even more accurate colour reproduction for the first time as a digital interchangeable lens camera.
Panasonic didn't stop there, though. They improved the GH5 slow-motion quality from the GH4. It's 'predecessor' that sounds royal, right? King George the VI – the predecessor to Queen Elizabeth the II – you hear it too now, right? Alright, enough history. The GH5 has almost doubled its frame rate with up to 180fps with full HD and 4k with 60 fps.
Connectivity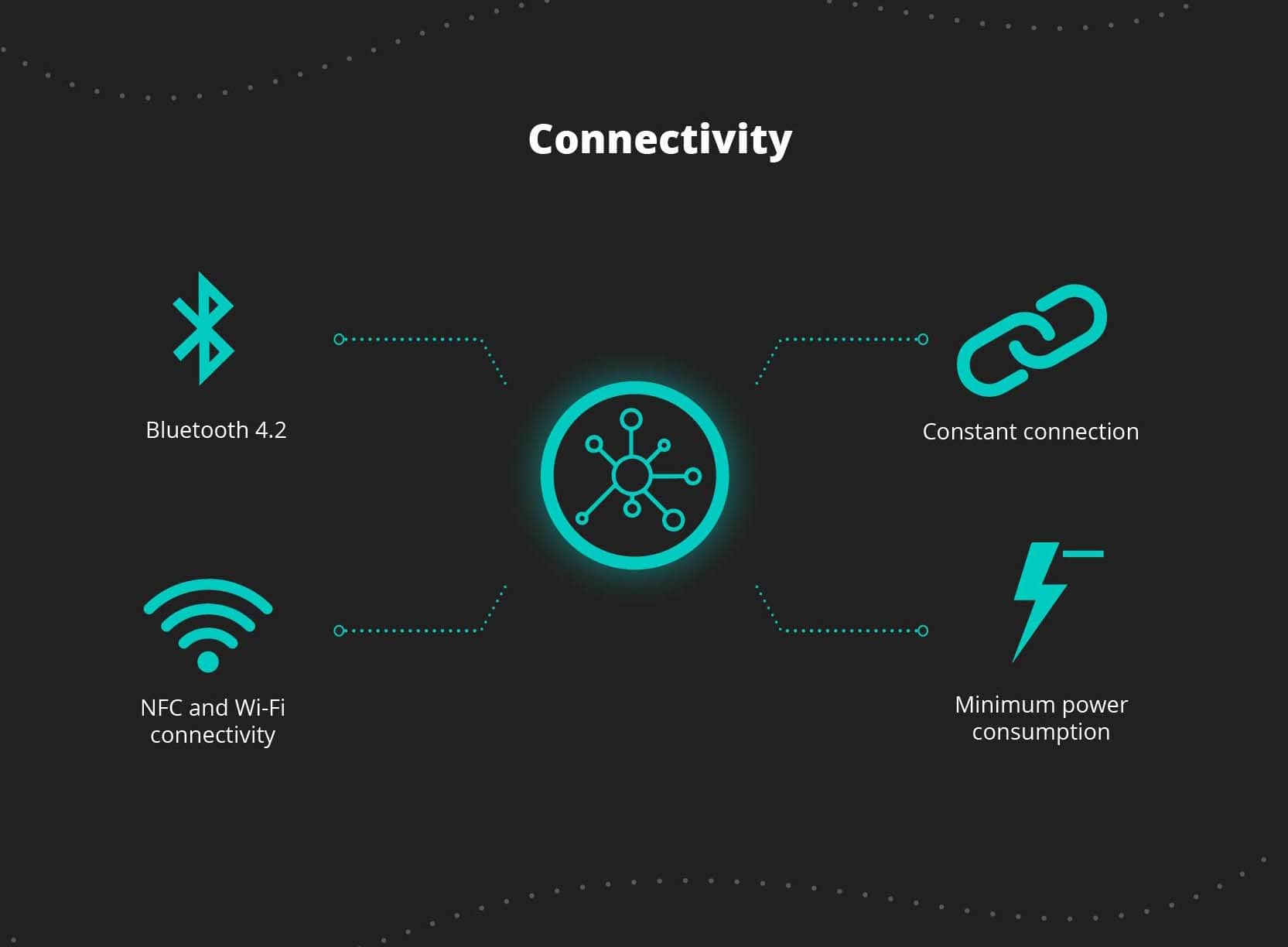 The GH5 has Bluetooth, NFC, and Wi-Fi connectivity, offering greater flexibility and instant sharing options. Bluetooth 4.2 allows constant connection with a smartphone/tablet with minimum power consumption. The fact that this camera offers 'constant connection' fits right in with the current climate – the need for 'iGen' to be continuously connected. Before we move on, can we just take a moment to address that this generation (2013-2025) is called 'Gen Alpha' – Alpha, really? That can't possibly be good for their ego.
Design and hardware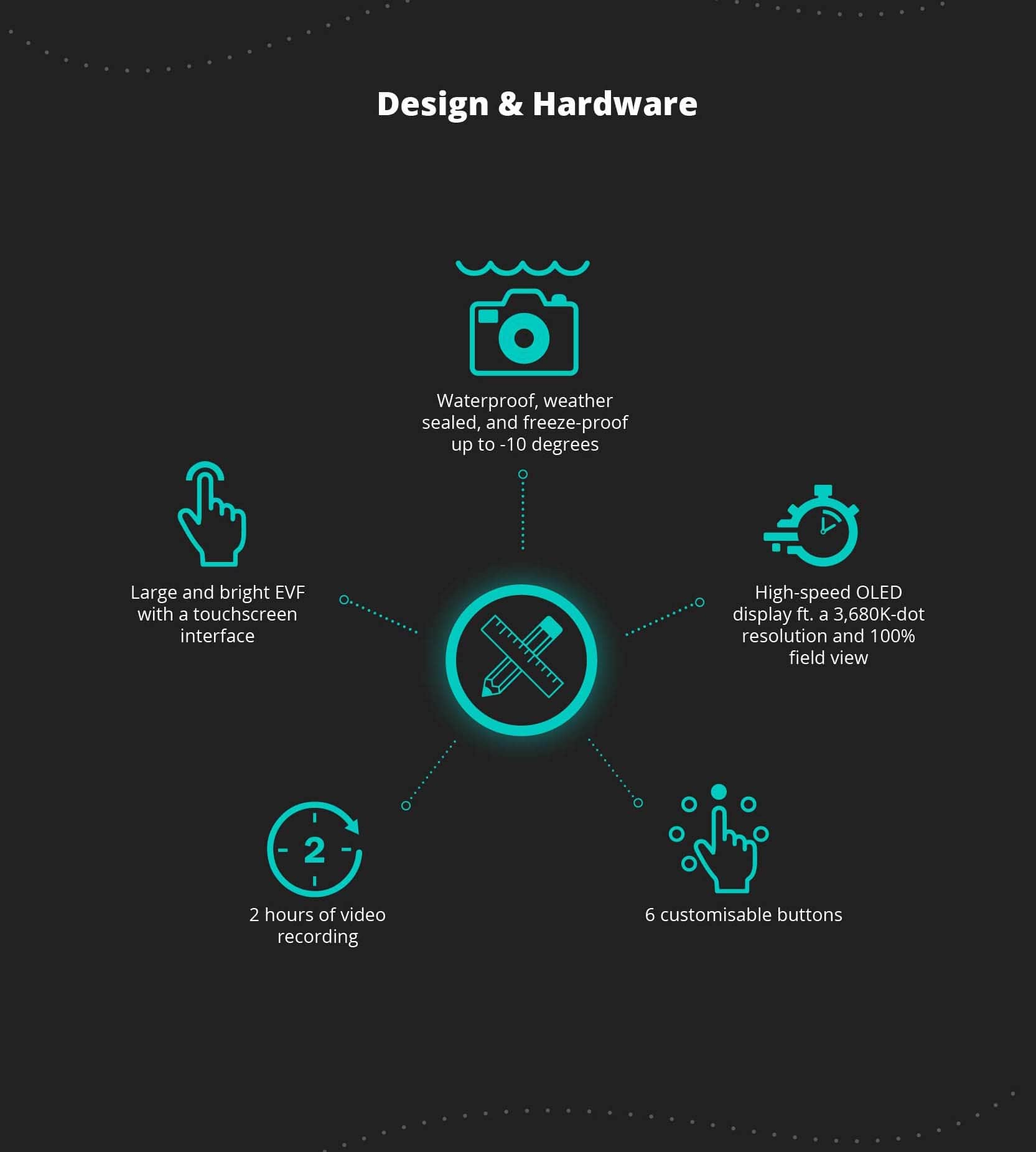 The GH5 is user-friendly and excels when it comes to design. It has a slightly large build with fine grip design and weighs 660g. The Panasonic team really went all out with this one.

The GH5 offers high-quality hardware including a durable "outside" and a large and bright EVF with a touchscreen interface. There are 6 customisable buttons on this camera.
There is also a large Live View Finder (LVF) with a magnification ratio of approximately 1.52x / 0.76x (35mm camera equivalent). A high-speed OLED (Organic Light-Emitting Diode) display featuring a 3,680K-dot resolution and 100% field of view.
It is also waterproof, fully weather-secured, and freeze-proof up to -10 degrees Celsius. If you feel like documenting the Northern Lights in Greenland, this camera will get the job done.
It can handle splashes and dust thanks to a magnesium alloy full cast front. This makes the GH5 a camera to be used with complete confidence - even in the most challenging of circumstances. Like I said – Northern Lights, who knows maybe you'll encounter a Walrus, I mean have you seen the size of those things? A decent protective cover definitely won't hurt!
It has a 200,000 shutter release lifespan. A fully charged battery will allow you to capture at least 400 shots. 4k video is unlimited as long as your memory is not full, and the battery is not dead. When shooting in 4k, a charge can muster up to 2 hours of video recording. Interestingly, dual recording has very little to no effect on battery life.
The camera includes an external headphone and microphone jack too. The GH5 is mainly a video camera but manages to create great stills also. It supports video formats like MOV, MP4, AVCHD, AVCHD Progressive. It is supplied with a double SD Memory Card slot, compatible with the high-speed, high-capacity UHS-II. The HDMI Type A terminal is included.
Room for improvement?
Like everything in this life, no one and nothing is perfect, well, Scarlett Johansson excluded of course – well, the same applies to the GH5. The camera has no high-res composite mode or built-in flash. Buffer clearing is still a bit slow, and menus can be challenging to figure out. On ISO, GH5 still loses to popular cameras like the Nikon D500 and Sony Alpha A7S II.
Battery troubles
There is one more disappointment when it comes to GH5. The battery can only be inserted in one way. If you are in a hurry or not really paying attention to what you're doing and insert it backwards there is a little metal notch on the opposite side of the connector, that will get it stuck. If you manage to get it out, it bends the connector inside the camera, and when you push the connector back, it breaks, which costs around $140 just to get it fixed. Ouch! That's the kind of extra bill you don't want.
However, Panasonic definitely listens to its customers, and in general, this product is worth the money, even compared to pro-level cameras in the same price range.
GH5 vs. GH5s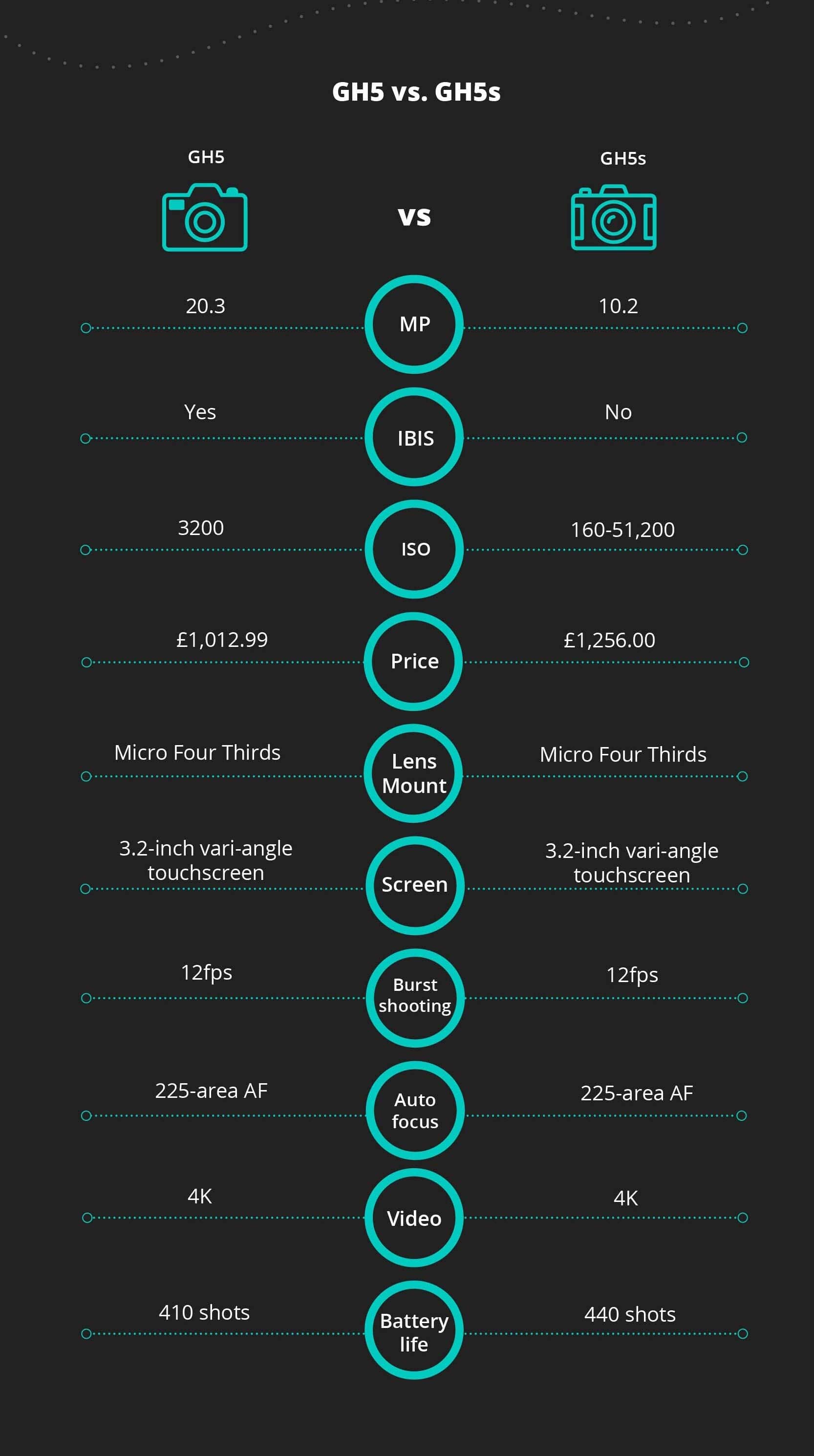 GH5 wins with 20.3 Megapixels in comparison to only 10.2 Megapixels of the GH5s. Even though the same lens would be used, GH5 is cropping images so much more than GH5S, and it is noticeably different. When it comes to stabilisation, you should definitely go for GH5 since GH5s doesn't have the IBIS.
GH5s holds more onto the natural colours and noise makes images a lot grittier. Dynamic range is roughly the same though. At 3200 ISO, with GH5 the noise starts to be noticeable. With higher ISO, GH5 tries to clean up the noise, and the image gets a lot softer and starts to look very unnatural.
Let's do a quick round-up of what just happened (in case you missed it). If you're keen on image stabilisation, the GH5 is the right choice for you. However, the GH5s might be a cheaper choice and tends to produce more contrast and less noise, providing a more natural feel. If the GH5s suddenly seems more appealing, we've got your back – we put together a guide just like this one for the GH5S.
Reviews of Panasonic GH5
Update: Panasonic GH5 – Still worth buying in 2023?
Many people still call the GH5 their all-time favourite camera, let's explore why.
The GH5 was released 3 years ago, but the in-body image stabilisation is still one of the best. Yep, one of the best – I'm sticking to that statement. The camera has been tried and tested in the most difficult of conditions, including a helicopter ride – trust me, that's a bumpy ride. With this camera, you really don't need a gimbal which will save you much-needed space when travelling. This feature alone sets it apart from other cameras.
The camera is rock-solid, it withstands extreme conditions, and handles low light brilliantly. It still captures some of the sharpest and crispiest 4k there is – and I'm talking KFC-hot wings kind of crispy. It is great for YouTube videos, vlogging, and live streaming – I guess you could call it a perfect fit for people in 2023.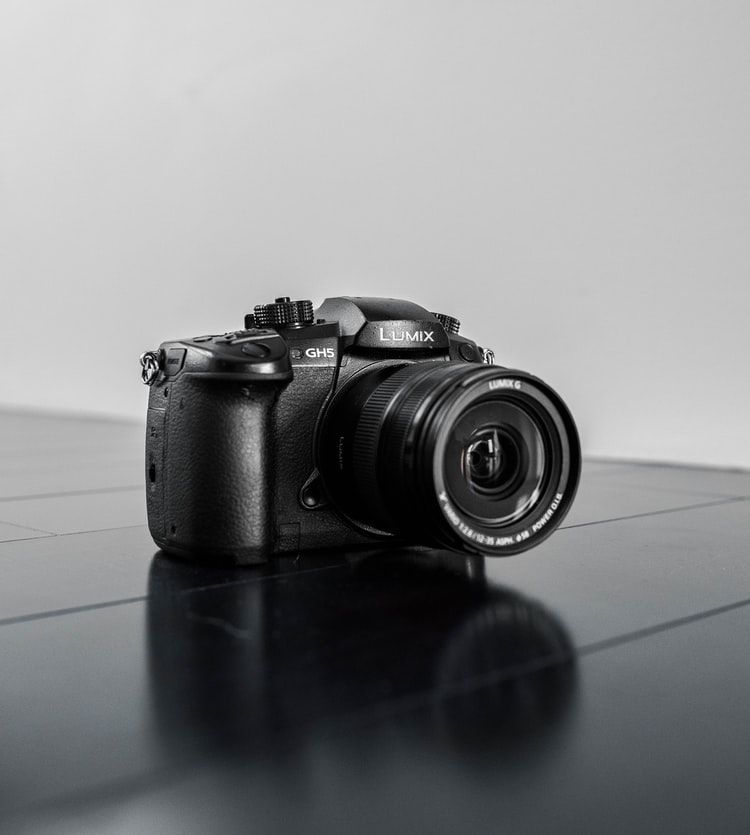 The camera supports anamorphic lenses, and there is no chance of overheating either. The camera includes a dual SD card slot which is not always the case, has a quiet shutter, and a flippy screen which can be turned in any way.
And who doesn't like flexibility, right?
Opinions on the colour palette that comes out of the camera vary with taste. However, most still believe GH5 does exceptionally well in this area. There are also very few competitors that offer 4k at 60fps, especially at the price of the GH5. Even with the new updates, the GH5S still cannot provide this.
You can utilise and control your camera wirelessly by connecting via the Wi-Fi app. In the last 3 years, software updates have drastically improved the autofocus function. You can set multiple focus points and create transitions during video recording.
You can get through a whole day with just one battery. Can someone please pitch the "whole day with just one battery" to the iPhone development team?

With energy saver turned on, you can shoot up to a thousand images.
This camera came out in 2017, at which point, Panasonic charged a mere £1,515 for the body. Today, you can pick one up for £1,012.99 new and used for roughly £999.00.
Even today, the GH5 is the best camera at its price point. You'll struggle to find anything for or close to this price point, especially sporting similar specs and features.
Overview of specs
Sensor: 20.3MP Micro Four Thirds CMOS
Lens mount: Micro Four Thirds
Screen: 3.2-inch vari-angle touchscreen, 1,620,000 dots
Colour Filter Type: RGBG
Burst shooting: 12fps
Autofocus: 225-area AF
Video: 4K
Connectivity: Wi-Fi, NFC and Bluetooth
Battery life: 410 shots
Sensor stabilisation: Yes
Waterproof: Yes
FAQs
How long does the battery last when shooting video on the Panasonic GH5?
The DMW-BLF19 battery for the GH5 camera lasts for approximately 120 minutes when shooting in AVCHD format for video.
What difference does 10-bit on the GH5 make for videographers compare to 8-bit?
10-bit provides improved colour fidelity and details with fewer artefacts. This makes it better suited for grading and other post-production activities.
What is the record limit for video on the Panasonic GH5?
There is no record limit for video in Full HD or 4K. The recording is continuous and is limited only by the memory card or recorder.
What is the difference between the Panasonic GH5 and GH5s?
The GH5s is a more of a video-focused camera (arguably the GH5 is too). In contrast, the GH5 is more of a hybrid camera – great for stills and video.
Places for you to purchase and rent the Panasonic GH5
Considering getting started with the Panasonic GH5? You can rent daily, weekly or monthly through Wedio (Available in Denmark, Berlin, Amsterdam, and London), the camera-sharing community, or you can buy from your local retailer.
Why should I rent a GH5?
Rent Camera Gear: Access Pro Equipment
qqHXJy6AWlc
Camera Hire: Take Your Production to The Next Level
71PttfqWPXk
Camera Rental: Save Money with Wedio
5sHshmF1n_Y
About the instructors
Rent Panasonic GH5 from local creators.
Save up to 40%.
Global Coverage included.
https://images.unsplash.com/photo-1611806376242-37d1235dc4fe?ixlib=rb-1.2.1&ixid=MnwxMjA3fDB8MHxwaG90by1wYWdlfHx8fGVufDB8fHx8&auto=format&fit=crop&w=1375&q=80
https://www.wedio.com/en/rent/panasonic-lumix-gh5
Summary

Popular listings for rentals