Investigating Moment Lenses & Reviewing 5 of the Best
Rent camera gear from local creators.
Even though smartphones today are more ready than ever to compete with professional cameras, there are still some things missing regarding images' depth and quality.
Meet Moment lenses - the add-ons that will radically step up your smartphone photography and videomaking game!
In this article, we're reviewing the 5 top Moment lenses - read on to discover what they're good at!
O-series vs. M-series Moment lenses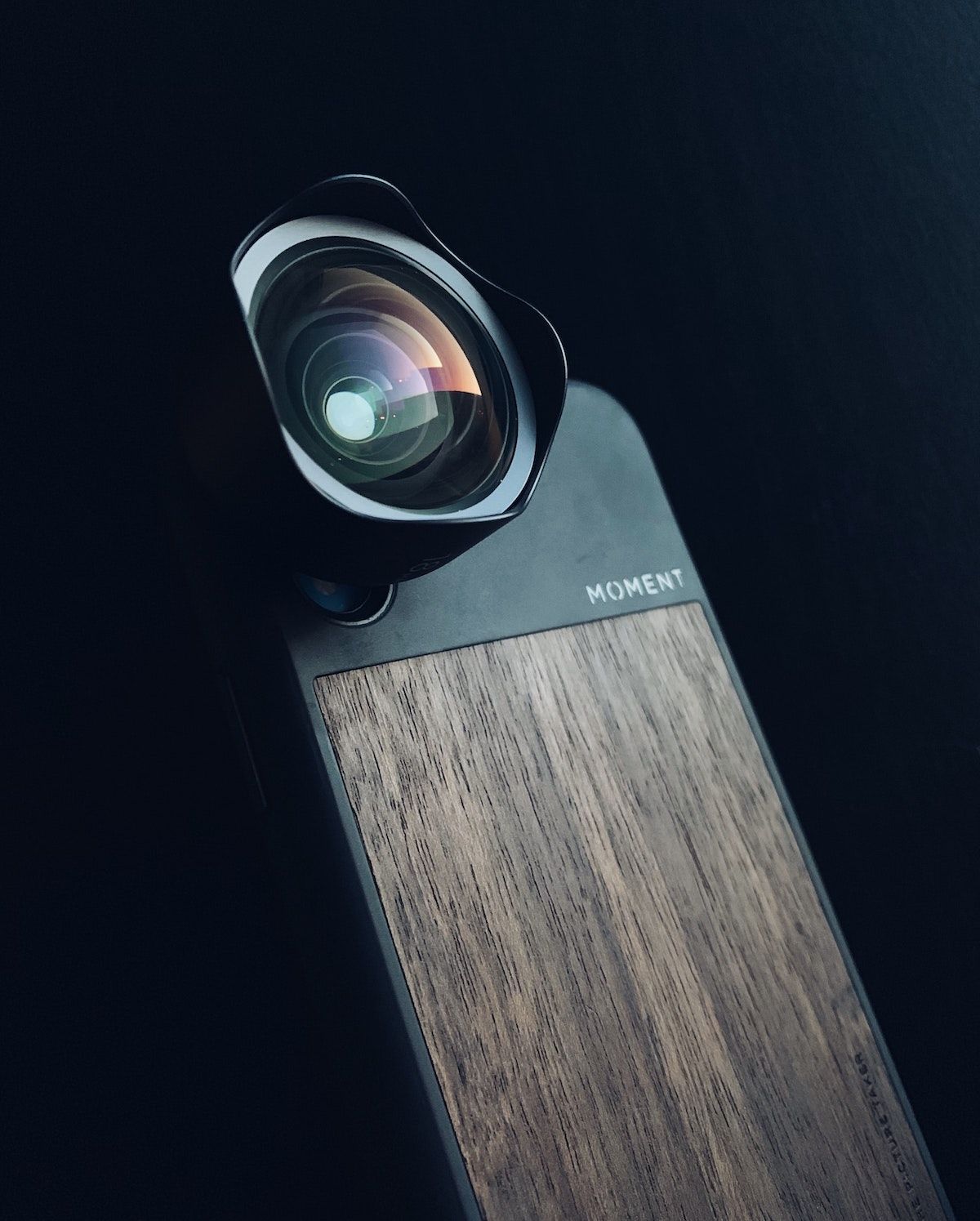 1. O-series
The O-Series lenses, also known as the Original lenses, were produced in 2014 to support original iPhones.
However, these lenses were discontinued due to dramatic changes in iPhone 7 and onwards camera hardware, which made the lenses incompatible.
The O-Series still works with older iPhones and can be mounted with an O-Series Mounting Plate or an O-Series Case.
2. M-series
The M-Series lenses are the new lens series that includes Moment's latest mounting interface.
It's larger in size to make the lens fit the newer phones that moved to produce larger lenses with larger apertures.
In addition, the updated interface is more durable and easier to use.
How to mount a Moment lens?
The Moment lenses need a custom phone case with a bayonet-style mount to be attached to your phone.
Mounting is a relatively easy task and shouldn't take too much time.
Simply match up the lens mount to the phone case and twist the lens to set it securely in place.
Keep in mind that because the lens mount is small, it can take a couple of tries to get it mounted. However, after the lens is locked, it is solidly attached to the phone case and won't accidentally fall off.
This is a brief explanation of how to mount a moment lens - however, the brand differentiates the two mounting processes for phones that have cameras closer to the edge and in the center of the back.
If you're struggling with mounting, consult the official Moment's guide here.
Reviewing 5 different Moment lenses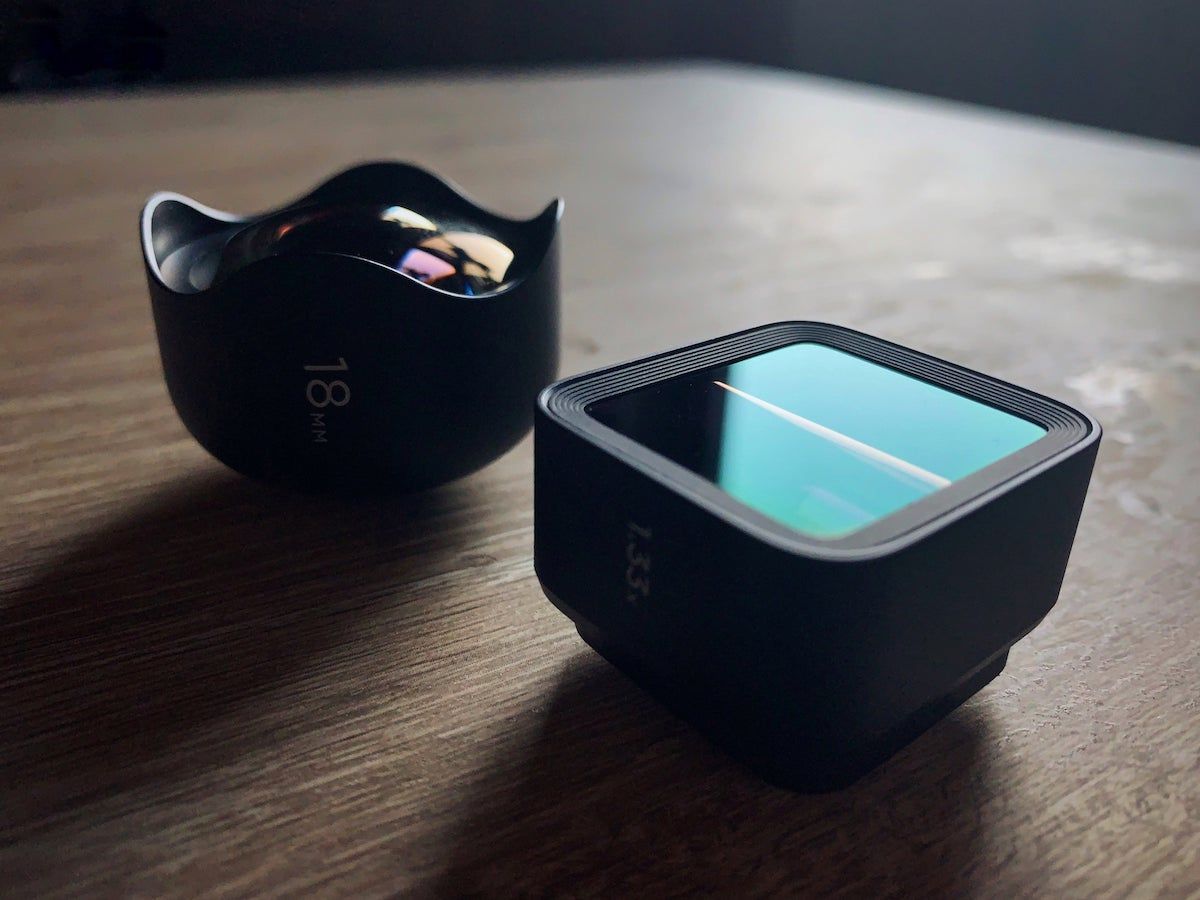 1. Moment 18mm Wide lens on iPhone
This wide-angle lens is a perfect choice for everyday photographers and filmmakers, those capturing landscapes, interiors, and tabletop scenes, as well as first-time users of Moment lenses.
Vloggers looking for a lightweight solution setup will also find the 18mm lens appealing, mainly because this lens is a more compact solution than a traditional compact camera.
In addition, the 18mm Moment lens will give you a 2x wider view without any image distortion towards the edges. Single-camera smartphone users will get a better version of the popular ultra-wide field of view.
Key specs:
Equivalent focal length – 18 mm
Distortion – <0.5%
Magnification Ratio – .63X
Lens coating – Multi-layer, low flare broadband anti-reflection
M-series mount interface
12-month warranty
Pros:
Sleek build
Quick twist-system
Great optical quality
Suitable for vloggers and content creators
Cons:
A bit bulky to handhold
No hard case for storage
Is it worth it?
This lens offers crisp and detailed images, no wide-angle distortion like the 14mm fisheye, and the quirky ultrawide field of view that a regular phone camera doesn't have.
The Moment 18mm lens is a great choice today, especially for beginners looking for an immediate splash in their smartphone photography.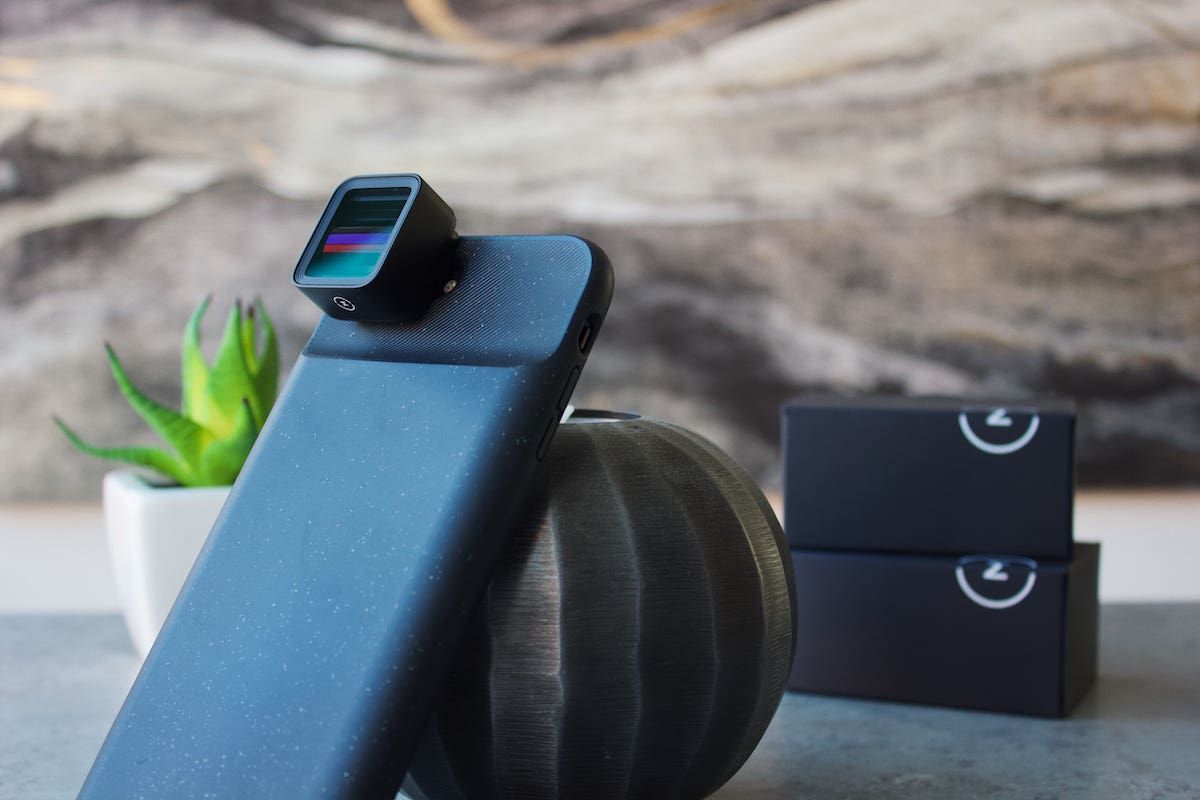 2. Moment 58mm Tele lens on iPhone
The Moment 58mm lens is a go-to for outdoor shoots and traveling as it allows you to capture the surroundings from afar without zooming, which inevitably adds pixelation.
The build quality is excellent, thanks to a metal exterior. The images are sharp in the center with a natural drop-off on the edges – this lens can produce beautiful portraits in addition to nature and still life scenes.
Key specs:
Equivalent focal length – 58mm
Best for dual lenses
Approximately 2x optical zoom when mounted over a single-lens camera and about 4x optical zoom when mounted over the iPhone telephoto lens
Distortion – between <0.75% and 1% depending on use
Designed for F/1.8 Lenses in mind
Lens coating – Multi-layer, low flare broadband anti-reflection
M-Series mount interface
12-month warranty
Pros:
It gives soft bokeh and improved depth of field
Works with Apple, Google, Samsung, and OnePlus devices
Maximum 4x optical magnification
Quick to remove
Cons:
Phone not pocketable with lens attached
Needs special case
Is it worth it?
Despite its performance with outdoor and portrait shootings, this lens could have been offered at a slightly more affordable price: $120 seems like a bit of a hefty sum.
Unless you are a pro-level photographer able to utilize all of this lens' benefits, maybe consider something else.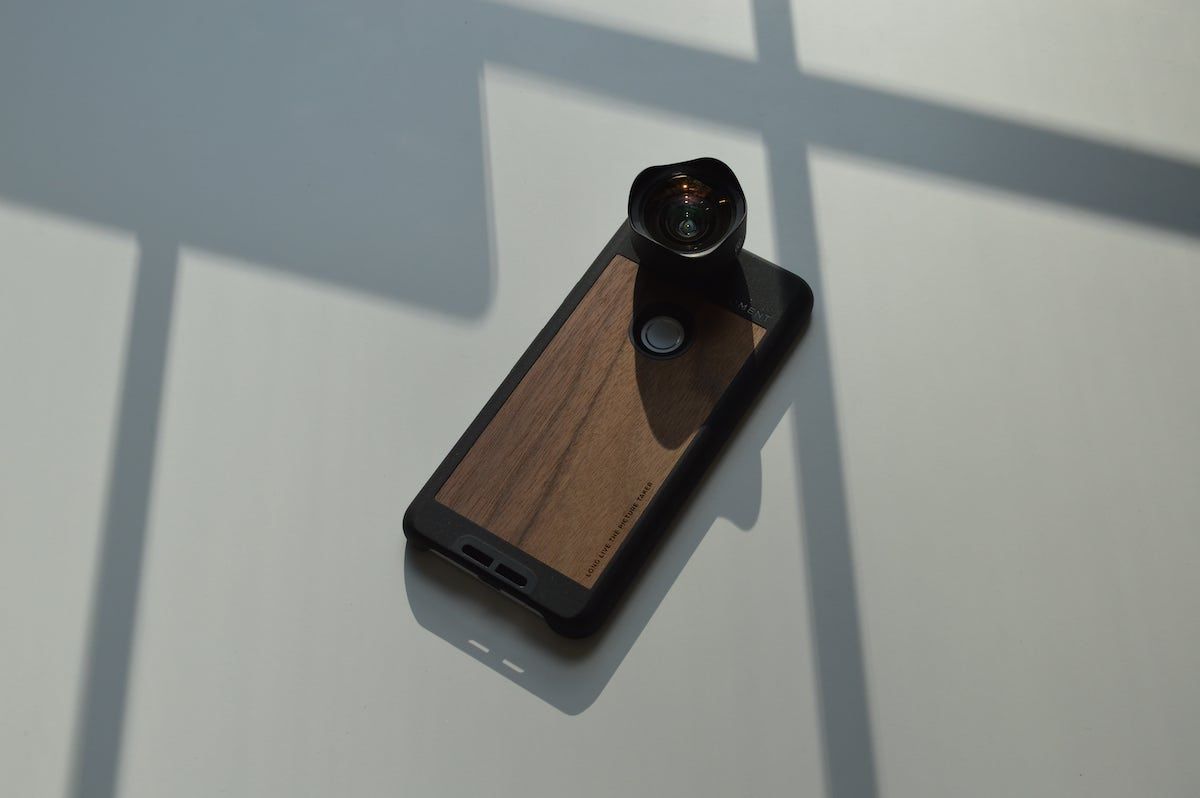 3. Moment 14mm Fisheye lens on iPhone
This fisheye lens is a full-frame lens - it captures the full images, featuring a 170-degree field of view compared to a 120-degree view on the latest iPhones and no vignetting towards the edges of the images.
This lens is typically used in music videos and action shots, both photo and video ones.
The Moment 14mm works great when mounted on iPhones and is especially good for smartphone vlogging.
Key specs:
Equivalent focal length – 14mm
Distortion: 100% Fisheye (distortion at the edge typical of this style of photography)
Lens coating – Multi-layer, low flare broadband anti-reflection
M-series mount interface
12-month warranty
Pros:
It creates a more interesting look than most camera lenses
It can have many different applications
Works great in tight spaces
Cons:
Steep learning curve
Not ideal for portraits
Quite pricey
Is it worth it?
This moment lens uses an aspheric glass which is top-notch in terms of quality and seriously outperforms other similar lenses on the market.
Fisheye photography has established itself as a proper niche, so if you're going in that direction, this lens is an excellent choice.
4. Moment 25mm Macro lens on iPhone
This 25mm macro lens can capture an astonishing level of detail, and if you pair it with the latest iPhone's camera sensor, the image quality gets very impressive.
This lens offers 10x zoom capabilities and gives a beautiful bokeh on the images. Perfect for extreme close-up shots of flowers, food, insects, and other objects with tiny details.
Key specs:
Equivalent focal length – 25mm
Mounts on both single-lens and dual-lens phones
Visual magnification – 10X (250/F)
Distortion – <1%
Flange working distance – 18.5mm
Reduction Ratio – 0.16: 1
Lens coating – Multi-layer, low flare broadband anti-reflection
M-series mount interface
12-month warranty
Pros:
Excellent optical quality
Cases available for many popular phones
Cons:
The mounting case isn't included
Pricey
Is it worth it?
This macro lens is one of the best add-on lenses from Moment that you can get, as it seriously steps up the game of your smartphone photography.
The additional magnification can produce photographs your phone cannot manage independently.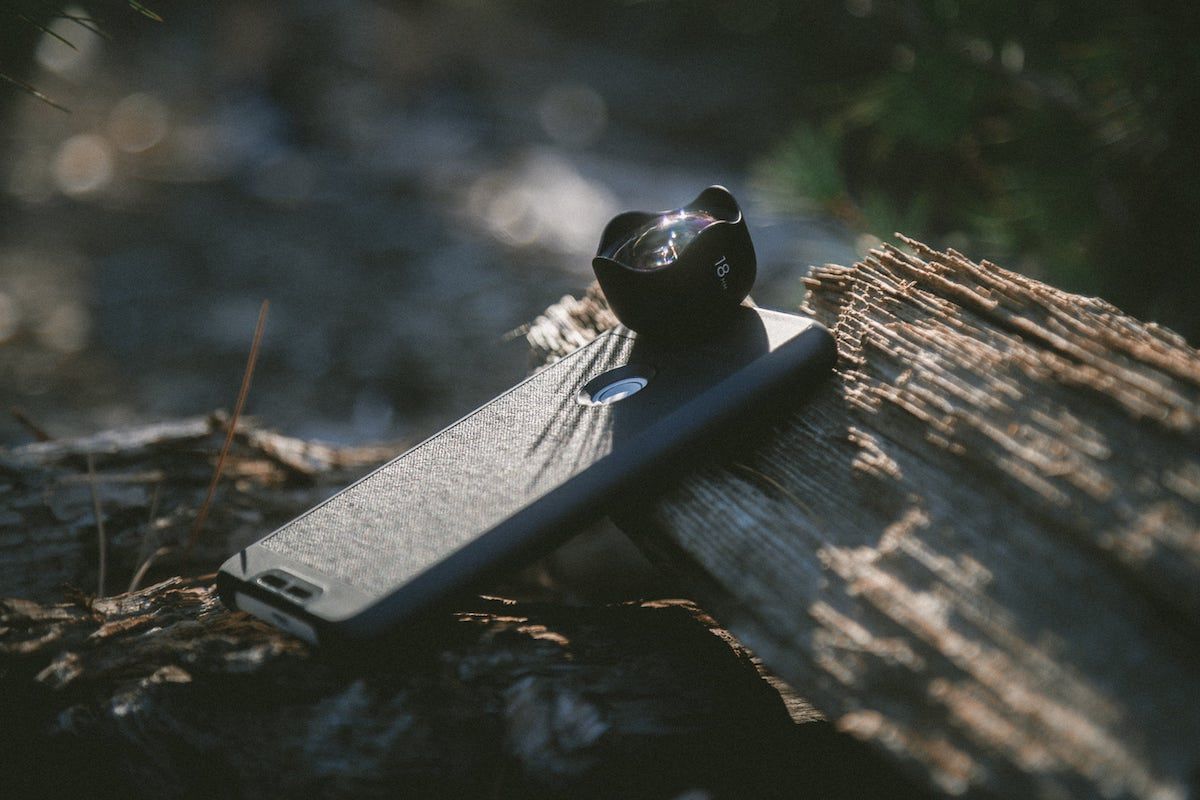 5. Moment 1.33X blue flare anamorphic lens
If you are looking for an add-on lens to boost your smartphone filmmaking, then the Moment anamorphic lens is your hero.
This lens adds a true cinematic touch to your footage thanks to gold and blue flares and the popular vintage look that doesn't compromise much on the quality.
But, of course, before processing your videos, you will need to desqueeze them in a third-party video app for the footage to look correct.
Key specs:
1.33x Magnification
2:40:1 Cinemascope Aspect Ratio
Aerospace-grade metal
Distortion – Vintage Anamorphic barrel-type distortion
Hand polished glass found in 4k film cameras
M-series mount interface
12-month warranty
Pros:
gives off a cinematic touch
an affordable alternative to other anamorphic lenses
Cons:
Video footage loses sharpness when desqueezed
Some distortion can be expected
Is it worth it?
This lens is a go-to for mobile filmmakers. A cherry on top - this lens also makes your stills look cinematic!

Rent a Moment lens on Wedio
Every lens on our list has a different purpose: whether you are more into landscape photography, portraits, macro, action shots, or mobile filmmaking, we hope you're ready to try a new Moment add-on!
You can easily do so with Wedio - rent a Moment lens of your choice and test its powers.
Want to learn more about lenses and other camera gear? Consult our complete guide to camera equipment.
Are Moment lenses worth it in 2022?
Moment lenses are made to suit different photography needs, and they're totally worth it in 2022 if you want to level up your smartphone photography and filmmaking.
Which brand is best for mobile lenses?
There are quite many brands that offer quality mobile lenses, such as Moment, ShiftCam, Apexel, Nelomo, and others.
Do you need a case for Moment lenses?
Moment cases are the only way to mount a lens onto your smartphone.