Top 7 Mobile Cinematographers in London in 2022
Mobile cinematography spawned from the incredible development of phone cameras in the last decade.
While smartphones don't have the best video quality, they are incredibly flexible and also cheap to use.
Whether you shoot with an iPhone or a Samsung Galaxy, you can be sure to find inspiration for your next project in this article.
If you are interested in mobile cinematography yourself, you can learn all of the tricks in our article on iPhone filmmaking here.
1. Cassius Rayner
Cassius Rayner has worked in film production for over 20 years. He started shooting with mobile phones in 2014.
Outside of his own filmmaking, he has done work with youths all over the UK, teaching them how to become filmmakers.
He is also a guest lecturer at the Met Film School Ealing Studios, London Film Academy and BFI teaching mobile filmmaking. Since shooting documentaries, music videos and drama with a mobile phone he has now received 14 International Film Awards.
With what kind of phone do you prefer shooting?
Due to my general work flow from years ago on Macs I naturally went down the route of using an iPhone. I still shoot with iPhones but I use a variety of models from the iPhone 8 Plus up to the iPhone 12 Pro Max. Presently I like shooting with iPhone 12 Pro Max because it has 10 bit capability.
What is your biggest challenge when using a mobile phone for film shooting?
The biggest challenge is maintaining depth of field to the shots as mobiles need a lot more light and distance from subjects to backgrounds.
What are your recommendations for aspiring mobile cinematographers?
Film training is essential. Having that base of knowledge and some experience of shooting with mainstream camera systems really helps. The behaviour of mobile phone lenses is very different and using an app like filmic pro to record with takes time to fully understand and appreciate its capabilities, and those that really appreciate what the app can do are generally professional filmmakers anyway that want to explore what the mobile phone can do.
How to learn mobile cinematography?
Best place to start is to search online professional filmmakers that shoot with a mobile phone, there are lot of examples available that can offer real insights into how to get the best out of the mobile phone lens. You can also go to www.filmicpro.com for tutorials and inspiration as there are many great examples of films by many filmmakers. Also you will find 18 episodes of my work and techniques that I use on the site as I did a project directly with Filmic Pro.
Do you believe phones can ever replace pro gear?
I get asked this question a lot. The answer is simply NO. A mobile phone is a tool like any other camera system. It produces different results and aesthetics. When digital tech launched the question was 'will digital formats replace 35mm?' Again the answer is no. There is a place for all formats from film to digital. For me its just about choosing the right tool for the right job that suites the style of film/story you want to convey. I think its wonderful to have so much choice in how to shoot your film.
If you want to see his work, go to his Instagram, YouTube channel, or his website below.
2. Victoria Mapplebeck
Victoria is a multiplatform artist that has always been innovative. In 1999 she created an interactive documentary series streamed live on webcams. That's 8 years before Justin.tv (later twitch.tv), popularized live streaming from homes.
She has now moved on to filming on an iPhone. Her film 160 Characters was shot on an iPhone 6, and her film Missed Call was shot on an iPhone X.
The latter won her a BAFTA for best short-form film in 2019, proving that expensive equipment is not required for creating a great movie!
Victoria has also co founded and co curated Smartphone film festival with Adam Gee this year in 2021. You can see the winning films here.
With what kind of phone do you prefer shooting?
I've shot on a variety of iPhones from the iPhone 6 to the iPhone 13. The iPhone 13 is much better in low light than the previous models. Filmic Pro is a great app, it means that you can separate exposure and focus and also has various special effects.
If I'm ever shooting interview material or location material that needs to be steady, I use a stabiliser. I use the DJI Osmo Mobile 3 - Foldable Mobile Gimbal which works well with my iPhone X . A very much more low budget alternative is to get a full 500ml bottle of water and with two elastic bands fix your phone to the water bottle!  It gives your smartphone more weight and is therefore steadier. I also use a Joby JB01507-BWW GorillaPod which is much more flexible and versatile than traditional tripods.
For any sync dialogue, external mics are a must. I 've used all of the following:
- RODE Wireless GO - Compact Wireless Microphone System
- RØDE VideoMic Me-L Directional Microphone
- Rode Smartlav Lavalier Microphone
What is your biggest challenge when using a mobile phone for film shooting?
As a filmmaker who really values spontaneity and intimacy when filming, shooting with a larger professional kit is the bigger challenge for me. In terms of intimacy and access , the smartphone is hard to beat. When I was filming with my son Jim, the filming set up was  spontaneous and agile. When he looked into the lens all he saw was me. I've been a self-shooting director for 25 years. The camera I shoot with has gone from needing a bag the size of a small suitcase to one that fits in my back pocket.
The smartphone has transformed how we record, collect and share the world we live in, both inside and outside of the home. You're pretty much invisible when shooting with a smartphone. Over the last four years I've been able to shoot on buses, on trains and in hospitals. This meant I was able to follow Werner Herzog's advice to documentary filmmakers: "Ask for forgiveness, not permission".
What are your recommendations for aspiring mobile cinematographers?
- No budget/No excuse – The gap between your idea and your final film has never been so small
- The best camera you own is the one in your back pocket
- Look like an amateur – shoot like a professional – Smartphones enable you to shoot quickly and discreetly.
- Make it easy to view and share your film – Get your film on as many platforms as possible.
- Begin with an online launch –  The festival first/launch later timeline now feels out-dated. Most festivals don't require premiere status in the way they once did. Maximise your exposure and put your film online as soon as possible to find your audience and extend your reach.
How to learn mobile cinematography?
You learn through your practice. I shoot almost daily. Use a social media channel as a motivating force to shoot regularly and keep learning. I took part in a daily Instagram project during lockdown which was a great way of making sure I shot new material each day.
Do you believe phones can ever replace pro gear?
I think there's plenty of room for both.
If you want to check out more of her work, go to her Instagram or website below.
3. Anthony Z James
Anthony Z James is a person who sees the advantage in being flexible. He enjoys the ability to capture anywhere, at any time, and that is just what using mobile cinematography can do.
In 2020 he wrote and directed the movie Ghost, a feature film recorded on an iPhone 8. The movie is inspired by his relation with his father, who sadly passed away a few years ago.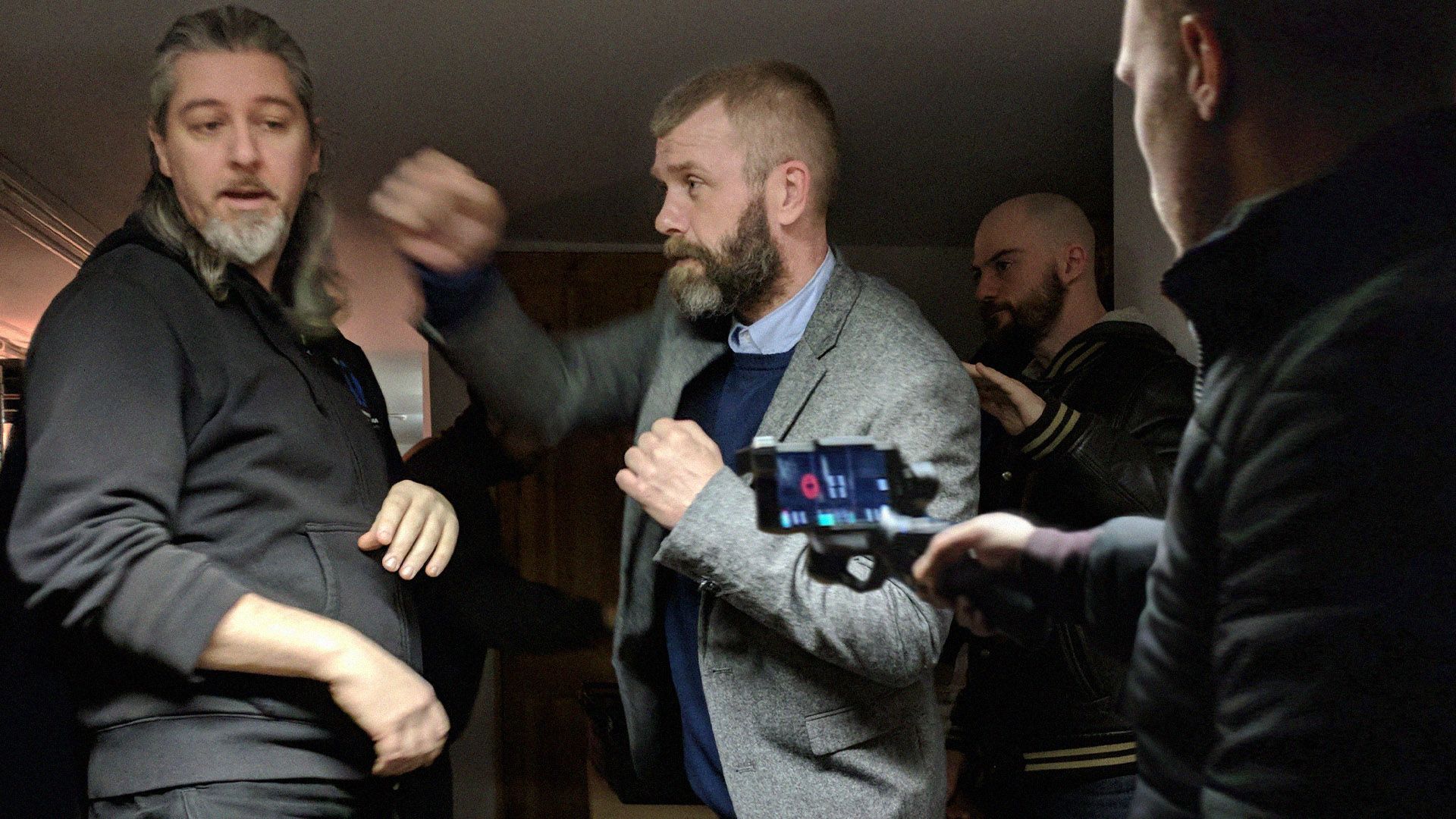 If you want to see what he's up to next, check out his Instagram.
4. Neil Walshe
Neil works in the advertising industry, where he builds brands and makes advertisements. He also has experience as a graphic designer.
Outside of his advertisement job, he also makes short films shot on his iPhone. His films have been featured at several festivals, and he has won multiple awards for his work.
His short film Dawn Heist features his two adorable kids preparing breakfast in bed for their mother. It was shot in his home during the COVID-19 lockdown. It shows the power and flexibility of shooting movies on a smartphone.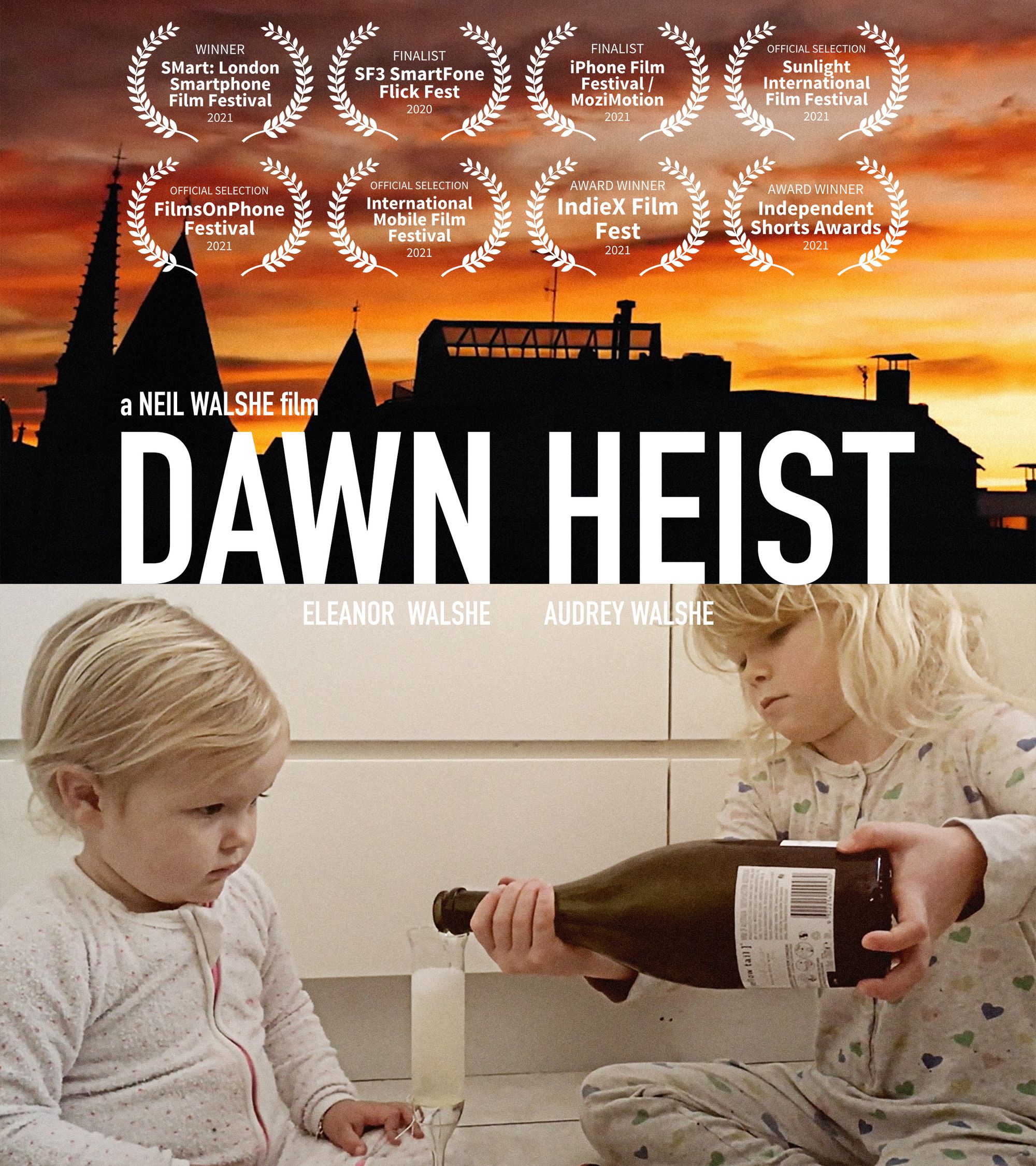 With what kind of phone do you prefer shooting?
I shoot with whatever I have available. Dawn Heist was shot on an iPhone 5, yes I've still got a 5.
My next one I'm hoping to use a 12 for some wide-angle shots and the steady cam.
What is your biggest challenge when using a mobile phone for film shooting?
I've put my phone in some tight spots to get great shots.
One time I had it in the fridge, and it was really hard to find the shutter button on the screen.
But you'd never fit a traditional camera in the fridge – so it's still a win.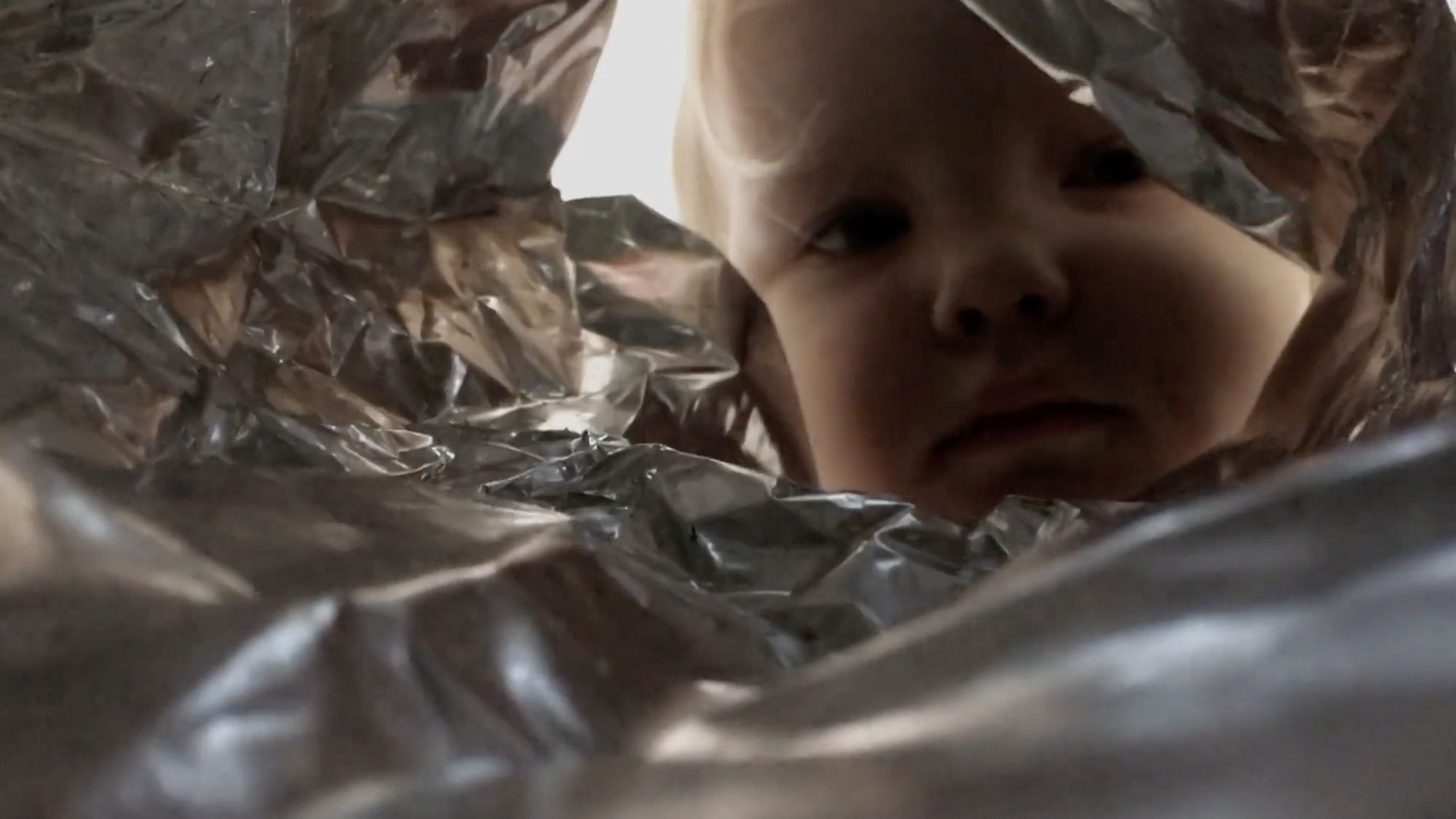 What are your recommendations for aspiring mobile cinematographers?
No one's a perfect screenwriter.
So to make up for holes in the script, I try as many tricky camera angles as possible.  
Put it in the fridge, strap it to a moving door, BlueTac it to the ceiling.
How to learn mobile cinematography?
To learn mobile cinematography you just need to start shooting.
And hold the phone really tight with two hands to stop it from shaking.
And watch other mobile films to see what they managed to pull off.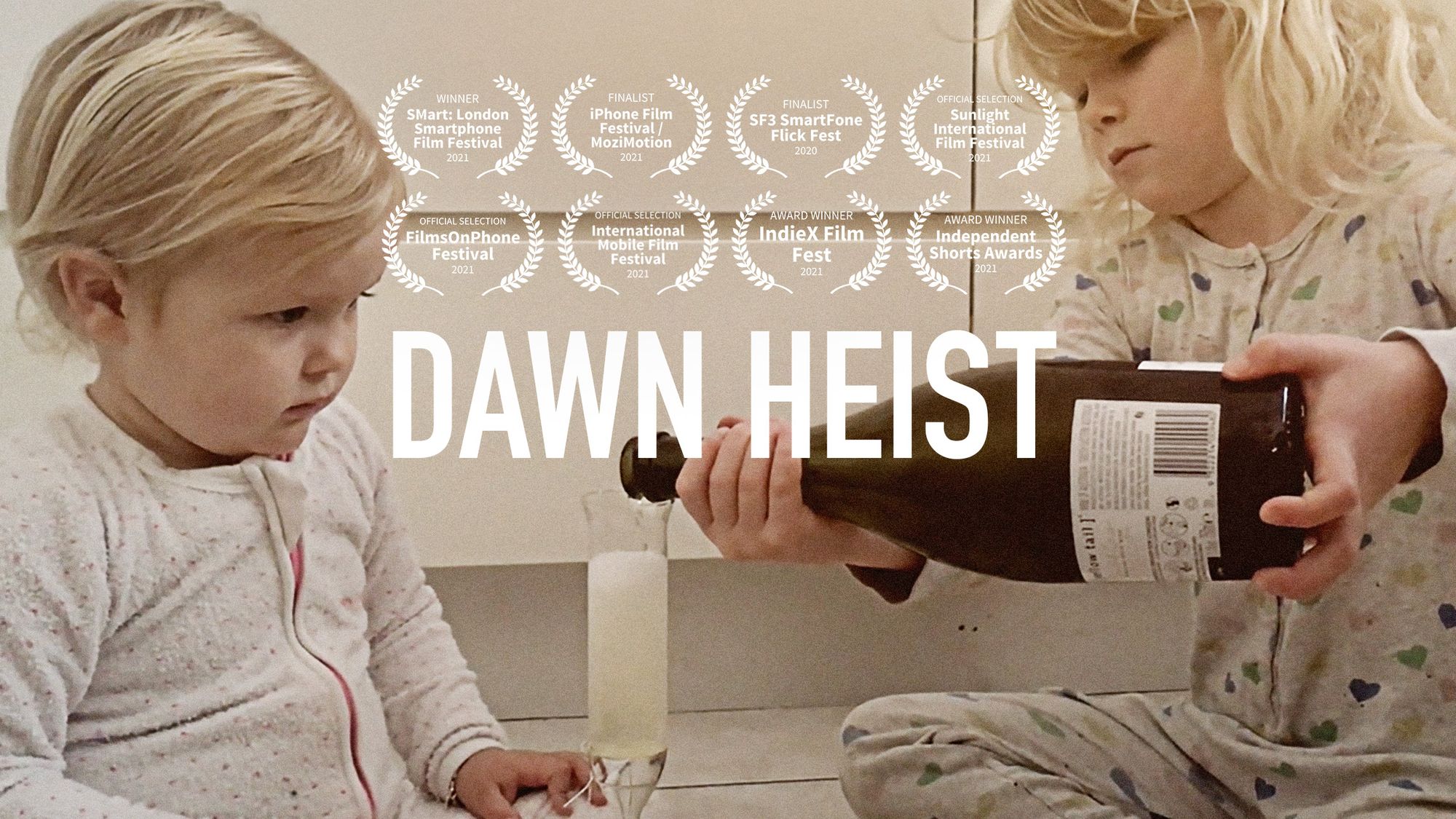 Do you believe phones can ever replace pro gear?
Phones will never shoot as good as a pro camera with really thick glass.
Which is fine because the main thing is story and subject, never blame your equipment. Good sound helps though.
If you want to check out more of his work, go to his Instagram or his website below.
5. Francesca Salmasi
Francesca is both an animator and a filmmaker. When she creates films, she is inspired by everyday life. Both the unusualities but also the humdrum that reality can bring.
By using smartphone filmmaking, she can capture reality as it is.
Her films have been at festivals around the world, where she is continuing to promote the usage of mobile cinematography.
Her recent film Parcel features, well a parcel, and a voiceover. It tells the story of the changes that the COVID-19 pandemic brought and how something as simple as a parcel played a role in continuous commerce.
With what kind of phone do you prefer shooting?
I've only ever shot with an iPhone, which I find great, especially when combined with using the Filmic Pro app. This combination gives me so much control over the lighting and aesthetic of the shots. Currently, I am shooting with the iPhone SE, which has a brilliant camera with the bonus of being one of the cheaper models – making it very accessible as a young filmmaker. I use this alongside my gimbal and a Røde microphone.
What is your biggest challenge when using a mobile phone for film shooting?
Working with light was one of the bigger hurdles when I first began shooting on a smartphone. The first time I shot in lowlight, the footage was so grainy it was incredibly distracting but after discovering apps like Filmic Pro which allowed me to use manual settings when shooting, I got my shots to look the way I wanted (even finding that for me having a little grain added to the charm of smartphone shots).
What are your recommendations for aspiring mobile cinematographers?
We are so lucky to be able to always have such a great piece of technology in our pockets. Shoot anything that you find interesting, aesthetically pleasing or out of the ordinary that you see when out and about – without rhyme or reason.

There have been so many times when I have filmed strange little clips (not thinking much of them at the time) which ended up in finished projects or even inspiring an entirely new project. There are also so many great editing, filming and even animation apps available on our phones, so the possibilities of what you can do with just your phone are huge.
How to learn mobile cinematography?
Practice makes perfect when it comes to smartphone filmmaking. When starting out, I got into the habit of trying to find one interesting thing to shoot each day – which I still do. The best way to learn mobile cinematography is to see it as a very DIY medium. Whether it be using tape to attach your phone to surfaces to create unique camera angles or playing around with perspective and editing to create something fresh and new.
Do you believe phones can ever replace pro gear?
I believe that as the technology in phones improves, we will be seeing more smartphone content existing in more mainstream places alongside traditionally shot content. Both can coexist alongside one another.
If you want to learn more about her projects, go to her Instagram or website.
6. Chris Overton
Chris Overton is an Oscar-winning director who is venturing into smartphone cinematography.
Chris has created films for many years and is an established name in the short film industry.
His newest short film Leader is shot entirely on a smartphone and is a testament to fighting the ever-growing problem with plastic waste in the oceans.
If you want to learn more about him, check out his production company's Instagram or website.
7. Giulia Gandini
Giulia Gandini is a London-based writer and director originally from Italy. Giulia also makes short films when she is not writing or directing films. Her short films have been shown at festivals worldwide and featured in many media outlets.
She most recently directed the pilot episode of CABALA, the urban-fantasy anthology series produced by Cattleya and Premio Solinas. She also directed 2nd unit on new Sky action thriller EXTINCTION starring BAFTA-nominated Paapa Essiedu.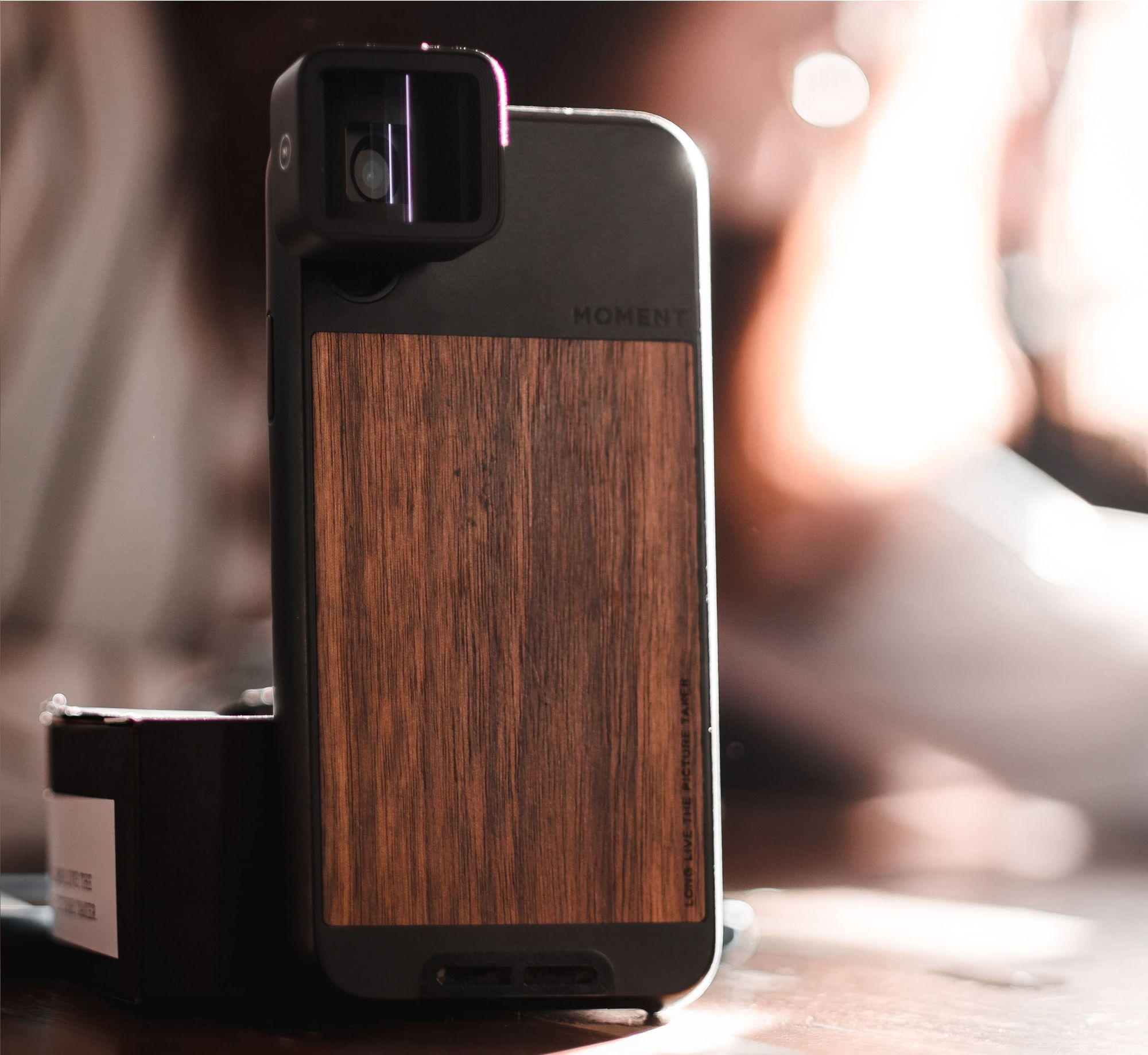 She was the lead director on the 3rd season of teen-drama TV series JAMS for Italian national state broadcaster RAI (20x25 min episodes). Her short film My Time was long-listed for the Academy Awards in 2020 and was featured on Reuters, Refinery29, Yahoo and others.
Her documentary mini-series Home Stream (supported by the UN and BFI Future Film, distributed by Real Stories and NowThis) quickly reached more than 12 million online views.
Giulia graduated with an MA in Directing from MET Film School (Ealing Studios, London) and is represented for commercials by Snapper Films. Giulia is currently in development on a TV drama mini-series (6 episodes x 50 mins) as well as her debut feature film.
If you want to learn more, check out her Instagram or website below.  
Closing thoughts:
Whether you are interested in getting your next project shot on a low budget or interested in the results of mobile cinematography, this article features the people you should know.
If you want to learn more about filmmaking in general, learn all about script development and composition in our article on Filmmaking 101.