Top 20 Famous Photographers of All Time
Photography has always been a great way to tell stories, evoke feelings and entertain.
They say a picture says more than a thousand words. So I will keep this brief.
With this article, we want to celebrate some of the best photographers of all time.
If you want to learn photography yourself, you can start your journey by learning the basics of photography.
1. Dorothea Lange
Dorothea Lange was a documentary photographer who is most known for her work during the Depression era. Her work was highly influential in the development of the art of documentary photography.
She started by taking pictures of the social elite in San Fransisco, but after the Great Depression, she focused on the poor rather than the rich. Dorothea documented the hundreds of thousands of people who migrated to the west in pursuit of work.
One of her most famous photographs is White Angel Breadline. It features an old homeless man facing away from the line of a soup kitchen.
You can find more of her inspirational work here.
2. Gregory Crewdson
Gregory Crewdson is known for photographing tableaux of American lives. He mainly photographs the homes and neighbourhoods in different parts of America. Since he mainly works with tableaux, his work is staged and typically has a production team behind it.
Gregory can be considered quite a rockstar within the art photography world. It is not just anyone who has a production budget behind him as he does.
His most famous photo series are Twilight and Beneath the Roses. Twilight features heavy themes like alienation and personal obsession.
Beneath the Roses features empty small American townscapes and various other settings. It is very Hitchcock-esque.
You can find more of his inspirational work on the website.
3.  Ansel Adams
Ansel Adams was born in San Fransisco and did landscape photography. Dedicated to the environment, he started his love for photography in the Yosemite National Park at 12 years old.
He is known for developing the image-making system "Zone System", which gave a better image value for the photographer.
During World War 2, he was concerned about the treatment of the American-Japanese people and made the photo essay Born Free and Equal. It was not well-received at the time of publishing, but it has become a famous essay that depicts the people at the Manzanar Relocation Center.
You can find more of his amazing work on his site.
4. Nina Berman
Nina Berman is a documentary photographer who focuses mainly on politics, environmental contamination and trauma. She has covered the immediate damages of the 9/11 bombings,  as well as the cultural impact it left on America.
She photographed David Duke in his 1990 and 1991 attempts of getting elected. She also did a photo series called Marine Wedding, where she photographed Sgt. Tyler Ziegel. Tyler spent 19 months recovering after a suicide bomb attack in Iraq.
You can find more of her great work here or follow here on her Instagram.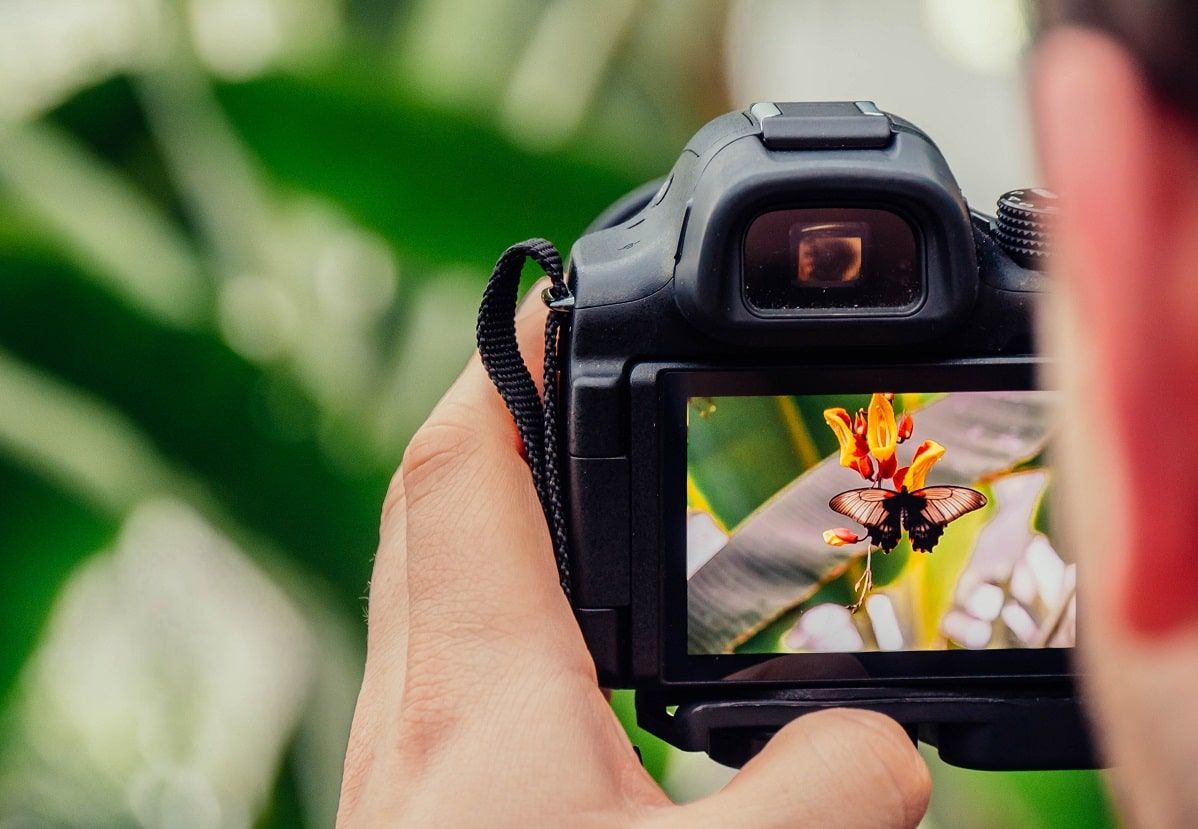 5. Eric Johnson
Eric Johnson hails from New Jersey and is responsible for capturing some of the 90's best musical artists.
He has captured many famous artists like Lil Wayne, Lauryn Hill, Notorious B.I.G., Missy Elliot and even Aaliyah. He captured angelic photos of Aaliyah only a few months before her tragic death.
In 1995 he did a photoshoot with Biggie Smalls and Faith Evans in Brooklyn. Eric Johnson captures real and iconic photographs of cultural icons and still works with the biggest of them all.
You can find more of his amazing work on his Instagram.
6. Fan Ho
Fan Ho was a Chinese photographer born in Shanghai and later moved to Hong Kong. He was fascinated by the streets of Shanghai and started photographing slums, markets and urban life at an early age.
His most famous work is the photograph Approaching Shadow, which features his cousin stood up against a wall. The wall has a receding shadow that represents the eventual end of her youth. Outside of his photography, he was also an acclaimed film director and actor.
You can find more of his amazing work on this website.
7. Charles Clyde Ebbets
Charles Clyde Ebbets was an American photographer. He has taken one of the most famous photographs of all time.
Lunch atop a Skyscraper taken in 1932, on top of the RCA building. The photo features eleven men sitting on parts of what later became a skyscraper, eating their lunch.
In 1935 he captured pictures of the devastating Labor Day Hurricane in Florida. During his time in Florida, he befriended the people of the Seminole Tribe. He took many pictures of their tribe and the vast nature that existed at the time.
You can find more about Charles here.
8. Annie Leibovitz
Annie Leibovitz is a Portrait Photographer who has taken fantastic portraits of celebrities. Her most famous photograph is a photo of John Lennon and Yoko Ono, taken only hours before his untimely death.
Other notable mentions are her pictures of Demi Moore for the Vanity Fair covers and Fleetwood Mac for the Rolling Stone magazine.
She is only known for being the first woman to have an exhibition at Washington's National Portrait Gallery.
You can browse more of Annie's work on her Instagram.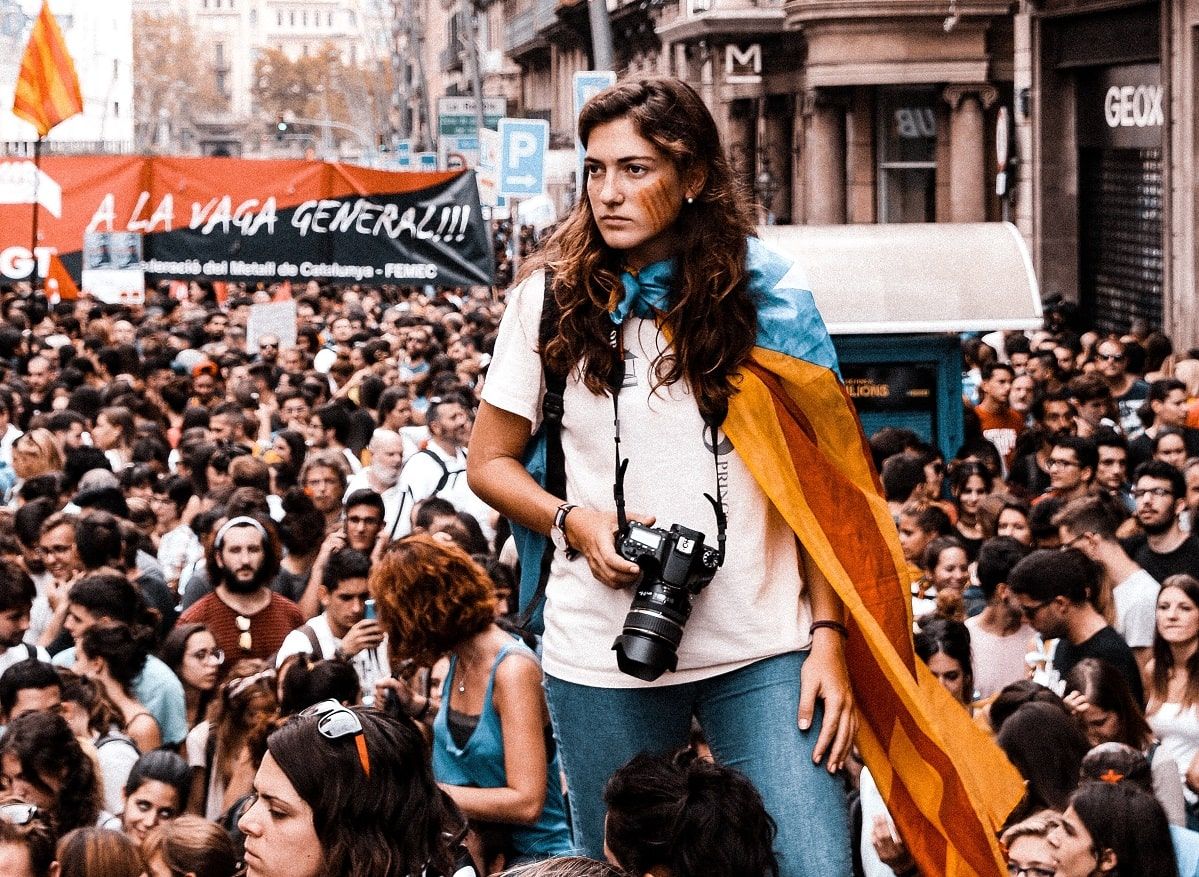 9. Jimmy Nelson
Jimmy Nelson is an English photographer who covers indigenous and tribal people around the world. Through his pictures, he tells the stories of different lives and cultures that exist. He wants to convey how unique and significant they are.
In 2010 he released his book Before they Pass Away, where he travelled to over 35 tribes in Europe, Asia, Africa, South America, and the South Pacific. He took the photographs in a way that puts the tribespeople on a pedestal.
You can browse more of Jimmy's work on his website.
10. Steve McCurry
Steve McCurry is an American freelancing photojournalist.
He has worked for National Geographic on many occasions, in places like Iraq, Cambodia and Afghanistan. He worked in Afghanistan right before the Soviet invasion and had to wear a disguise to fit in.
His most famous work is the picture Afghan Girl, depicting a green-eyed Afghan girl. It ended on the cover of National Geographic in June 1985. Steve has twice won the first-place prize in the World Press Photo competition.
You can browse more of Jimmy's work on his website.
11. Chris Hondros
Chris Hondros was an American war photographer who was born to Greek and German parents.
He covered war zones such as Kosovo, Angola, Kashmir, Iraq and Liberia. After the 9/11 attacks, he went to ground zero to cover the damages and chaos that ensued.
He died in 2011, hit by a mortar attack in Misrata, Libya. The same attack killed fellow photojournalist Tim Hetherington. He was a sincere and sensitive photographer who always focused on telling the stories he was witnessing.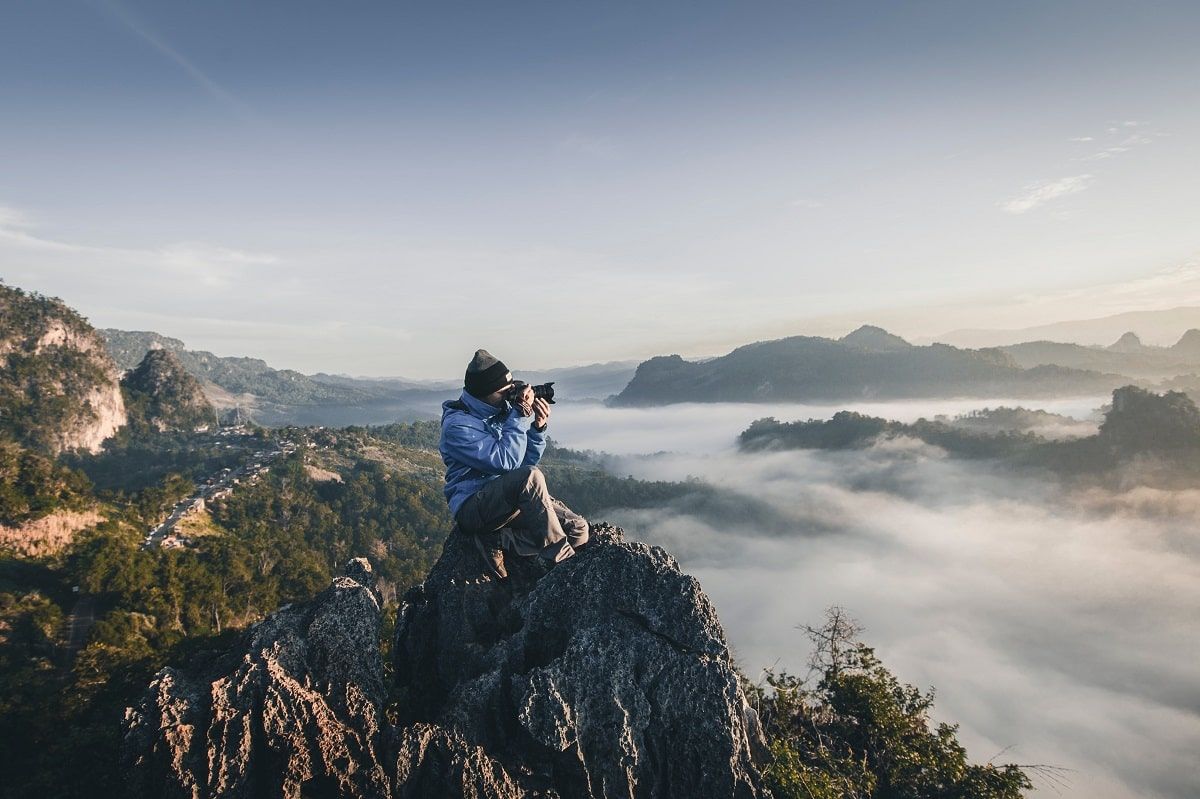 12. Mohamed Amin MBE
Mohamed Amin MBE was a photojournalist from Kenya.
His work on the 1984 Ethiopian famine helped bring attention to the crisis worldwide. It spawned the legendary Live Aid concerts that we all know and love.
Queen at Wembley, need I say more?
He also covered the Black September uprising in Palestine in 1970. He lost his left arm in 1991 after an explosion during his coverage of the Ethiopian Civil war.
He died in 1996 when his flight to Nairobi was hijacked and crashed into the ocean.
Listen to a podcast with his son in Nairobi here.
13. Réhahn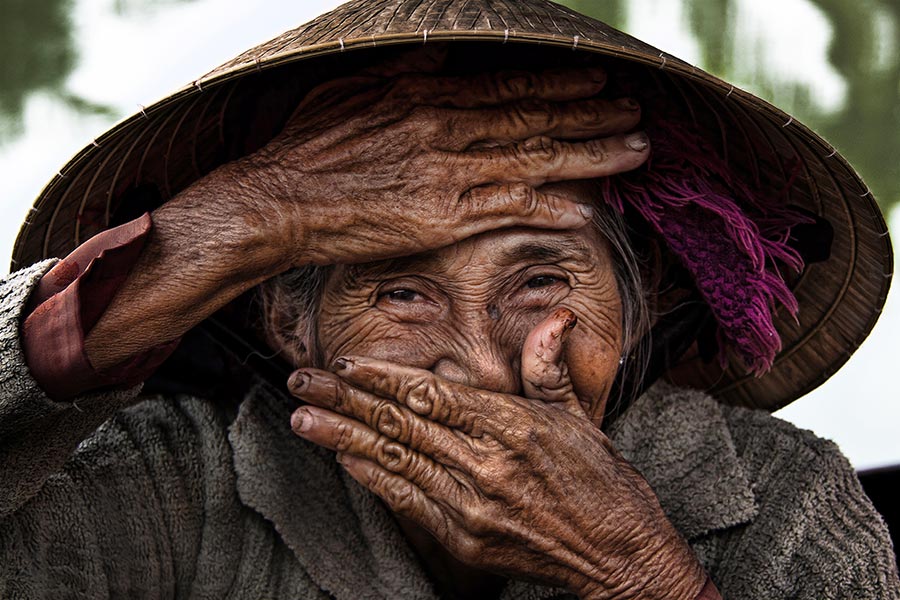 Réhahn is a french fine art photographer based in Vietnam. He is known for his ability to "capture souls" in his photographs.
He started his career in 2007 when he travelled to Vietnam on a humanitarian mission. In Vietnam, he captured his most well-known photograph, Hidden Smile, which depicts a woman who captains a riverboat in Hoi An.
Another one of his famous photographs is Best Friends. It features a six-year-old girl praying in front of an elephant.
What are your photographs mainly about?
I have many Fine Art photographs using different styles and subjects – from portraits to landscapes to lifestyle in various countries.

However, I think the one thing that connects my portfolio of work is that I'm always interested in culture and heritage. Whether that means inheriting the responsibility to protect the beauty of nature or following the evolution of a specific culture and its people.
Which of your projects are you most proud of?
The Precious Heritage project was an incredible experience for me. It taught me so much about what is important in life as well as connecting me in a much deeper way to Vietnam, my adopted country. This project took nearly a decade of research, planning and implementation to achieve my original goal of documenting all 54+ ethnic groups in Vietnam.

The project also led me to create The Precious Heritage Museum. I'm very proud of the museum because it presents the textiles, traditional garments, artificacts, portraits and stories of all 54 ethnic groups plus many sub-groups. It is completely free to the public as a way to introduce Vietnam's tribal cultures to others in a respectful and educational way as well as acting as a location where certain important cultural items can be preserved for the future.
Where do you find inspiration?
It depends on the moment. Sometimes I find inspiration for my Fine Art photos simply by walking around, meeting people and learning. Other times, I dive into my books, which are a constant source of new ideas for me.  It's not hard to find inspiration as long as one is willing to be a lifelong learner.

I've always been drawn to certain painters as well. The impressionists and post-impressionists, especially Van Gogh, Monet, and Pissaro, used color and light in incredible ways. Like them, I'm passionate about pastoral scenes and certain colors such as golden yellow and blue – tones that these painters brought to life with such emotion. I never tire of looking back at Van Gogh's paintings of wheat fields or William Turner's sunlit seas. I can always find a new detail that makes me want to go out with my camera and look around me in a different way.
What makes a great photographer great?
In my opinion, a great photographer is someone who doesn't let their work overshadow their excitement for their artistic journey. Passion for the craft means so much more than expensive equipment. I would add that it is also important to take into account this idea of respect that is very important to me. A Fine Art photographer has the opportunity to "create" an experience, rather than just "taking" a photo. What I mean by this is that I've found the most satisfaction when I've had a real interaction with my subjects, rather than just snapping their photo without trying to discover who they are as people.
What is the best piece of photography advice you can give to aspiring photographers?
Learn from the world around you. Don't just study the work of photographers that you admire. Look at their inspirations. Read books about artists who lived hundreds of years ago. Learn about colors through the eyes of painters, therapists and healers. In other words, get outside the bubble of photography and open your eyes to the inspiration that is all around us, in so many different fields.
You can see more of his work on his website or his Instagram and Facebook.
14. Andreas Gursky
Andreas Gursky is an art photographer focusing on architecture and landscapes. He is known for taking photos from a bird's-eye-view and being obsessed with composition.
His photos are typically panoramic and huge, and he uses photographic software to finish his art.
His photograph Rhein II features a river between green fields and a sky. It was sold for over 4 million dollars, becoming the most expensive photograph ever sold.
Another famous photograph is 99 Cent, which depicts shelves at a 99 cent store in Los Angeles.
You can see more of his work on his website.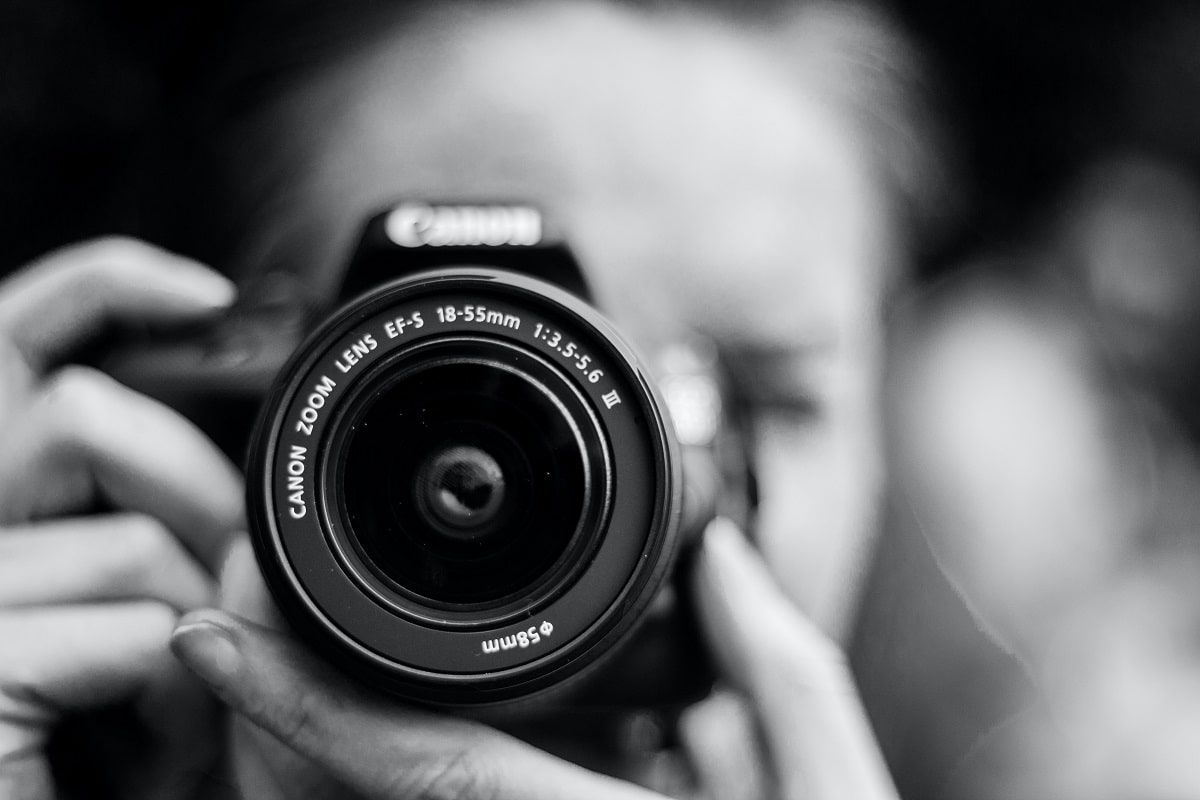 15. Stefano De Luigi
Stefano De Luigi is a German/Italian photographer based in Paris.
His first project was Pornoland, a photo book that features photographs of different porn sets.
He has also created the photo series Cinema Mundi, which features film production around the world. It focuses on World Cinema, meaning film productions that are not in Hollywood. The project highlights the cinema created outside of Hollywood. World Cinema is slowly winning more and more ground in the mainstream.
What are your photographs about?
What interests me in photography as in life is the representation that different cultures give of themselves. I have always had explored multiple universes such as television, cinema, pornography, political propaganda, to try to understand how societies represent themselves.
Which of your projects are you most proud of?
The project I feel most connected to is Cinema Mundi because cinema has always been my innermost passion.
Where do you find inspiration?
From life, music, literature and cinema.
What makes a great photographer great?
An in-depth knowledge of himself, an unbridled passion that borders on selfishness, an extraordinary sensitivity, a humility that causes continuous doubts in relation to creation.
What is the best piece of photography advice you can give to aspiring photographers?
Be free from clichés, be honest with your passions, don't be afraid to experiment, being rigorous with your art.
See more of Stefano's work on his site.
16. Jan Grarup
Jan Grarup is a Danish photojournalist who works with war and conflict photography. His love for photography started on a trip to Belfast during the times of the Troubles.
He has won several awards during his career, counting the World Press Photo award for his work on the Kosovo war.
In 2006 he released Shadowland, a photography book 12 years in the making. It features all of his work from different conflict zones in Europe, Africa and the Middle East.
He has also spent a lot of time in Somalia and recently released the book Somalia in Transition.
You can see more of his inspirational work on his website or Instagram.
17.  Per-Anders Pettersson
Per-Anders Pettersson is a  Swedish photographer based in Cape Town.
He has covered events all over the world during his over 30 years of doing it. These events include South African elections and the Balkan, Afghanistan and Gulf War.
He is well-versed in African culture and has worked in over 40 African countries. And has won countless awards for his work. His photography book, African Catwalk, takes a look at the modern African fashion culture.
You can see more of his work on his website.
18. Rena Effendi
Rena Effendi is a social documentary photographer from Azerbaijan. Her focus is on the environment, post-conflict society and social disparity. Her first project is called Pipe Dreams and focuses on the oil industry's impact on the Azerbaijani people.
In 2010 she released Chernobyl: Still Life in The Zone, depicting the aftermath and life of people after the disaster in 1986. Her 2013 monograph Liquid Land features pictures of her dad's butterfly collection and focuses on the decay of Baku's environment.
You can see more of her amazing work on her website and her Instagram.
19. David Guttenfelder
David Guttenfelder is a photojournalist with the main focus on geopolitics and culture.
His most famous work is his photographs in North Korea, depicting the country and the people in a stylized black-and-white photo series. He has since done several photo series depicting the country, something not every photographer gets the chance to do!
During the COVID-19 pandemic, he photographed small towns in the Midwest, telling the stories of their struggle against the awful virus. He also covered the George Floyd and BLM protests in 2020.
Other than his own work, David works for National Geographic and has covered situations around the world.
You can see more of his work on his website and his Instagram.
20.  Lee Jeffries
Lee Jeffries considers himself a spiritual photographer. Based in Manchester, he started his career photographing football and other sporting events.
However, a chance encounter made him interested in capturing images of homeless people.
His work consists of portraits of homeless people across Europe and the USA. He captures them in their essence and tells their story through the images. He made a photography book called Portraits which feature hundreds of portraits of people all over.
You can see more of his work on his website and his Instagram.
Closing Thoughts
I hope this article increased your knowledge of different photographers through time.
If you want to check out more photographers, don't hesitate to read our article on Photographers in London.