Discover 9 of the Best Monopods Out There
Rent camera gear from local creators.
Monopods can provide photographers and videographers tremendous versatility when shooting. While they aren't as stable as tripods since they only have a single leg, this makes them extra portable for when you are on the move.
In the mood for decking out your entire camera kit? Check out our page on the camera equipment for all the gear you'll need for a stellar setup.
9 of the best monopods in 2022
1. Vanguard VEO 2S AM-264TR
You'll be able to spot this monopod from a mile away due to its tripartite stabilizer- it has three legs! Although this makes it a bit bulkier, its stability offers many opportunities, especially when recording video.
This Vanguard model is a beauty with smooth lock grips and a lovely ergonomic design. It also offers a smartphone connector for those looking to shoot with something more portable.
Key features:
0.89kg weight
An extended length of 163cm and a packed length of 55cm.
Pros:
Ultra-stable.
Ergonomic twist-locks.
Cons:
Quite long packed length.
A bulkier model.
2. SIRUI P-326
This is one of the sturdiest monopods on the market. It extends up to 156cm, so it is pretty comfortable for taller users. It also has a maximum load of 10kg, so it is perfect for bigger cameras and smaller ones when you're looking for fast and fluid shots. Its grip is firm, and it comes with a compass on the top!
Key features:
Extended length of 156cm.
Can hold up to 10kg of gear.
Made of lightweight carbon fiber.
Comfortable wrist strap and handgrip.
Pros:
On the affordable side- especially for a durable and robust monopod.
Cons:
Lacks sturdiness when fully extended.
3. SIRUI P-306
This model is a great lightweight monopod that will not break your bank. It weighs just 0.56kg and can hold up to 8kg of weight. Its compact nature and versatility make it great for anyone shooting on the go or in tight indoor spaces.
Key Features:
It weighs just 0.56kg.
It has a packed length of 38cm and can extend up to 155cm.
It comes with a durable silicon twist lock.
Pros:
Extremely portable and perfect for travelers.
Very affordable.
Cons:
Not very sturdy when fully extended.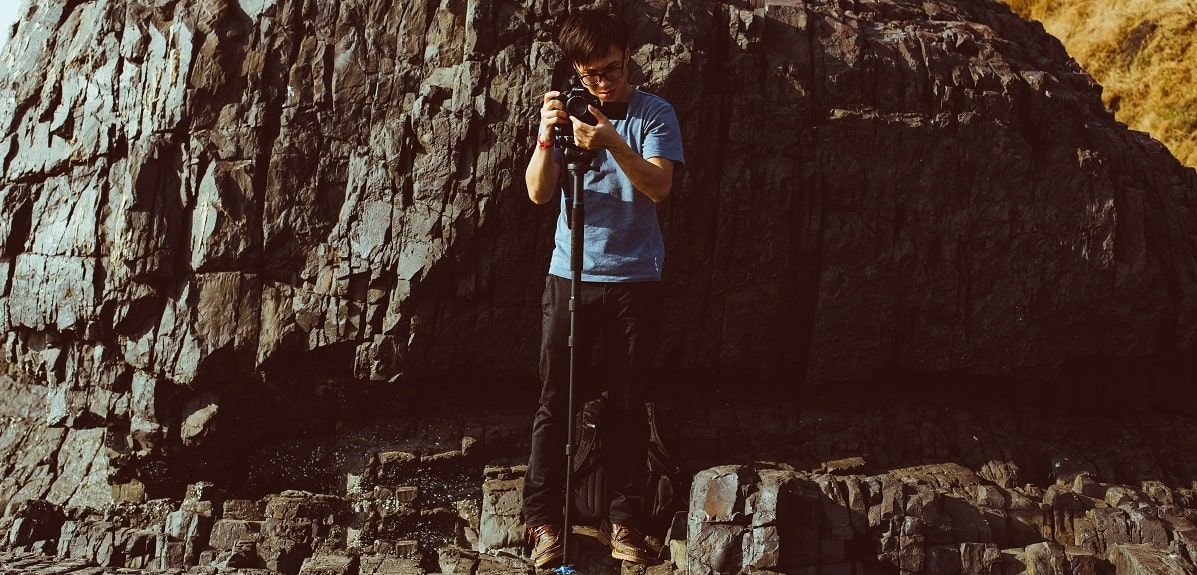 4. Manfrotto Element MII
This model aims to be compact and affordable, and it does just that. It weighs an incredible 0.5kg and can hold 8kg worth of kit! It's certainly nothing fancy, but if you want a durable monopod that won't let you down, then Manfrotto is the way to go.
Key features:
Very lightweight- 0.5kg.
Packed length of 43cm and extended length of 159cm.
Pros:
Great value for money.
Extremely light to carry.
Cons:
It is made out of aluminum, not carbon fiber.
It doesn't come with a QR plate.
5. Gitzo Series 2 Traveler GM2562T
Gitzo used carbon eXact fiber for this monopod, making it so lightweight and portable. It has six leg sections which allow it to reach an extended height of 142cm and a payload of 12kg. It packs down to an astounding 36cm, so it can easily slip in your backpack or carry on.
Key features:
It has a max load of 12kg.
It has a packed length of 36cm and an extended length of 142cm.
Weight is 0.4kg!
Pros:
Super strong model.
Extremely light.
The payload is very impressive.
Cons:
Very expensive.
It has a belt clip on the wrist strap.
6. Benro SupaDupa Pro MSDPL 46C
This clever little monopod was designed for the seasoned photographer or videographer. It comes with a rotating foot so you can produce effortless pan shots. It also comes with a levelling head that offers 20-degree movement in all directions so that you can take flat shots even on rocky ground.
All the leg locks are twist-style, except for the top flip-catch. This will make height adjustments easy as pie.
Key features:
It has a max load of 32kg.
It has a packed length of 48.5cm and an extended length of 158cm.
Weight is 0.9kg.
Pros:
A nice blend of twist and flip locks.
It has six sections for flexibility.
Cons:
Hard to find and on the pricey side!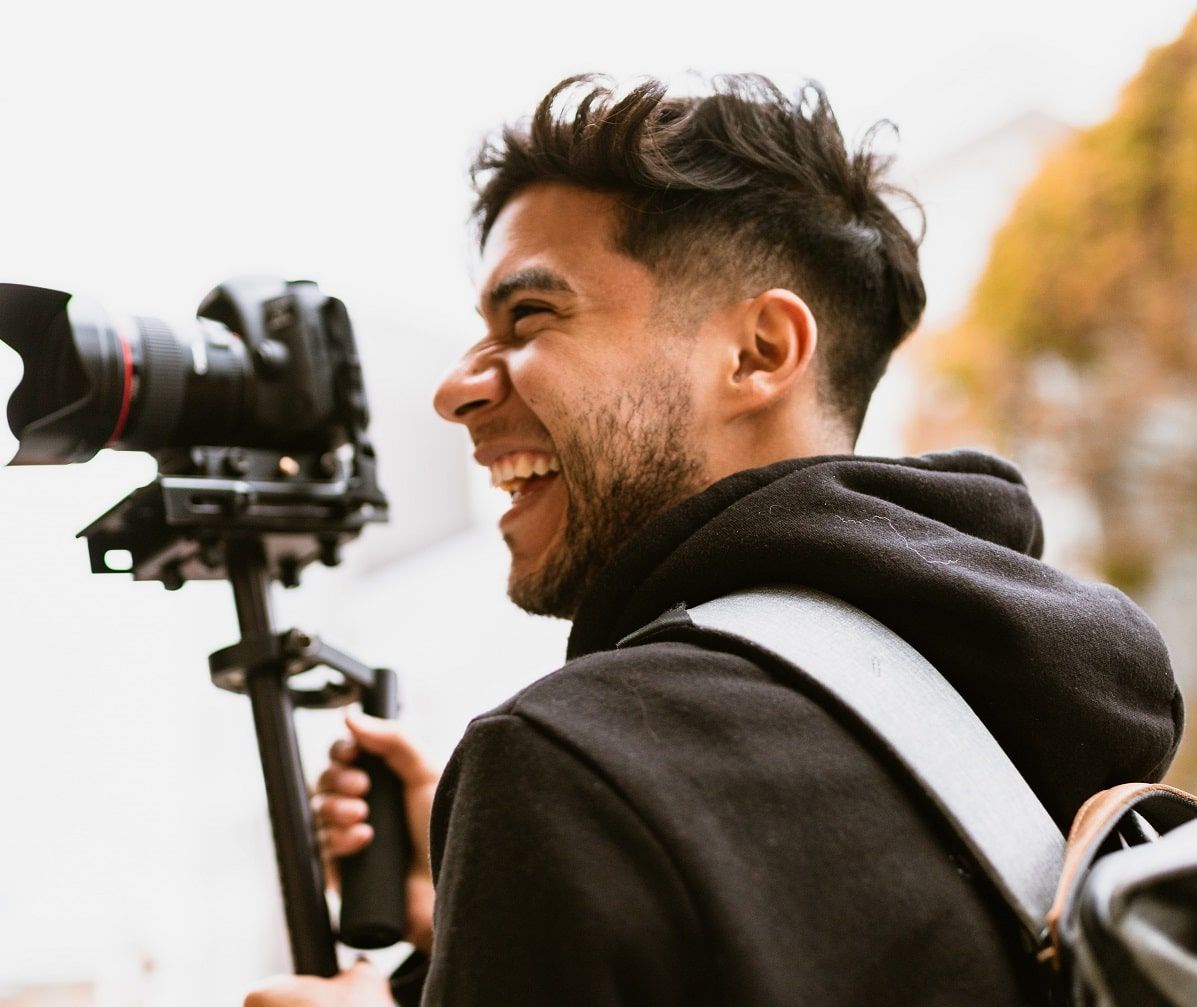 7. Benro Adventure 4
This model is great for those looking for height and stability (also if you are on the taller side!) It is available in both aluminium and carbon fibre and can hold up to 18kg of gear.
Both models are very sturdy, but the aluminium one can extend up to 191cm, and the carbon fibre model only reaches 182cm.
Key features:
comes with flip locks.
Weighs only 0.83kg.
Can extend up to either 191cm or 182cm.
Pros:
Fantastic for long-reach shots.
Customizable design depending on your needs.
Quite affordable.
Cons:
Limited movement and adjustment- not ideal for smooth shots.
8. Manfrotto Xpro 5
This model is extremely tough and comes with a three-leg section to provide fast movement. It also comes with a mounting plate fixture, so you attach a ton of accessories to it.
This one is great for both photography and videography. It also has a minimum height of 52cm, so perfect for ground shots.
Furthermore, the Manfrotto locking system allows users to adjust the monopod without any fuss.
Key features:
It has a packed length of 52cm and an extended length of 153cm.
It has a Fluidtech base to provide smooth movements.
Quick power lock system for easy setup.
Pros:
Extremely flexible and perfect for smooth shots.
It comes with hand warmers for shooting in the cold!
Cons:
9. JOBY GripTight PRO TelePod
This handy little thing not only functions as a monopod, but it also works as a handgrip, a mini table-top tripod, or a stand for lights or other devices.
If you're looking for versatility, then it may be for you, but be aware that this thing can only hold up to 1kg of gear. It's best to use it for smartphones and action cameras, not your bulky DSLR.
Key Features:
Max load of 1kg.
It has a packed length of 10.2cm and an extended length of 69.8cm.
0.24kg in weight.
Pros:
Very portable.
Great for versatility.
Cons:
Very low max load.
Low extended height.
3 things to look for in a monopod
1. Strength & Stability
When you're looking to buy a monopod, you have to consider the total weight of your entire setup and if the monopod can support this. You don't want to spend a lot on a monopod, only for it to collapse under the weight of your gear!
2. Maximum height
You will also need to consider how high you'd like your monopod to be able to go. It's also worth considering portable options if you travel a lot with your camera gear. It's always best to go for a strong monopod that can fold down into your carry-on.
3. Grip Tight
Always look for the grip on top of your monopod. On cheaper models, it's more likely to be made from foam, whereas more expensive models might use textured rubber.
Rent or subscribe to a monopod
I hope this article helped you get a better grasp of the Monopod market. Now you're ready to get the right one for you! Explore our selection of monopods here.
Need a camera for your new monopod? Head over to our website to rent or subscribe to your next camera.
Rent Camera Gear: Access Pro Equipment
qqHXJy6AWlc
Camera Hire: Take Your Production to The Next Level
71PttfqWPXk
Camera Rental: Save Money with Wedio
5sHshmF1n_Y
Best Monopods FAQ
What are monopods?
Monopods are a one-legged stabilizing system for cameras or other photography and videography gear.
What are monopods used for?
Monopods are like tripods with one leg and are used to stabilize photography or videography. They can be used for motion shots or when your gear gets too heavy to hold.
How do I choose a monopod?
You must consider many things like strength and size before you choose a monopod. If you're stumped, a good all-rounder will always be the Manfrotto XPRO!
Are monopods good for video?
Monopods are great for videographers looking for stability or professional motion shots. They are compact and portable, and they won't break the bank.