For Smooth Drone Flying: Find the 5 Best FPV Goggles in 2022
Rent camera gear from local creators.
Ever flown a drone using FPV goggles?
If the answer is yes, then you know what a thrilling experience it is.
If the answer is no, you should stick around to learn how to start using FPV goggles. You can also read our extensive guide on FPV drones here.
In this article, we will cover what you should know before getting drone goggles, why drone goggles are recommended over monitors, and last but not least, what are the 5 best types of drone goggles for you.
Before we continue – how's your knowledge on drones? Explore everything you need to know about drones.
Things to consider before getting drone goggles
First, don't underestimate the power and importance of drone goggles, and they are one of the essential parts of the FPV experience.
Why, you might ask?
Simple. FPV goggles are your way of seeing what the quadcopter sees, and they are the ones that bring life to the drone.
However, as with many other domains, just because something is expensive does not mean it offers the best services.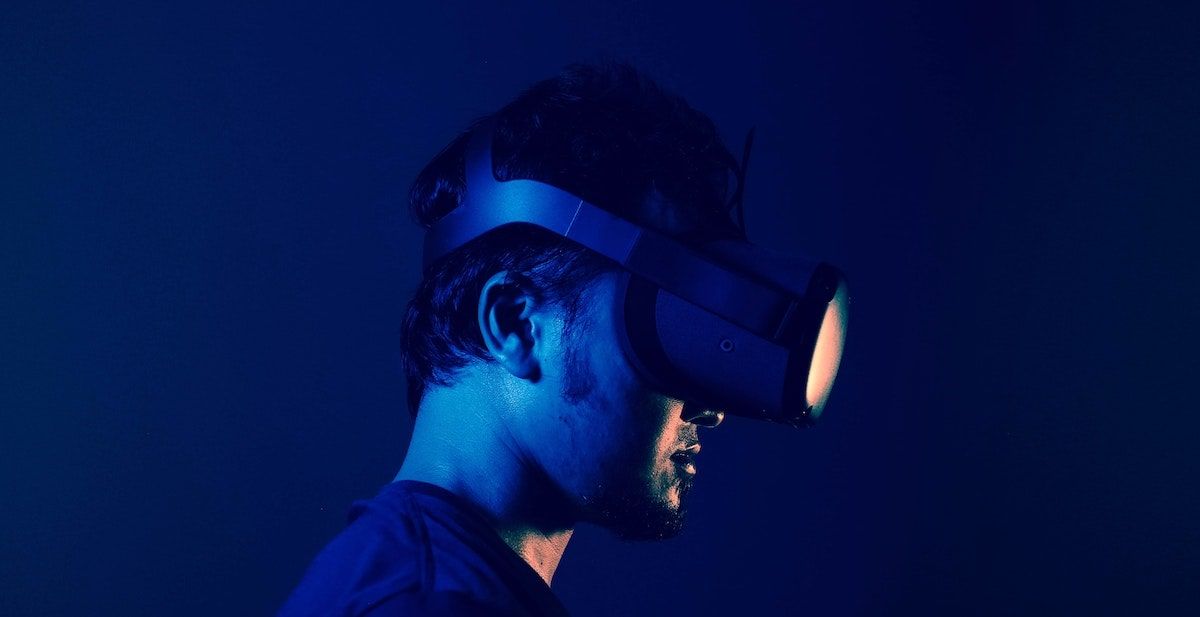 Choosing a suitable viewer is vital as, with the wrong FPV, you might encounter dizziness or nausea and crash your flight, worst-case scenario.
Our best advice would be to use an FPV viewer with a field of view higher than 35%, and the Skyview's is at a very high 75%.
But don't you worry, we've got you covered. This article will explore the 5 best FPV goggles.
And how do we define the word "best"? By presenting various options that are right for your different needs.
Monitor vs FPV goggles
Before diving into the best types of drone goggles you can get your hands on, it's worth mentioning that, aside from FPV goggles, you can also use monitors to fly FPV.
A monitor can be helpful for those who wear glasses (however, some manufacturers of goggles now sell dioptre lenses as well, catering to specific prescriptions).
We do recommend investing in proper FPV Goggles (with more benefits explained coming soon when we'll be looking at drone goggles types).
Still, if you have to have a monitor, you should take into consideration the following factors:
You have the correct video input that is compatible with your video receiver
The size of the monitor doesn't make it difficult for you to see what is being displayed
You can adjust the brightness of the monitor, and it has a backlight as well
But, let's get back to drone goggles (the better alternative) and explore the 5 best drone goggles for you in more depth.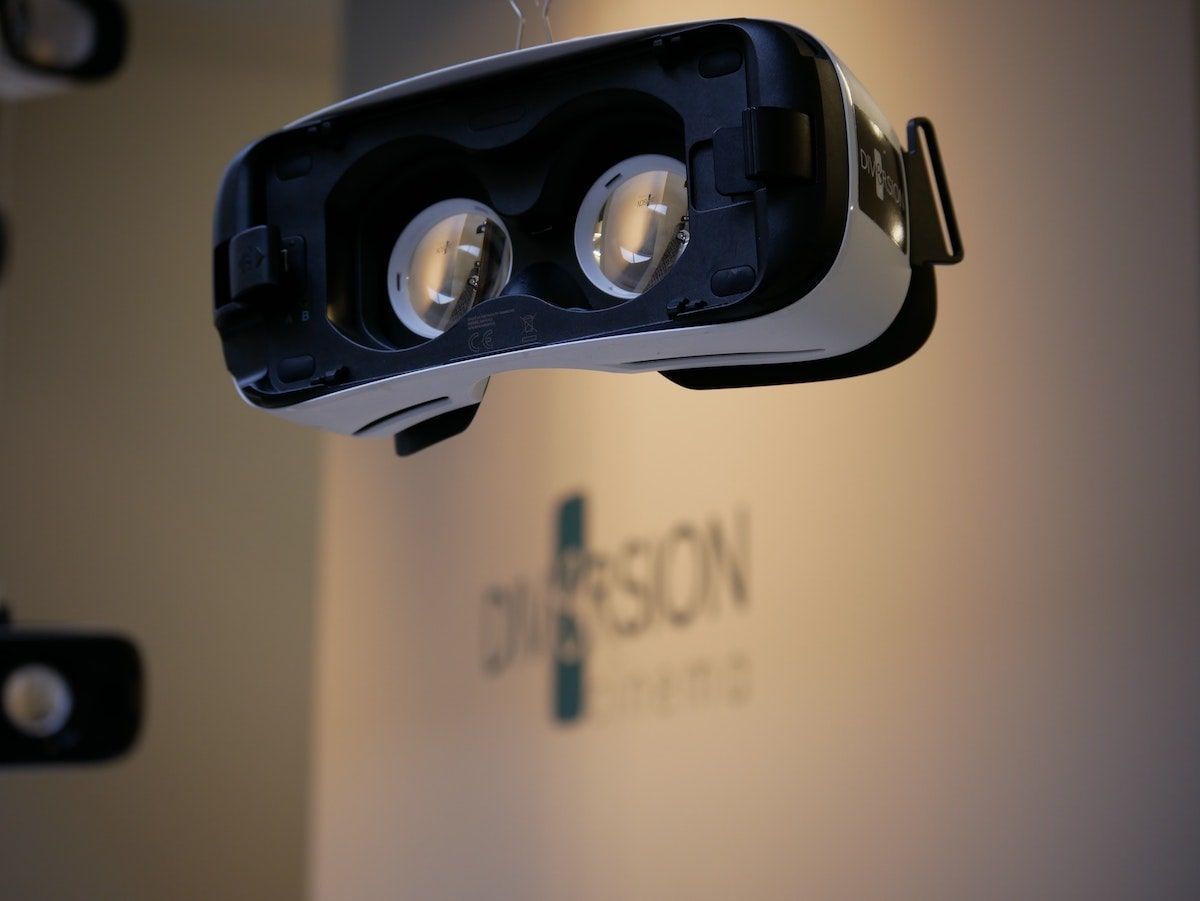 The 5 Best drone goggles
1. Fatshark Altitude V6
Focusing on high definition, with 1280x960 LCOS panels and adjustable diopters, Fatshark Attitude V6 goggles could just be the perfect match for you.
In addition to the 39° field of view, the Attitude V6 has a selectable image ratio, an expanded display control menu and a configurable power button.
Keep in mind that it is also fully compatible with the Shark Byte HD module, which will boost your FPV experience.
2. Skyzone Sky 04X
Also described as "top of the line", Skyzone Sky 04X has OLED screens, a resolution of 1280x960 and a massive 46 ° field of view, designed for total immersion.
It is known for its excellent optical quality and an actual user interface of menus with menu options, easy to navigate and configure.
3. DJI FPV Drone goggles
With a cool matte black visor and headband, together with padding covered by high-quality red leather, the DJI FPV Drone goggles inspire coolness.
These goggles are designed and engineered for racing and are compatible with an OcuSync video transmission module and a high-performance camera module.
They work together to transmit digital video signals from up to 7km away with latency as low as 50ms in addition to an analogue signal. Quite impressive, right?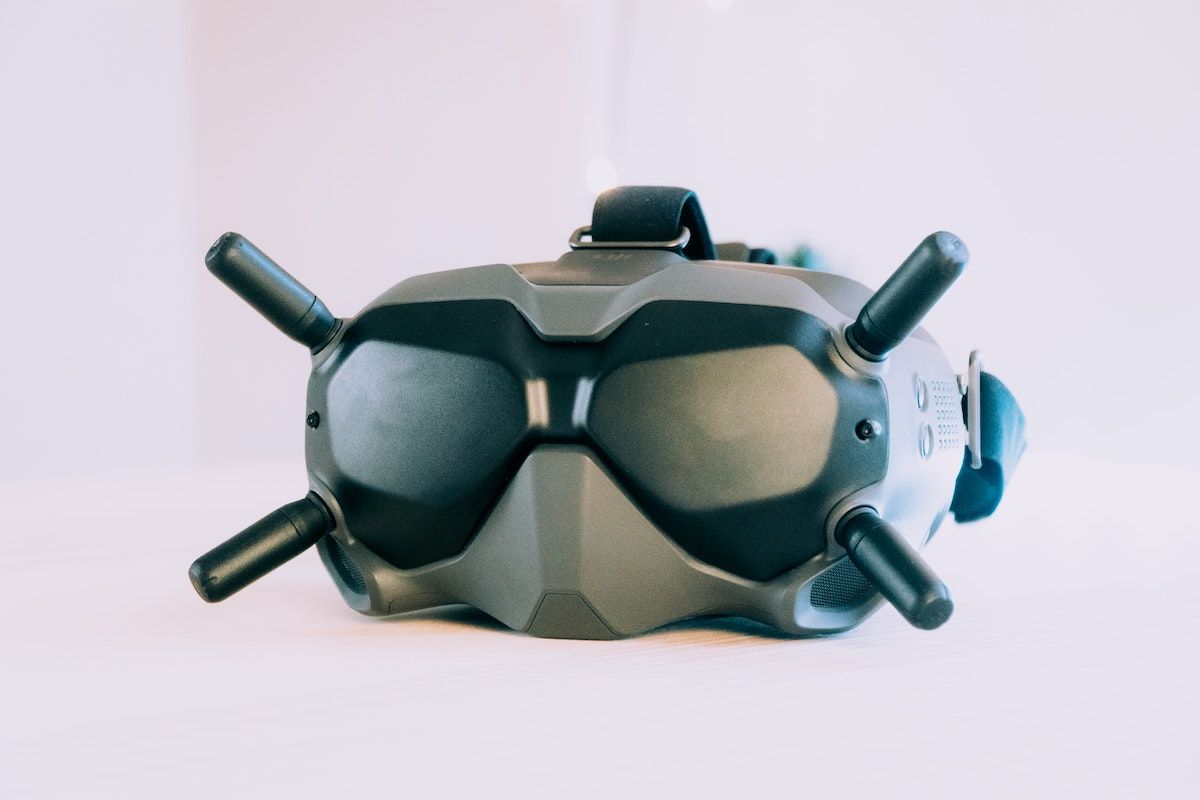 4. Oculus Rift drone goggles
The Oculus Rift drone goggles provide impressive visual quality and an immersive and wide field of view. This is possible due to its high refresh rate and low-persistence display with its custom optics system.
As far as numbers go, the display resolution per eye is 1080x1200, the field of view is 110°, and the refresh rate is 90 Hz.
5. Yuneec Skyview FPV drone goggles
Using the Yuneec Skyview FPV drone goggles, you do not need your cell phone for viewing as it incorporates its own 5" display.
Although this device is made by Yuneec's Typhoon H and Tornado H920 drones, you can use it with any drone or device that provides 720p HDMI output.
Diving into technicalities, the built-in 5" display makes it possible to view in 720p HD with a 75.5-degree field of view at a 16:9 aspect ratio for a stunning, life-like display.
Rent or subscribe to your next drone
As important as getting the perfect pair of goggles for you is, there is no essence, no action without a drone.
But, why invest in buying a drone when you can rent or subscribe to one, try it out and see if you like it if it fits your needs and lifestyle.
Remember, there's more essential camera equipment to discover. Dive into the world of essential gear.
Best FPV Drone Goggles FAQ
What are the best fpv drone goggles for racing?
DJI FPV Drone Goggles
Are fpv drone goggles worth the money?
FPV goggles are worth buying and are a must-have only if you intend to fly an FPV or racing type drone.
What are the best fpv goggles for beginners?
Fatshark Altitude V6
Rent FPV drones from local creators.
Save up to 40%.
Global Coverage included.
https://images.wedio.com/images/listing_images/images/1946431/300x215/dji-fpv.jpg
https://www.wedio.com/en/fpv-drones
https://images.wedio.com/images/listing_images/images/1937729/300x215/ori-dji-fpv-combo-drone-3372.jpg
https://www.wedio.com/en/fpv-drones