Atem Mini Pro Review: The Best Switcher for Streamers?
Rent film gear from local filmmakers.
Rent film gear from local filmmakers.
Blackmagic's ATEM Mini Pro rose to popularity amongst content creators since its release in 2020. This capable video switcher is aimed at gamers, streamers, and online reviewers with the promise to provide broadcast-grade multi-camera footage with ease.
Can it raise your content's production value? Let's get started with the ATEM Mini Pro review to find out.
Interested in more gear? Learn the basics of camera equipment for more.
ATEM Mini Pro key specs
This multichannel video switcher by Blackmagic Design features the following specs:
4x HDMI type A inputs to control up to 4 cameras,
Quick stream, on-air, and record buttons,
Range of effortless transitions,
Plug and play handling,
Mac 10.14 Mojave or later, and Windows 10 64-bit compatibility, and
Multiview monitor output.
Let's dive into this ATEM Mini Pro review by examining the switcher further.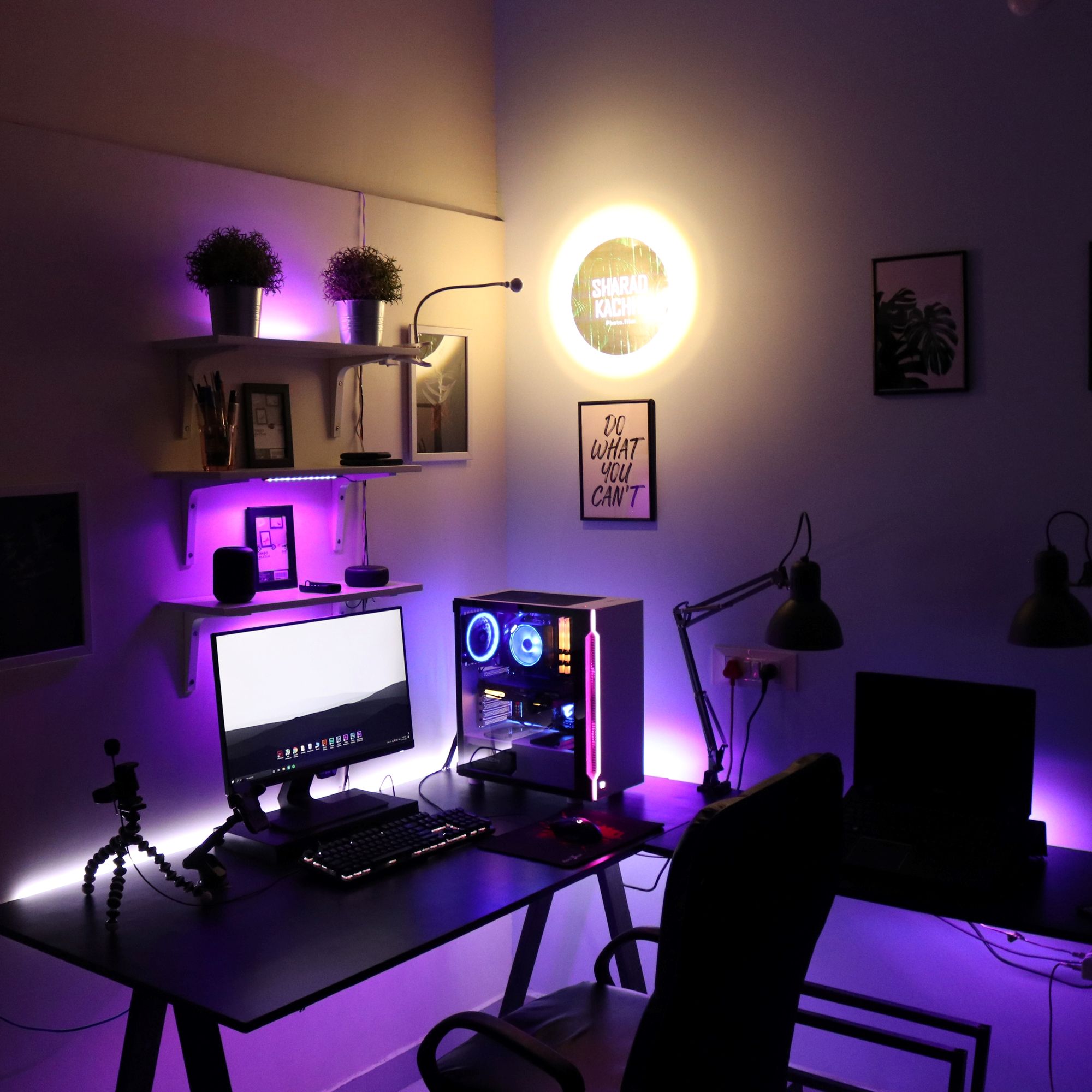 Design and pro features
The ATEM Mini Pro incorporates pro-broadcast-grade performance in a straightforward control switcher. The device features intuitive hardware controls supported by the sleek ATEM Control Software interface. Clearly labeled, well-organized buttons correspond to every feature.
While the ATEM takes a while to master, it provides superior control over your broadcast and an excellent overview at a glance.
Multi-view streaming with external monitor
Connect an external monitor to access a multi-view streaming display that rivals a professional production.
For streamers, this is a powerful tool to elevate their video quality. Gamers or reacters can use the PIP overlay to share their screen and facecam simultaneously.
The ATEM Mini Pro improves on the original ATEM Mini with features like a direct-to-disk recording. The multiview monitor output is a major improvement to the Mini and allows pro-broadcast-level control over your stream.
The Pro can also livestream over Ethernet to YouTube, Facebook, or Twitch.
Plug and play handling
The ATEM Mini Pro mastered plug and play handling to the max. No need for installing drivers and navigating complex software interfaces.
The ATEM Mini connects to your computer via a USB cable. It's ready to be used as a webcam in Zoom, FaceTime, and various streaming apps.
Four HDMI sources allow you to connect Blackmagic cameras and other brands by a simple cable. Your personal, at-home broadcast control system is ready to use within minutes.
Control software
Let's talk about the control software.
The Blackmagic ATEM Software Control Panel allows abundant fine-tuning options to elevate your video content. Switch between several inputs, add custom graphics, and control audio levels from a single interface.
Switch between inputs effortlessly with ergonomic buttons
Ergonomic buttons allow you to effortlessly switch between inputs without lag or interruption to your video output.
You can even add seamless transitions like wipes or fades to increase your production value and preview any input feed before pushing it live.
The audio control you gain with the ATEM Mini Pro is outstanding too. Seamlessly transition between the inputs from any of the HDMI-connected devices and two additional external mics.
Pick between the various audio inputs manually, or select audio-follows-video for an optimized workflow.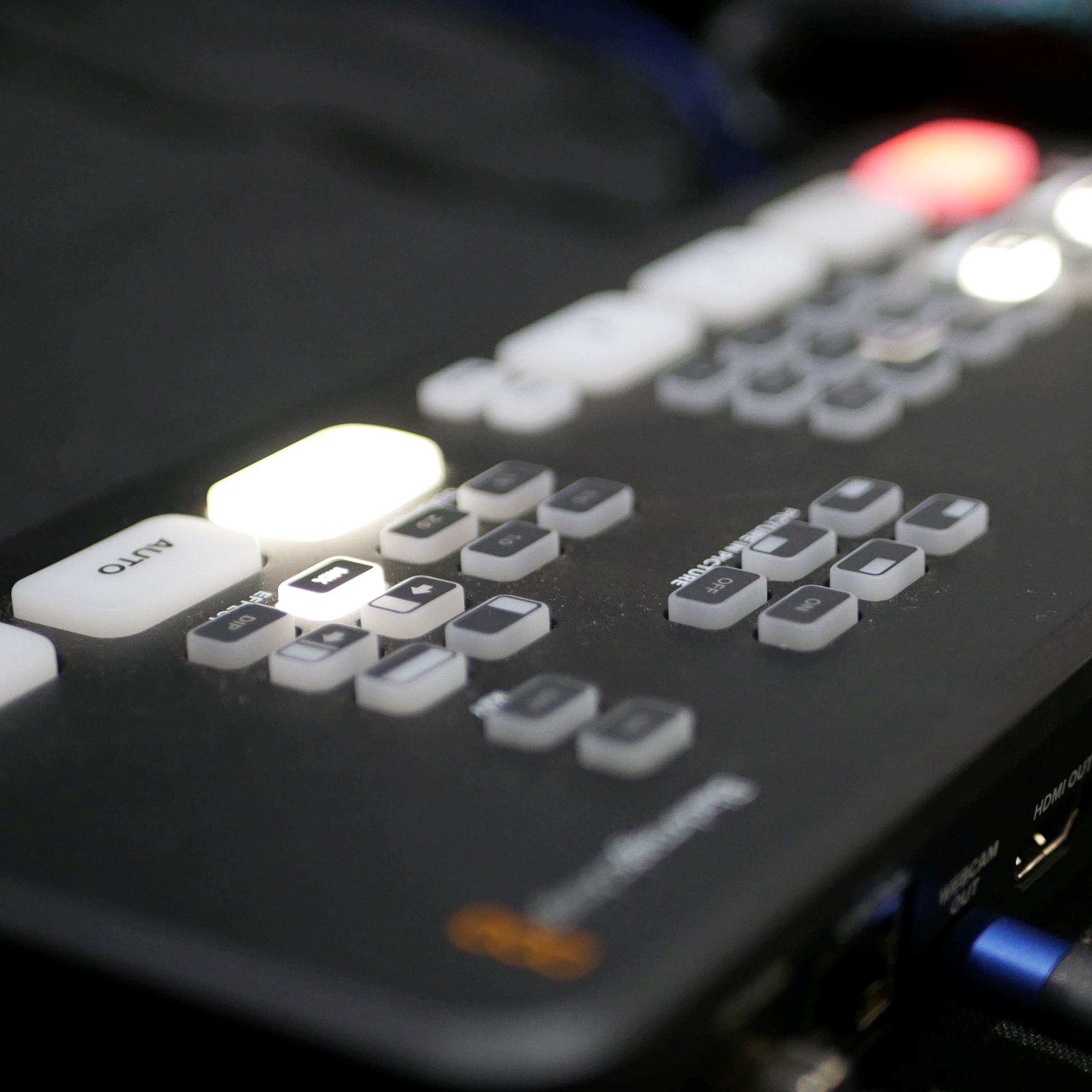 Performance
Setting up your ATEM Mini Pro is extremely easy. In about 30 minutes you can connect a complete setup with several cameras and microphones. Then the fun begins.
When using an external monitor, the multiview status screen displays much information. Besides any camera with an HDMI connection, you can also use the ATEM Mini Pro with gaming consoles or another laptop.
Manage focus, zoom, iris, gain and more from your laptop
If you're working with one or more Blackmagic cameras, like the BMPCC 4K or the BMPCC 6K, the switcher makes your life even more convenient. The control software allows you to make adjustments directly from your laptop. Manage features like focus, zoom, iris, gain, and more on the fly.
The Blackmagic ATEM Mini Pro has the option to livestream, record, or save your broadcast to disk. That means you can get most of your editing done during recording. That saves you post-processing time drastically.
ATEM Mini Pro review: Pros and cons
What are the pros and cons of using this Blackmagic pro-grade switcher?
ATEM Mini Pro advantages
Here are the main benefits of getting access to an ATEM Mini Pro.
Studio-quality multi-camera productions
The ATEM Mini Pro lets you effortlessly run a multi-camera production. Have a quick overview and manage your video and audio inputs with ease.
The ATEM Mini Pro unlocks features you never thought you needed, and it's here to make your life much easier.
Streamline your editing process
Long gone are the days of lengthy post-production.
If you record via the Mini Pro, you'll decrease editing time and complexity by a lot. Add transitions and background music on the go.
Enjoy the smaller file size and rendering time. It's a win all around!
Stream directly to popular platforms
The built-in streaming encoder will be a great benefit to streamers. You don't need a laptop or PC to process your video and then upload it.
The ATEM Mini Pro simplifies your process and takes a load off your already warm CPU.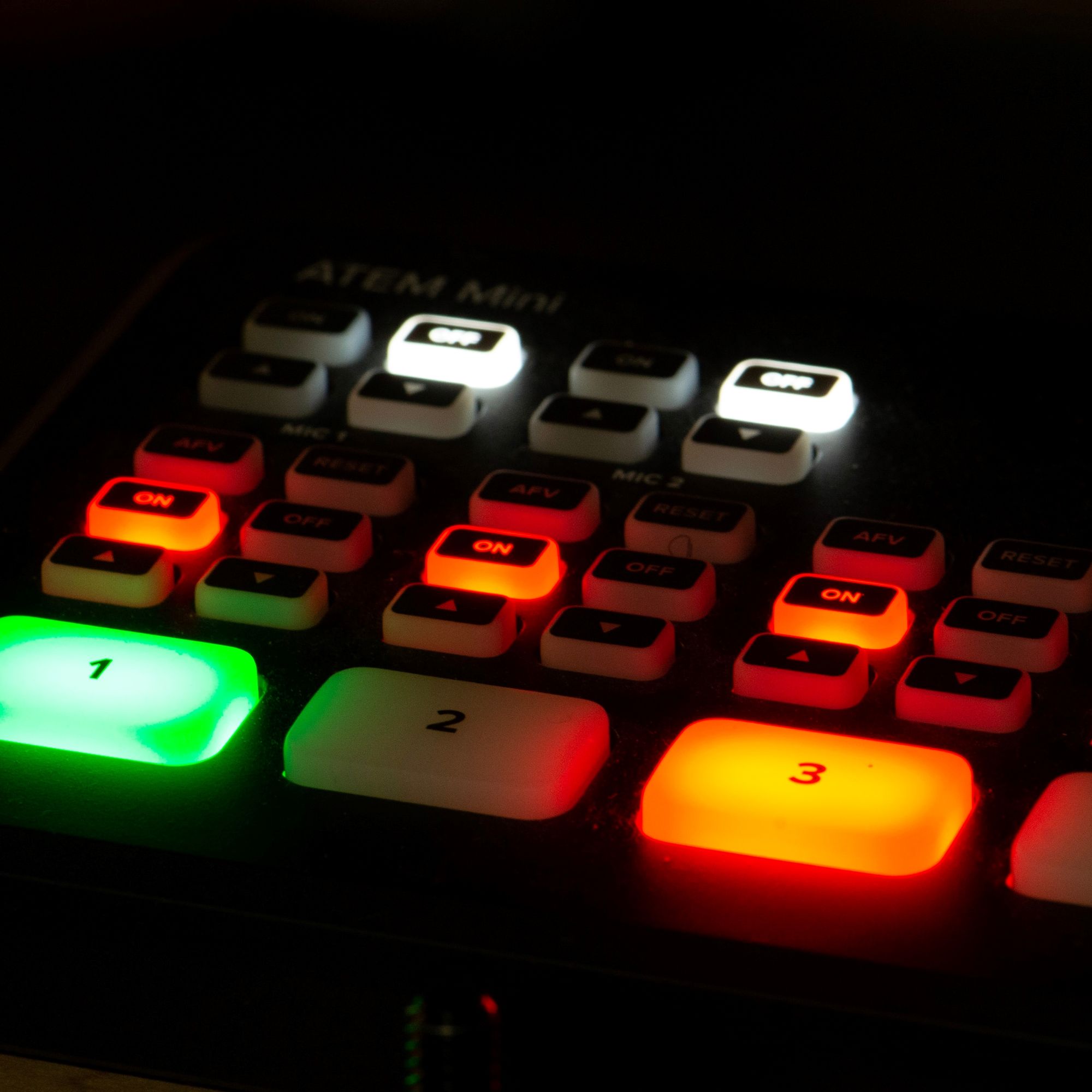 ATEM Mini Pro disadvantages
What should you consider before going with the ATEM Mini Pro?
Output limits
The Mini Pro limits video resolution to 1080p when streaming or recording to disk. If you're using a high-quality 4K camera, you'll drop pixels to conform to the output limit.
Using the Control Software bumps up the maximum framerates to 60fps, which should be adequate for most cases.
If your videos are mostly viewed on smartphones and other small screens, you'll be fine. But when producing for the big screen, you might be in trouble.
Incompatible with USB webcams
If your current setup involves a USB web camera, you won't be able to use it without getting your hands on a USB to HDMI converter.
That makes the otherwise smooth process a bit of a hassle but doesn't have to be a dealbreaker.
Expensive upgrade to the ATEM Mini
At first, the ATEM Mini Pro's price point at $495 might seem unreasonable. It isn't essential for the streamer on the budget.
Still, the Pro delivers features aimed at high-profile content creators that demand the highest quality.
Consider whether it's worth the bang for your buck. Consider renting gear to keep costs down and trial equipment before investing.
Final verdict: Should you get the ATEM Mini Pro?
The ATEM Mini Pro is an excellent tool to elevate your video streams, but it's made with specific content creators in mind.
If you work from home and wish to optimize Zoom meetings, it's likely overkill. Unless you're running a serious and complex operation!
YouTubers, gamers, streamers can benefit from a sizeable boost in production value. If you often find yourself recording with several cameras for interviews, cooking tutorials, or more, it could be worth it for you.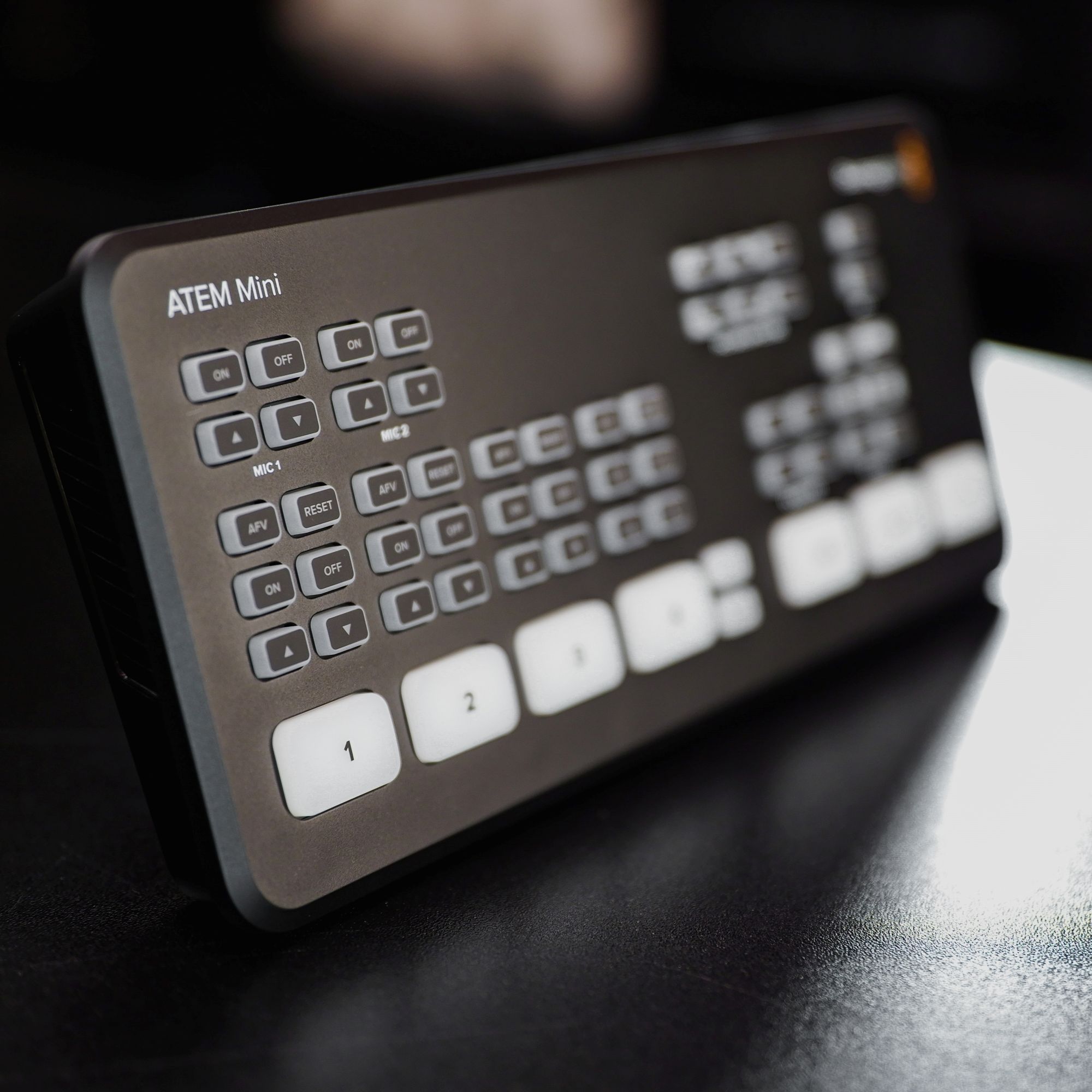 Rent or subscribe to an ATEM Mini Pro
Did you decide to give this pro-grade switcher a whirl?
Rent or subscribe to the ATEM Mini Pro today! Trial equipment and see if it works for you before making a large financial commitment.
Camera Rental: Save Money with Wedio
5sHshmF1n_Y
Rent Camera Gear: Access Pro Equipment
qqHXJy6AWlc
Camera Hire: Take Your Production to The Next Level
71PttfqWPXk
Do you want to learn more? Read more about camera equipment to find your dream gear.
About the instructors
FAQ
Is the ATEM Mini Pro ISO worth it?
The ATEM Mini Pro ISO is able to record all input feeds simultaneously, which is a total game-changer. It's absolutely worth it for professional content creators who only want the best.
What is the difference between the ATEM Mini Pro ISO and the ATEM Mini Pro?
The Mini Pro ISO lets you record the separate video inputs as well as the live-streamed broadcast at once.
What does the ATEM Mini Pro do?
The ATEM Mini Pro is a live video switcher that allows creators to effortlessly stream or record multicamera productions.
Can ATEM Mini Pro record all cameras?
The ATEM Mini Pro is compatible with every camera with an HDMI A port. Used with Blackmagic cameras, it unlocks next-level control features for your convenience.
Popular listings for rentals